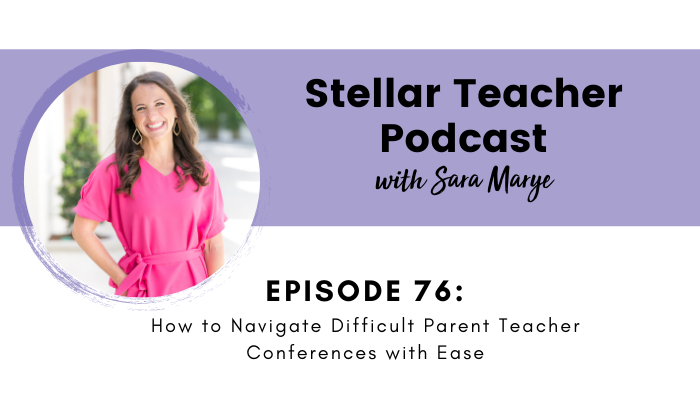 Click play below to hear how to navigate parent teacher conferences:
Welcome back for another episode! Today's topic can bring teachers stress, nerves, and a little uneasiness, which is having parent teacher conferences.
For some, especially novice teachers, talking with parents about difficult topics can be a struggle. So in today's episode, I'm providing strategies on how to navigate difficult parent teacher conferences with ease.
I'm not going to lie, this is something I struggled with a lot during my first couple of years teaching. Having conferences with parents is inevitable and part of our job, so I couldn't ignore it.
Once I started doing it often, the more comfortable I became with it, and eventually learned some strategies when it came to delivering tough news.
While it can be difficult, having parental support is necessary, so start thinking of parents as a teammate, rather than an opponent. Having the right mindset can be a game-changer before you even start the conversation.
As a teacher, the more tools we have in our toolbox of communication, the better! These strategies on how to have effective parent teachers conference include:
Having a set conference time

Making multiple positive points of contact first

Developing a clear purpose for the conversation

Deciding how much time you want to spend on the conference

Preparing your support materials ahead of time

Considering inviting administration

Always sending a follow-up email

Remembering that you and the parent are on the same team.
Although it might seem like it at the beginning, throughout, or the end of your conversation, know that your end results are the same: student success.
Whether you're a novice teacher or a veteran, these strategies on how to navigate difficult parent teacher conferences help with maintaining open lines of communication and a smooth conversation that ultimately benefits the student.
In this episode on parent teacher conferences, I discuss:
Strategies on how to navigate parent teacher conferences
An important goal to remember regarding you and the parents
Positives and negatives of having administrative or additional support within the conference
How to apply the show vs. tell idea when providing evidence to parents
Related Resources:
Related episodes and blog posts:
Connect with me:
More About Stellar Teacher Podcast:
Welcome to the Stellar Teacher Podcast! We believe teaching literacy is a skill. It takes a lot of time, practice, and effort to be good at it. This podcast will show you how to level up your literacy instruction and make a massive impact with your students, all while having a little fun!
Your host, Sara Marye, is a literacy specialist passionate about helping elementary teachers around the world pass on their love of reading to their students. She has over a decade of experience working as a classroom teacher and school administrator. Sara has made it her mission to create high quality no-fluff resources and lesson ideas that are both meaningful and engaging for young readers.
Each week, Sara and her guests will share their knowledge, tips, and tricks so that you can feel confident in your ability to transform your students into life-long readers.
Tune in on your favorite podcast platform: Apple, Google, Amazon, Spotify, Stitcher, and more! If you're loving this podcast, please rate, review, and follow!
Podcast (stellar-teacher-podcast): Play in new window | Download