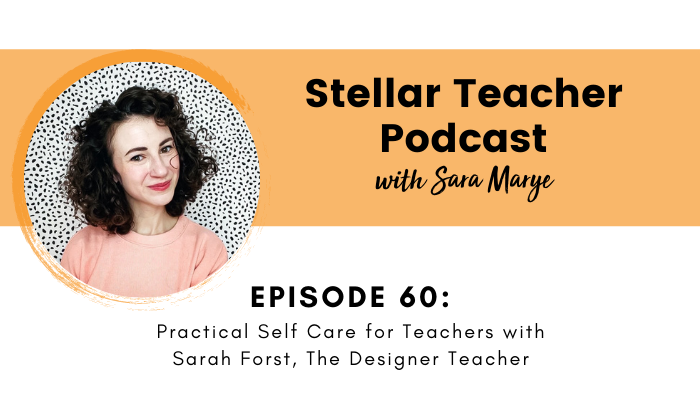 Click play below to listen to ideas from The Designer Teacher:
I am so excited for the very first episode of our Best Year Ever Series, which is going to be airing every Thursday during the month of January. Now the goal of this series is to connect you with experts in a variety of fields that are not necessarily connected to the instructional side of teaching, because you're more than just a teacher.
While I really want you to be successful in the classroom, I also really want you to have a happy and healthy life outside of teaching as well.
So, in our very first episode of this series, I got to speak with Sarah Forst, who is the creator behind the designer teacher. In this conversation, we dig into all things related to teacher self care. We're talking more than bubble baths and face masks, although those are great too!
If you aren't familiar with Sarah, she really is an expert in all things self care. One of the things I love about her is that she leads by example, she has written a book, The Teacher's Guide to Self Care. She is also the founder of The Teacher Care Crate, which is a monthly self care subscription box for teachers.
Sarah is extremely open and honest with her own self care journey. I know that hearing her story and words of wisdom can help you find balance, avoid burnout, and ultimately create happier and healthier lives.
If you're currently working beyond your contract hours, or if you feel overwhelmed with work, then I think you're really going to enjoy today's episode. Here's to 2022, friends!
Meet The Designer Teacher
Sarah Forst
You're a passionate special education teacher and you'll do anything for your kids, from modifying assignments to teaching them how to blow their noses. But between lesson plans, progress monitoring, IEPs, FBAs, and a million other acronyms, you've got A LOT on your plate. No one can do it all, and you shouldn't have to. That's where I come in.
I'm Sarah Forst, The Designer Teacher, and I empower passionate special education teachers to feel more peaceful & purposeful by providing systematic reading resources designed with struggling learners in mind.
I'm a former elementary special education teacher with a degree in design. I've combined my expertise in design with my experiences working with special learners to create resources that are clear and accessible to all.
Ready to get started with explicit phonics instruction without the hassle? Check out Phonics by Design: The Complete Curriculum or download a NO PREP freebie here!
What else is there to know?
Well, I'm a Chicago-transplant originally from the East Coast… and I have the Type A personality to prove it. I got my degree in Interdisciplinary Object Design back in Maryland, but moved to Chicago to join an alternative certification program for special education. I spent four year years teaching in Chicago Public Schools, and now run The Designer Teacher and Teacher Care Crate full time.
Having taught in pretty drastically under-resourced schools, I'm all too aware of the unreasonable demands put on teachers. I'm passionate about helping teachers lead more balanced lives, both by providing quality, easy-to-use classroom resources and promoting self care.
In this episode with The Designer Teacher, we discuss:
The story of how Sarah stopped working nights, weekends, and outside of her contracted hours
How to prioritize the balance between work and our personal lives
The importance of setting firm boundaries and sticking to them
Specific suggestions for how you can respond when another thing is added to your plate
Creating a sustainable self-care schedule
Mindset shifts that will better your life and protect your energy
The Designer Teacher Resources:
Teacher Care Crate Resources:
Related Resources:
Related episodes and blog posts:
Connect with me:
More About Stellar Teacher Podcast:
Welcome to the Stellar Teacher Podcast! We believe teaching literacy is a skill. It takes a lot of time, practice, and effort to be good at it. This podcast will show you how to level up your literacy instruction and make a massive impact with your students, all while having a little fun!
Your host, Sara Marye, is a literacy specialist passionate about helping elementary teachers around the world pass on their love of reading to their students. She has over a decade of experience working as a classroom teacher and school administrator. Sara has made it her mission to create high quality no-fluff resources and lesson ideas that are both meaningful and engaging for young readers.
Each week, Sara and her guests will share their knowledge, tips, and tricks so that you can feel confident in your ability to transform your students into life-long readers.
Tune in on your favorite podcast platform: Apple, Google, Amazon, Spotify, Stitcher, and more! If you're loving this podcast, please rate, review, and follow!
Podcast (stellar-teacher-podcast): Play in new window | Download