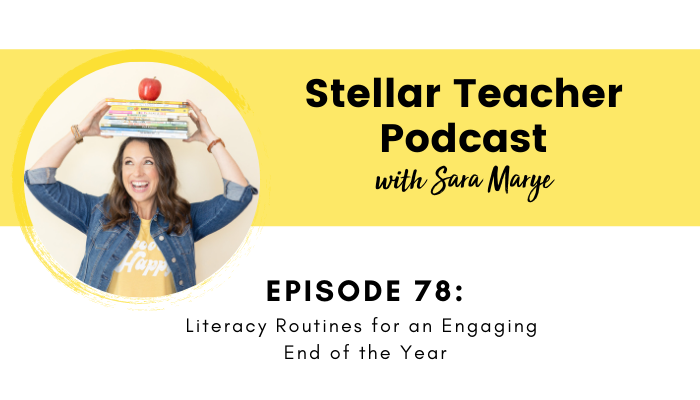 Click play below to hear how to use literacy routines at the end of the year:
Happy Monday, friends! It's officially mid-April, the end of the year is inching closer and closer. The end of the year can be exciting, but it can also be overwhelming for both students and teachers.
With so many projects, activities, parties, and everything else that comes towards the end of the year, I've come up with classroom routines that replace the chaos. In today's episode, I'm discussing literacy routines for an engaging end of the year.
Sometimes our mindset is to just survive and do fun activities until the last day. However, when has that ever worked out for the better?
While we want our students to have fun, we need to pick routines and activities that are engaging, but also promote meaningful content and independence from your students.
Throughout the year, you've focused your classroom on learning targets and getting them prepared for the next year, but don't stop there! Developing literacy routines in your classroom provides so many benefits for your students, with one of the biggest ones being independent.
Providing instructional support through literary tasks imparts student growth, confidence, and ownership skills that they're able to translate to future grades.
Already have established literacy routines set up within your classroom? In this episode we discuss ways that can help you extend, modify, and spice up your literacy routines.
Some examples of this consists of turning weekly routines into daily routines, which gives more exposure and practice for students, adding a collaborative movement or element, such as sharing and discussing with peers, or designating a student to facilitate the routine, which provides students with ownership of their learning.
Whether you've already established routines, starting a new routine, or trying it out before next school year, having them in your classroom at the end of the year is beneficial.
Not only does it provide an opportunity for your students to show ownership and independence, but it allows you to have flexibility and time for your own end of the year tasks. I hope you take time to set up these routines to ensure end of the year engagement and success!
In this episode on end of the year literacy routines, I discuss:
Specific routine tasks that you can incorporate in your classroom today
3 elements to consider when selecting a routine for the end of the year
A list of ways to extend or modify your already established literacy routines
The copious benefits of establishing literacy routines in your classroom
Related Resources:
Related episodes and blog posts:
Connect with me:
More About Stellar Teacher Podcast:
Welcome to the Stellar Teacher Podcast! We believe teaching literacy is a skill. It takes a lot of time, practice, and effort to be good at it. This podcast will show you how to level up your literacy instruction and make a massive impact with your students, all while having a little fun!
Your host, Sara Marye, is a literacy specialist passionate about helping elementary teachers around the world pass on their love of reading to their students. She has over a decade of experience working as a classroom teacher and school administrator. Sara has made it her mission to create high quality no-fluff resources and lesson ideas that are both meaningful and engaging for young readers.
Each week, Sara and her guests will share their knowledge, tips, and tricks so that you can feel confident in your ability to transform your students into life-long readers.
Tune in on your favorite podcast platform: Apple, Google, Amazon, Spotify, Stitcher, and more! If you're loving this podcast, please rate, review, and follow!
Podcast (stellar-teacher-podcast): Play in new window | Download