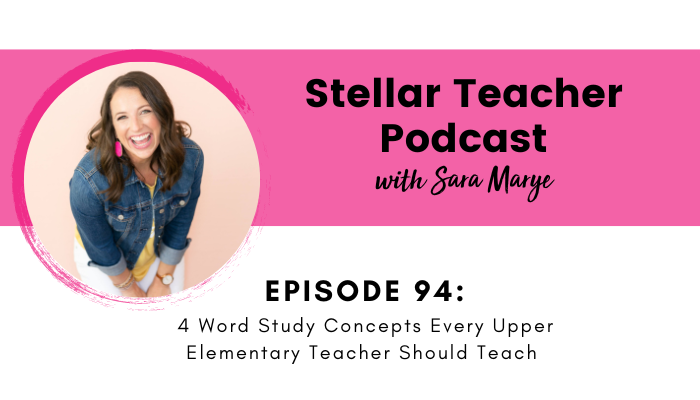 Click play below to hear 4 word study concepts every teacher should teach:
Welcome back, friends! This is the second episode in our series about word study instruction. If you missed out on last week's episode, make sure you take a listen so you understand the background information on word study before moving forward.
Our next step is the application piece and how to implement it in our classrooms. So in today's episode, I'm sharing 4 word study concepts every upper elementary teacher should teach.
As you've already learned, word study instruction revolves around word recognition and word meaning. A way to accomplish this is to incorporate 4 word study concepts into your literacy block. Those word study concepts are: syllabication, affixes, Greek and Latin roots, and context clues.
When describing each word study concept, I explain both the importance and explicit ways to teach each concept in an upper elementary classroom. It's important to note that you do not need to teach everything within each concept. Instead, build on each concept and review throughout the year. This way, students can get better at understanding words and be more intentional with what they're reading.
Not only is it important to understand word study instruction, but how to effectively implement it in your classroom. By incorporating these 4 word study concepts, you're one step closer to having your students become more intentional and successful readers!
In this episode on word study concepts, I share:
What to explicitly teach within each 4 word study concepts
The importance of word recognition and word meaning to understand unfamiliar words
Why teaching should be a continuum of these concepts throughout the year
How each of these concepts attribute to students being word watchers
Related Resources:
Related episodes and blog posts:
Connect with me:
More About Stellar Teacher Podcast:
Welcome to the Stellar Teacher Podcast! We believe teaching literacy is a skill. It takes a lot of time, practice, and effort to be good at it. This podcast will show you how to level up your literacy instruction and make a massive impact with your students, all while having a little fun!
Your host, Sara Marye, is a literacy specialist passionate about helping elementary teachers around the world pass on their love of reading to their students. She has over a decade of experience working as a classroom teacher and school administrator. Sara has made it her mission to create high quality no-fluff resources and lesson ideas that are both meaningful and engaging for young readers.
Each week, Sara and her guests will share their knowledge, tips, and tricks so that you can feel confident in your ability to transform your students into life-long readers.
Tune in on your favorite podcast platform: Apple, Google, Amazon, Spotify, Stitcher, and more! If you're loving this podcast, please rate, review, and follow!
Podcast (stellar-teacher-podcast): Play in new window | Download