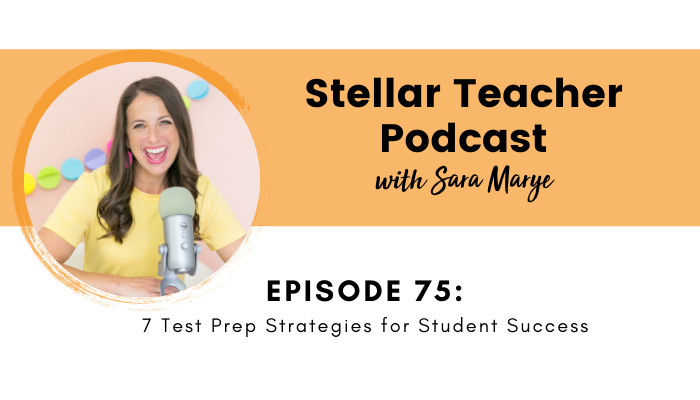 Click play below to hear tips on test prep strategies for student success:
Today's topic is not a fan favorite, but it's something that comes around every year during this time of the school year: standardized testing. I know we all have a lot of emotions and thoughts about this topic, but it's part of our educational system, so we might as well make the best of it! In this episode, I'll be covering 7 test prep strategies that will give your students success!
Let's face it, these tests can cause a lot of stress and anxiety for our students, so the purpose of these are to ease some of that stress and anxiety, help students feel confident about the test, which will ultimately help you feel confident about your students taking the test.
The 7 test prep strategies are: knowing elements of the standardized test for your state, creating a pacing plan for test day, knowing the difference between right there questions and thinking questions, identifying word choice in the question, answering the question on using their own words, how to bubble in properly, and how to give themselves a pep talk for confidence.
Just like with everything else, it's important to remember that all of our students are different. These strategies are not for every student, and not every student will need every strategy while taking the test.
Our job is to expose them to all the strategies and then your students can pick and choose the strategies that are applicable for them and determine which ones provide them the best opportunity for success.
Although test time might stress out most, with these 7 test prep strategies, your students will take the test with ease and with success!
In this episode on test prep strategies, I discuss:
In-depth test prep strategies for any student
A quick strategy for students to label which type of question it is
How to identify a distractor answer
Conversations to have with your students that will facilitate success
The importance of familiarity, practice, and exploration when it comes to standardized test prep
Tips on how your students should read the questions on the test
Related Resources:
Related episodes and blog posts:
Connect with me:
More About Stellar Teacher Podcast:
Welcome to the Stellar Teacher Podcast! We believe teaching literacy is a skill. It takes a lot of time, practice, and effort to be good at it. This podcast will show you how to level up your literacy instruction and make a massive impact with your students, all while having a little fun!
Your host, Sara Marye, is a literacy specialist passionate about helping elementary teachers around the world pass on their love of reading to their students. She has over a decade of experience working as a classroom teacher and school administrator. Sara has made it her mission to create high quality no-fluff resources and lesson ideas that are both meaningful and engaging for young readers.
Each week, Sara and her guests will share their knowledge, tips, and tricks so that you can feel confident in your ability to transform your students into life-long readers.
Tune in on your favorite podcast platform: Apple, Google, Amazon, Spotify, Stitcher, and more! If you're loving this podcast, please rate, review, and follow!
Podcast (stellar-teacher-podcast): Play in new window | Download