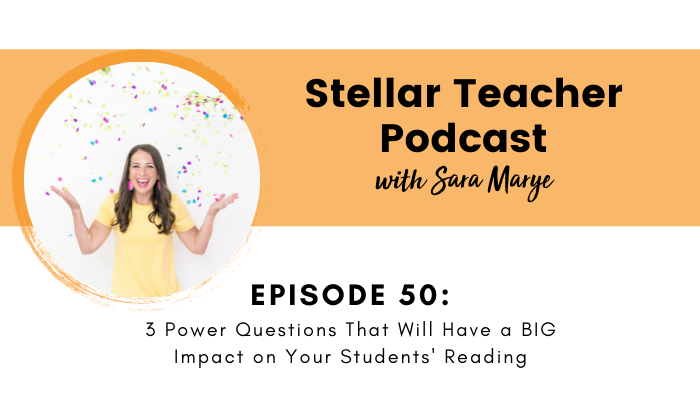 How did we get to episode 50 already?! I just want to say thank you so much to my listener's that have listened to all my episodes, half my episodes, or even if this is your first! To celebrate this milestone I put a lot of thought into today's topic in order to make it special, and after a lot of brainstorming I kept coming back to the idea of power questioning.
Let's be honest, if students aren't interested in the text they aren't going to participate in a discussion. If we take a step back and reflect on what we're prompting our students with after they read, you'll probably notice that all the questions are directly related to the text. "Who is the main character?" and "Where does the story take place?" are not the types of questions I am going to be sharing with you today, but I promise that you will not be disappointed with your student's responses!
After you listen to this episode, don't forget to enter the giveaway for a chance to win one of five $50 TpT gift cards! To enter, simply share your favorite Stellar Teacher Podcast somewhere on Instagram! It can be on your stories or your feed – simply tag @stellarteachercompany! The giveaway ends Friday, November 5th.
In this episode I share:
Why it's important to ask your students power questions
3 power questions that will have a big impact on students' reading
How power questions can help you assess your students' understanding
Ways to avoid getting "I don't know" as an answer
Related Resources:
Related episodes and blog posts:
Connect with me:
More About Stellar Teacher Podcast:
Welcome to the Stellar Teacher Podcast! We believe teaching literacy is a skill. It takes a lot of time, practice, and effort to be good at it. This podcast will show you how to level up your literacy instruction and make a massive impact with your students, all while having a little fun!
Your host, Sara Marye, is a literacy specialist passionate about helping elementary teachers around the world pass on their love of reading to their students. She has over a decade of experience working as a classroom teacher and school administrator. Sara has made it her mission to create high quality no-fluff resources and lesson ideas that are both meaningful and engaging for young readers.
Each week, Sara and her guests will share their knowledge, tips, and tricks so that you can feel confident in your ability to transform your students into life-long readers.
Tune in on your favorite podcast platform: Apple, Google, Amazon, Spotify, Stitcher, and more! If you're loving this podcast, please rate, review, and follow!
Podcast (stellar-teacher-podcast): Play in new window | Download