Let's take a minute to talk about the difference between reading skills and reading strategies.
If I'm being honest, I'm a little bit lazy with how I use the terms reading strategy and reading skill.
A lot of times I just use both in the same phrase… like when I'm talking about reading strategies and skills anchor charts or graphic organizers…
And maybe my laziness with my usage of these terms stems from me not actually knowing or understanding the difference between them when I first started teaching.
So, let's talk a little bit about the difference between a reading skill and a reading strategy.
These terms get thrown around a lot.
I'm sure you've read plenty of blog posts about reading skills and strategies and I'm sure you've purchased products on tpt that will help you teach reading skills and strategies.
And sometimes I think that we aren't careful enough with the separation of these terms.
Like I mentioned, I can be lazy at times and use these terms interchangeably, but there is definitely a difference.
A reading skill is WHAT we want our students to do.
You probably have a long list of reading skills you want your students to master by the end of the year. Here are some common examples of reading skills you probably have to teach your students in upper elementary.
Finding the main idea of an informational text.
Identifying the theme of a story or drama.
Describing a character's traits or feelings.
Summarizing a nonfiction text.
Determine the meaning of unknown words.
These are all reading skills we want our students to be able to do independently….and automatically. We want our students to know how to do each of those things with little to no hesitation.
They are also the skills that will help your students make progress towards mastering your state standards… as well as ensure they are understanding the texts they are reading.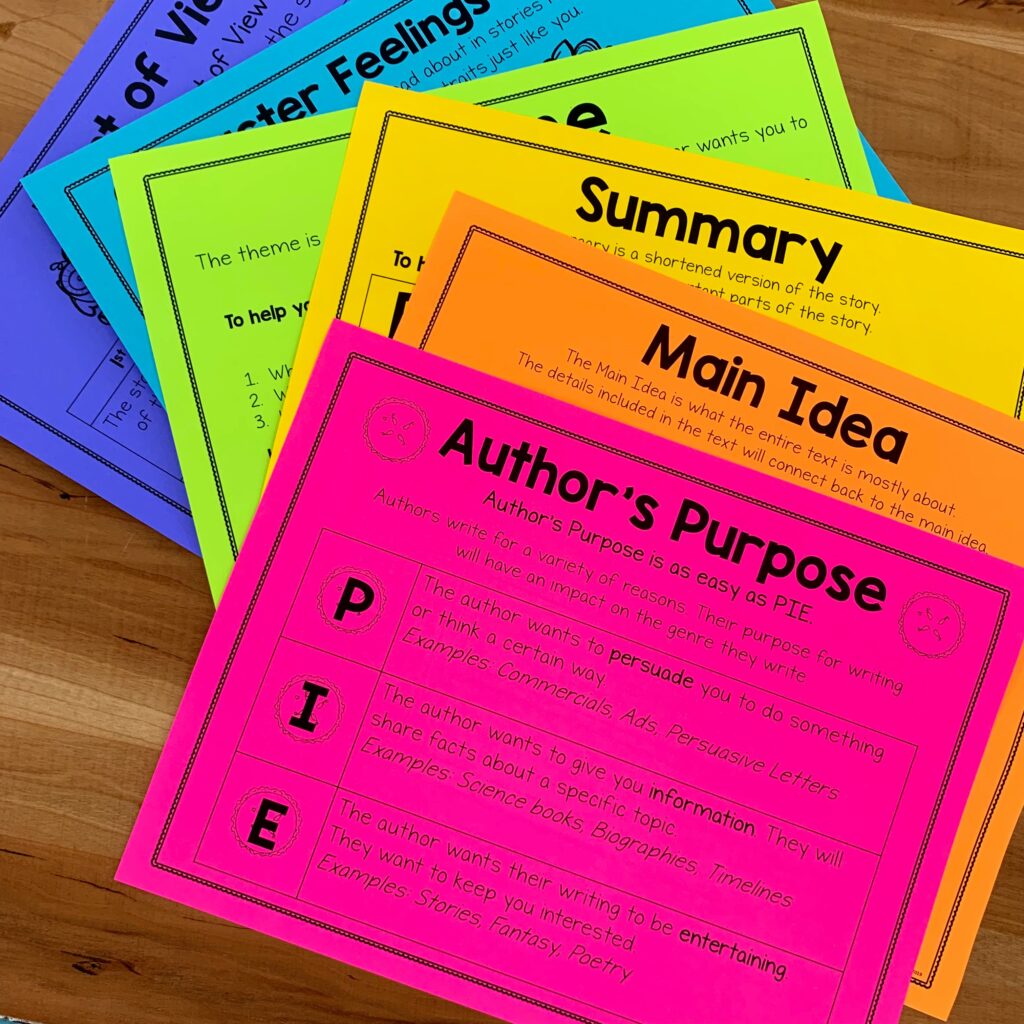 A reading strategy is HOW they will accomplish the skill.
Before I jump into some examples of what a reading strategy is, there is one thing to keep in mind. The goal of our reading instruction is NOT for students to master a specific strategy… But instead, the goal is for students to use the reading strategies that work for them to work on mastery of the specific skills.
Basically, it doesn't matter what strategies you teach or which ones your students use. As long as they have a bank of reading strategies they can apply to their independent reading. Now this is both good news and bad news for us as reading teachers.
First there isn't a set list of reading strategies that you MUST teach, but then that also means we are sometimes wondering what the best reading strategy might be to help our students progress towards mastering a specific skill.
If you're still a little bit fuzzy on what a reading strategy actually is, let me share a few examples:
Summarizing Fiction Example: A common reading strategy used to help students summarize fiction is the SWBST strategy. In this strategy students will look for text details to help them identify the Somebody, Wanted, But, So Then part of each story. This reading strategy will help students with the reading skill of being able to summarize a fiction text.

SWBST isn't part of any state standard (that I know of at least) so if your students don't ever master this strategy that's ok…. As long as they have other strategies that will help them effectively summarize fiction texts.​ Maybe your students prefer to use a reading strategy like BME or asking the 5W questions or using a story mountain to help them summarize a fiction text. It doesn't matter which reading strategy they use, as long as they feel confident in their ability to summarize a fiction text.

Identifying Nonfiction Text Structure Example: A common reading strategy your students might use to identify the text structure of nonfiction text is to look for specific key words. You might give your students a list of key words for each type of text structure and as they are reading they underline any key word that will help them figure out the text structure…. but this isn't the only strategy to identify text structure.

At the end of the day, your students don't need to memorize the list of key words for each text structure, they just need to understand and know how to find the text structure… so if they have another strategy that works, it doesn't matter if they do or don't know all the key words.
Making Inferences About Characters Example: Maybe your students like to use the acronym FAST to help them make inferences about character traits in the stories they read. They understand that F stands for character's feelings, A stands for character's actions, S stands for character's speech, and T stands for character's thoughts. As they are reading, they look for examples for each letter and at the end of the story they use FAST to help them identify a trait for that character… this is one way students can analyze characters and make inferences,

But if your students don't know the acronym FAST and can't remember what each letter stands for, they won't be tested on that specific reading strategy. And as long as they have other strategies that will help them make inferences about characters whether they master this one or not doesn't matter.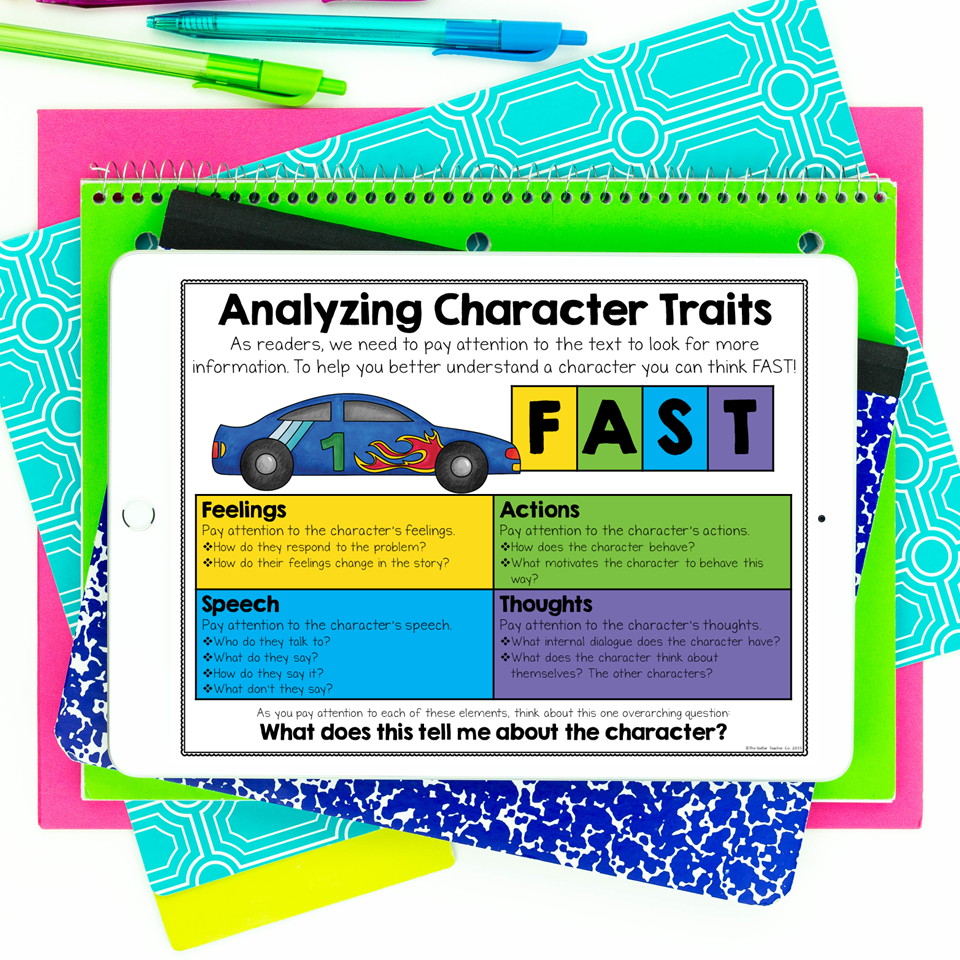 So at the end of the day…
The most important thing to remember is that we want our students to comprehend (and enjoy) the texts they are reading. We also want them to be successful with the reading skills and standards they are required to learn by the end of the year…. but HOW they go about applying those skills is entirely up to them.
We don't need to stress as much about whether our students can use the SWBST strategy or the TAMKO strategy or if they asked all the 5W questions or if they did a 3-2-1 character analysis. The goal is to offer up possibly strategies students can use and let them decide which ones are the most helpful to their independent reading.
I liked to teach my students a handful of strategies for each skill so they can pick and choose which strategy works the best for them and the text they are reading.
Hopefully this post helps clarify the difference between reading strategies and reading skills. If you want to hear me talk a little bit more about reading strategies and skills and get a few ideas for identifying the main idea of a nonfiction text, check out this podcast episode I recorded awhile back – it also happens to be one of my most popular episodes.
Happy Teaching!
Now, real quick before you go. If you ARE looking for an easy-to-teach strategy that will help your students summarize nonfiction text, you can grab this checklist below. It shares the 6 characteristics and attributes of a nonfiction summary. It might be a reading strategy that will help some of your students summarize nonfiction. I'd love to share it with you.
---
Summarizing Nonfiction Checklist
Summarizing nonfiction can be really challenging. There are SOOOOO many things your students need to be able to do in order to successfully summarize a nonfiction text. But, with the help of this checklist, your students will remember the important characteristics of a nonfiction summary.