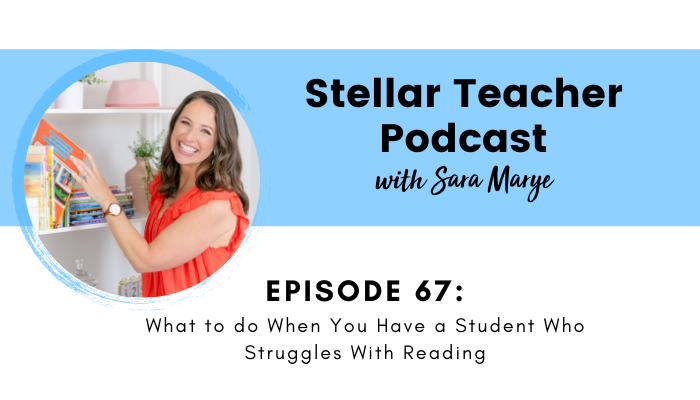 Click play below to hear how to help a student who struggles with reading:
Thank you for joining me for another episode of The Stellar Teacher Podcast! I get so excited to record these episodes each week and I hope you're just as excited to listen to them! Today's topic is one that I think will resonate with every reading teacher, and that is what to do when a student struggles with reading.
There are so many reasons for students to struggle with reading, whether it is their vocabulary, background knowledge, or blatant boredom. No matter what the reason is for your student's challenges, I am going to help you help them with these tips I'm giving you today!
During this episode I want you to really think about one of those struggling readers that are currently in your class or a student that you've taught in the past. In order for you to determine what aspect of reading they are struggling with, I am going to give you seven questions to identify those roadblocks that are preventing your student from becoming a successful reader.
It is so important to figure out what that specific hurdle is so that you can provide the appropriate interventions accordingly. By asking these questions you can narrow down the area that they need more support and close that gap.
Reading skills are so interconnected, ranging from accuracy to reading comprehension. There are several different factors that can interfere with growth and these questions will help you narrow that down. By giving your students that extra help, they will be able to overcome those challenges and improve their reading abilities. Reading is so important for so much more than standardized assessments, and the ultimate goal is to create lifelong readers.
In this episode on how to help a student who struggles with reading, I share:
7 questions that will help identify why your student struggles with reading
Why it's so important for children to have good reading fluency
How to ensure that every student has a growth mindset for reading
What you can do if you have students that don't enjoy reading
Related Resources:
Related episodes and blog posts:
Connect with me:
More About Stellar Teacher Podcast:
Welcome to the Stellar Teacher Podcast! We believe teaching literacy is a skill. It takes a lot of time, practice, and effort to be good at it. This podcast will show you how to level up your literacy instruction and make a massive impact with your students, all while having a little fun!
Your host, Sara Marye, is a literacy specialist passionate about helping elementary teachers around the world pass on their love of reading to their students. She has over a decade of experience working as a classroom teacher and school administrator. Sara has made it her mission to create high quality no-fluff resources and lesson ideas that are both meaningful and engaging for young readers.
Each week, Sara and her guests will share their knowledge, tips, and tricks so that you can feel confident in your ability to transform your students into life-long readers.
Tune in on your favorite podcast platform: Apple, Google, Amazon, Spotify, Stitcher, and more! If you're loving this podcast, please rate, review, and follow!
Podcast (stellar-teacher-podcast): Play in new window | Download