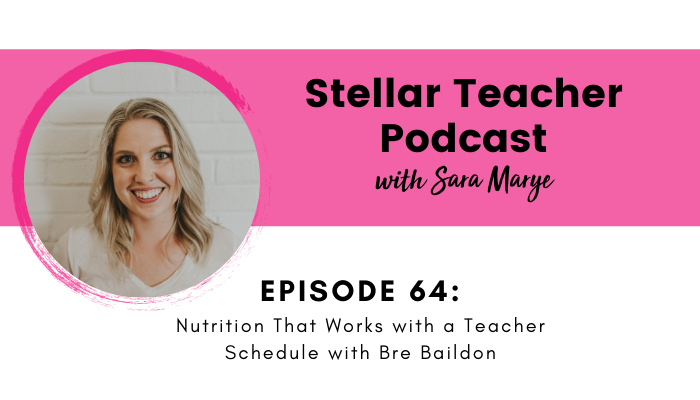 Click play below to listen to ideas on nutrition that works:
Welcome to another episode from my Best Year Ever series! These episodes will ideally help you all create and meet your goals related to self care, because let's face it, you deserve it! Last week we spoke about getting your finances in order. This week we're going to talk about how to maintain a healthy lifestyle. Specifically, we're diving into tips on nutrition that works with a busy teacher schedule. There is no better expert to have this conversation with than Bre Baildon.
As a teacher, you are busy all day long. From the second your alarm goes off until you get home, it's go, go, go. As a result, you may find yourself forgetting to eat breakfast, not drinking enough water, and not getting nearly enough sleep at night. These are all things that I want you to put first so that you are taken care of and have the energy to show up in your classroom each day.
Bre is a Registered Dietician who specializes in helping overwhelmed teachers create simple nutritional plans that fit into their crazy schedules. She discovered quickly in her career that teachers need easy, repeatable habits to achieve their goals. She found great joy in hearing that teachers, including her husband, found more energy and excitement in their day when following her nutritional plans. There is no doubt that her suggestions will help create healthy habits for 2022!
In this episode on nutrition that works, we discuss:
Tips for teachers to prioritize health and wellness
Beginning steps towards meeting your nutritional goals
Reasons why dieting can be considered stressful for teachers
3 suggestions that can make meal prepping easier depending on individual preferences
Connect with Bre:
Related Resources:
Related episodes and blog posts:
Connect with me:
More About Stellar Teacher Podcast:
Welcome to the Stellar Teacher Podcast! We believe teaching literacy is a skill. It takes a lot of time, practice, and effort to be good at it. This podcast will show you how to level up your literacy instruction and make a massive impact with your students, all while having a little fun!
Your host, Sara Marye, is a literacy specialist passionate about helping elementary teachers around the world pass on their love of reading to their students. She has over a decade of experience working as a classroom teacher and school administrator. Sara has made it her mission to create high quality no-fluff resources and lesson ideas that are both meaningful and engaging for young readers.
Each week, Sara and her guests will share their knowledge, tips, and tricks so that you can feel confident in your ability to transform your students into life-long readers.
Tune in on your favorite podcast platform: Apple, Google, Amazon, Spotify, Stitcher, and more! If you're loving this podcast, please rate, review, and follow!
Podcast (stellar-teacher-podcast): Play in new window | Download