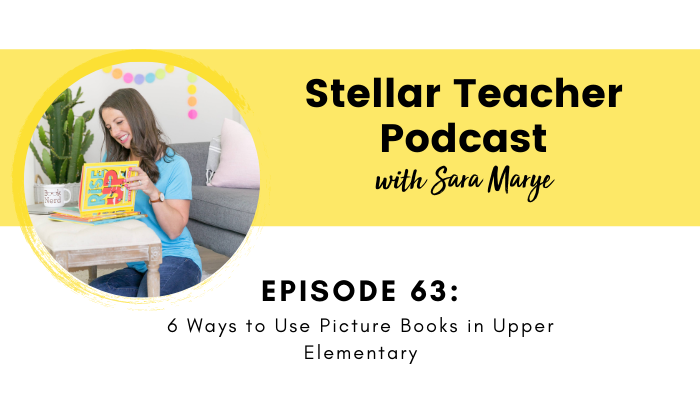 Click play below to hear how to use picture books in upper elementary:
It's a few weeks into the new year and I have to admit I have not always been the best with new year's resolutions. I found that rather than setting specific goals I am much more likely to follow through with a list of habits that I want to do more and habits I want to do less. If this sounds like something that may be attainable for you, then I have a suggestion for you! This year I want you all to try to bring more picture books into your classroom.
If you are in upper elementary I hope you don't think this advice doesn't apply to you. In fact, bringing picture books into upper elementary classrooms is so important. I used to be under the impression that picture books were only for the younger grades and once students could read, that picture books should be replaced by chapter books. Boy was I wrong and after listening to this episode you'll see why!
Picture books allow for a beautiful and meaningful reading experience for people of all ages. They really are the reason that I fell in love with reading. Sometimes I think we forget that picture books can be such a good tool to teach and discuss challenging or complex topics. Since they are in story form, students can easily connect to the story. They can also encourage inferential thinking in a way that chapter books cannot. Ultimately, they create a love of reading in our students, whether they are in kindergarten or fifth grade.
In this episode on using picture books in upper elementary, I share:
6 ideas for bringing more picture books into your lessons
Reasons why you should use picture books in higher grades
How to incorporate reading for fun into your schedule
Why it's beneficial to get the community involved with your classroom read alouds
Related Resources:
Related episodes and blog posts:
Connect with me:
More About Stellar Teacher Podcast:
Welcome to the Stellar Teacher Podcast! We believe teaching literacy is a skill. It takes a lot of time, practice, and effort to be good at it. This podcast will show you how to level up your literacy instruction and make a massive impact with your students, all while having a little fun!
Your host, Sara Marye, is a literacy specialist passionate about helping elementary teachers around the world pass on their love of reading to their students. She has over a decade of experience working as a classroom teacher and school administrator. Sara has made it her mission to create high quality no-fluff resources and lesson ideas that are both meaningful and engaging for young readers.
Each week, Sara and her guests will share their knowledge, tips, and tricks so that you can feel confident in your ability to transform your students into life-long readers.
Tune in on your favorite podcast platform: Apple, Google, Amazon, Spotify, Stitcher, and more! If you're loving this podcast, please rate, review, and follow!
Podcast (stellar-teacher-podcast): Play in new window | Download