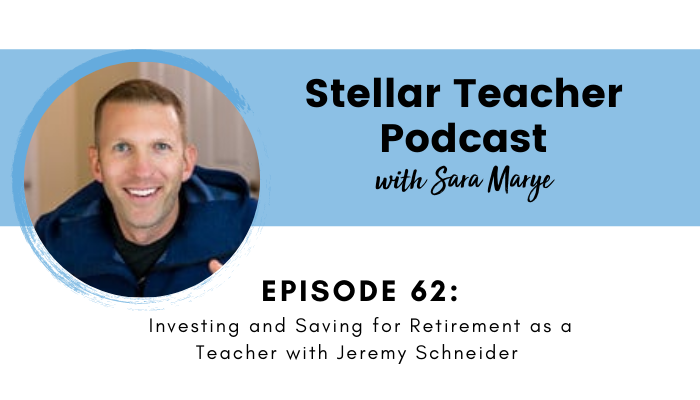 Click play below to listen to ideas on investing and saving for retirement:
I'm so happy you've joined me for the second episode of Our Best Year Ever series airing every Thursday in the month of January. On this guest episode I got to chat with Jeremy Schneider, creator of Personal Finance Club, about personal finance. Yes, even as as a teacher there are so many things you can do in terms of investing and saving for retirement.
Jeremy sold his business and retired at the age of 36 and has since dedicated his life to sharing practical money and investing tips to give people financial freedom. He uses simplified language to teach people how to have options in retirement, and that is what I want for all of you!
Those of you that have been around for a while know that this isn't a typical episode for my show, but once I heard Jeremy's goals I knew I had to have him on the show to share them with you. His goals are to help people gain financial independence, understand the world of money and investing, create wealth, and begin saving for retirement.
It may seem impossible to come up with the money to invest on a teacher's salary, but Jeremy shares some enlightening facts that may change that mindset. I hope this episode guides you towards financial freedom and wealth!
Meet Jeremy
Jeremy Schneider
Jeremy Schneider is a successful entrepreneur and personal finance expert. After starting an internet company in college and selling it at the age of 34 for over $5M and retiring at 36, Jeremy has dedicated his life to teaching personal finance. He founded Personal Finance Club, a community of champions of the individual investor who help further financial education. Jeremy likes playing beach volleyball and writing bios about himself in the third person.
In this episode on investing and saving for retirement, we discuss:
How to get started with investing
Simplified descriptions of financial terms that appear intimidating
Mindset shifts we need to make when it comes to spending and saving
What to do if you feel like you're late to the investing game
Things to consider to ensure financial independence prior to retirement
Resources:
Use coupon code STELLAR for $20 off Jeremy's course: How to Build Wealth By Investing in Index Funds
Check out Jeremy's website: Personal Finance Club
Follow Jeremy on Instagram: @personalfinanceclub
Head to the calculator: Investment growth retirement calculator
Related Resources:
Related episodes and blog posts:
Connect with me:
More About Stellar Teacher Podcast:
Welcome to the Stellar Teacher Podcast! We believe teaching literacy is a skill. It takes a lot of time, practice, and effort to be good at it. This podcast will show you how to level up your literacy instruction and make a massive impact with your students, all while having a little fun!
Your host, Sara Marye, is a literacy specialist passionate about helping elementary teachers around the world pass on their love of reading to their students. She has over a decade of experience working as a classroom teacher and school administrator. Sara has made it her mission to create high quality no-fluff resources and lesson ideas that are both meaningful and engaging for young readers.
Each week, Sara and her guests will share their knowledge, tips, and tricks so that you can feel confident in your ability to transform your students into life-long readers.
Tune in on your favorite podcast platform: Apple, Google, Amazon, Spotify, Stitcher, and more! If you're loving this podcast, please rate, review, and follow!
Podcast (stellar-teacher-podcast): Play in new window | Download