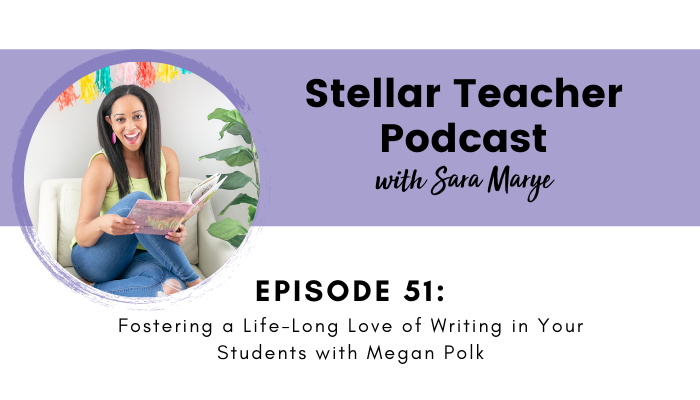 I am SO excited to share this episode with you all because my friend, Megan Polk, joined me for a guest interview. Megan is the content creator behind The Literacy Dive Podcast and a fellow lover of reading and writing. She is my go-to resource when it comes to writing and I learned so much from her during this episode focused on keeping students engaged.
One of the most popular questions I get asked is how to keep kids excited during writing activities. I can't say I was surprised to hear that avoiding daily writing activities is not the way to go! Luckily, Megan shares some simple modifications that can be made as soon as tomorrow. No matter if you enjoy teaching writing or not, this episode will encourage you to prioritize writing and ways to make teaching writing fun!
In this episode I share:
Simple and effective tips for making writing exciting
How to use your classroom materials to motivate your students
Strategies that are easy to implement during writing block
Advice for teachers who don't enjoy teaching writing
Ways to utilize your colleagues to enhance your teaching
Related Resources:
Connect with Megan:
Check out some of Megan's writing resources:
Related episodes and blog posts:
Connect with me:
More About Stellar Teacher Podcast:
Welcome to the Stellar Teacher Podcast! We believe teaching literacy is a skill. It takes a lot of time, practice, and effort to be good at it. This podcast will show you how to level up your literacy instruction and make a massive impact with your students, all while having a little fun!
Your host, Sara Marye, is a literacy specialist passionate about helping elementary teachers around the world pass on their love of reading to their students. She has over a decade of experience working as a classroom teacher and school administrator. Sara has made it her mission to create high quality no-fluff resources and lesson ideas that are both meaningful and engaging for young readers.
Each week, Sara and her guests will share their knowledge, tips, and tricks so that you can feel confident in your ability to transform your students into life-long readers.
Tune in on your favorite podcast platform: Apple, Google, Amazon, Spotify, Stitcher, and more! If you're loving this podcast, please rate, review, and follow!
Podcast (stellar-teacher-podcast): Play in new window | Download