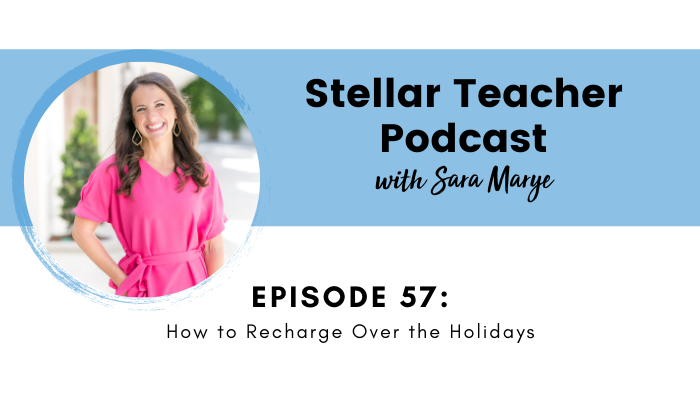 Congratulations for surviving the first semester of the year! Most of you are either off this whole week or at least part of the week, so I've decided to refrain from talking about reading strategies. That means if you are already on vacation, come back and listen to this episode next week! You deserve this time to relax and recharge, and that's exactly what I'll be talking about today.
This year in particular seems to be considerably more challenging than years passed. That's why you need to reflect on your accomplishments rather than using this time to catch up on paperwork. I know it's not easy to leave your work at school, I can totally relate, I used to do that too. What I realized, though, was that I was doing more harm than good. So unplug, spend time with your family, and do all the things that bring you joy because you deserve it!
In this episode I share:
Why you shouldn't do any schoolwork during your holiday break
Reasons every educator should be celebrating right now
Tips for unplugging during your holiday break
Social media restrictions you should be considering
What you should and shouldn't have on your to-do list
Related Resources:
Related episodes and blog posts:
Connect with me:
More About Stellar Teacher Podcast:
Welcome to the Stellar Teacher Podcast! We believe teaching literacy is a skill. It takes a lot of time, practice, and effort to be good at it. This podcast will show you how to level up your literacy instruction and make a massive impact with your students, all while having a little fun!
Your host, Sara Marye, is a literacy specialist passionate about helping elementary teachers around the world pass on their love of reading to their students. She has over a decade of experience working as a classroom teacher and school administrator. Sara has made it her mission to create high quality no-fluff resources and lesson ideas that are both meaningful and engaging for young readers.
Each week, Sara and her guests will share their knowledge, tips, and tricks so that you can feel confident in your ability to transform your students into life-long readers.
Tune in on your favorite podcast platform: Apple, Google, Amazon, Spotify, Stitcher, and more! If you're loving this podcast, please rate, review, and follow!
Podcast (stellar-teacher-podcast): Play in new window | Download