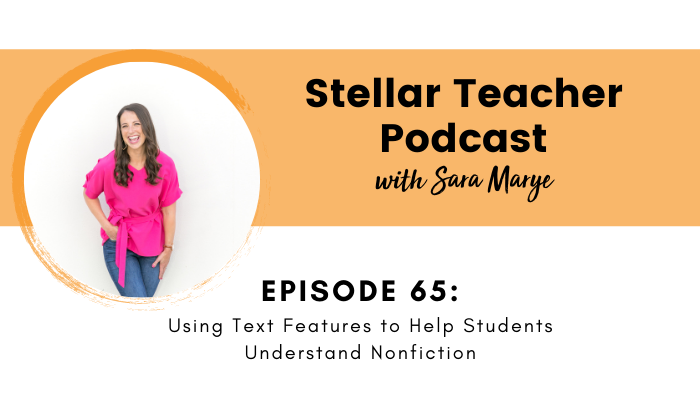 Click play below to hear about using text features:
I love starting every week off with all of you and I'm so excited to be moving forward into the second year of The Stellar Teacher Podcast. I hope that you have enjoyed the content I've provided in this last year because I have so many ideas and strategies that I cannot wait to share with you! For today's episode, I will be talking about teaching nonfiction text features. You're probably thinking that this is a topic you've already taught in the beginning of the year, but stick with me for this episode and hear me out.
Now that you're halfway through the school year and starting to think about test prep, you're probably reflecting on which areas you may need to go back to and reteach. Your students likely know how to articulate the different text features, but we're going to take it one step further. The tips I'm referring to will actually help students use their knowledge of text features to improve their understanding of nonfiction texts.
By using my four-step process, students will learn how to utilize those text features as tools for comprehension. Reading comprehension is so important for all subjects, and these strategies I speak about in this episode will be beneficial no matter what subject you are teaching. An added bonus to this process is that it will also help your students understand what parts of the text are helpful or not helpful for them. Like all my recommendations before, these tips are easy to implement as soon as today! I can't wait to hear if you've put this process into practice in your classroom!
In this episode on using text features, I share:
Why you should reteach nonfiction text features during your spiral review
The relationship between text features and reading comprehension
The 4-step process to use text features to help improve comprehension
Questions to ask your students to help them think critically about text features
The role that text features can play in students understanding of text
Related Resources:
Related episodes and blog posts:
Connect with me:
More About Stellar Teacher Podcast:
Welcome to the Stellar Teacher Podcast! We believe teaching literacy is a skill. It takes a lot of time, practice, and effort to be good at it. This podcast will show you how to level up your literacy instruction and make a massive impact with your students, all while having a little fun!
Your host, Sara Marye, is a literacy specialist passionate about helping elementary teachers around the world pass on their love of reading to their students. She has over a decade of experience working as a classroom teacher and school administrator. Sara has made it her mission to create high quality no-fluff resources and lesson ideas that are both meaningful and engaging for young readers.
Each week, Sara and her guests will share their knowledge, tips, and tricks so that you can feel confident in your ability to transform your students into life-long readers.
Tune in on your favorite podcast platform: Apple, Google, Amazon, Spotify, Stitcher, and more! If you're loving this podcast, please rate, review, and follow!
Podcast (stellar-teacher-podcast): Play in new window | Download