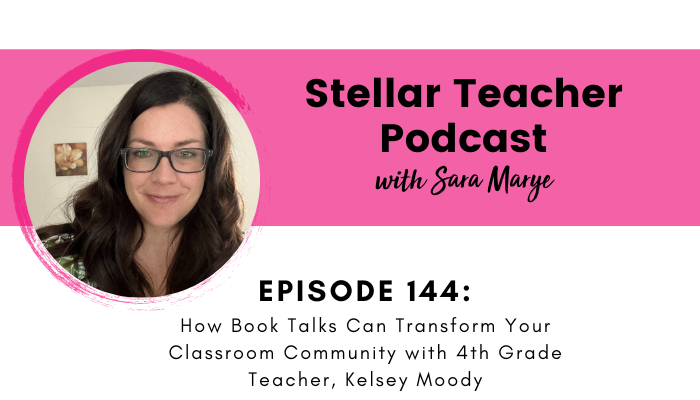 Click play below to hear how book talks can transform your classroom community:
During your first year of teaching, or really any year of teaching, you learn many lessons, but also know it's important to celebrate your wins. And a win for any teacher is gaining back your time and energy and fostering a love of books in your students. That's exactly what my guest, Kelsey Moody, accomplished after her first year of teaching. In today's episode, she's sharing how implementing a system gave her back time and the impact book talks had on her classroom community.
Being a member of the Stellar Literacy Collective, Kelsey was able to implement routines, particularly daily routines, into her classroom. Not only are they engaging and boost her students' confidence, but they also save her time and energy.
Additionally, Kelsey shares her experience with transforming the traditional book report to the more engaging and interactive book talks with her class. She discusses how talking about books impacted her students to develop a love of literacy with the help of their community.
With the simple implementation of routines and book talks, Kelsey was able to instill confidence in her students and change the culture of her classroom that's centered around literacy. By taking these ideas and applying them to your own classroom, you too can create a love of literacy and transform how your students discuss books.
Kelsey Moody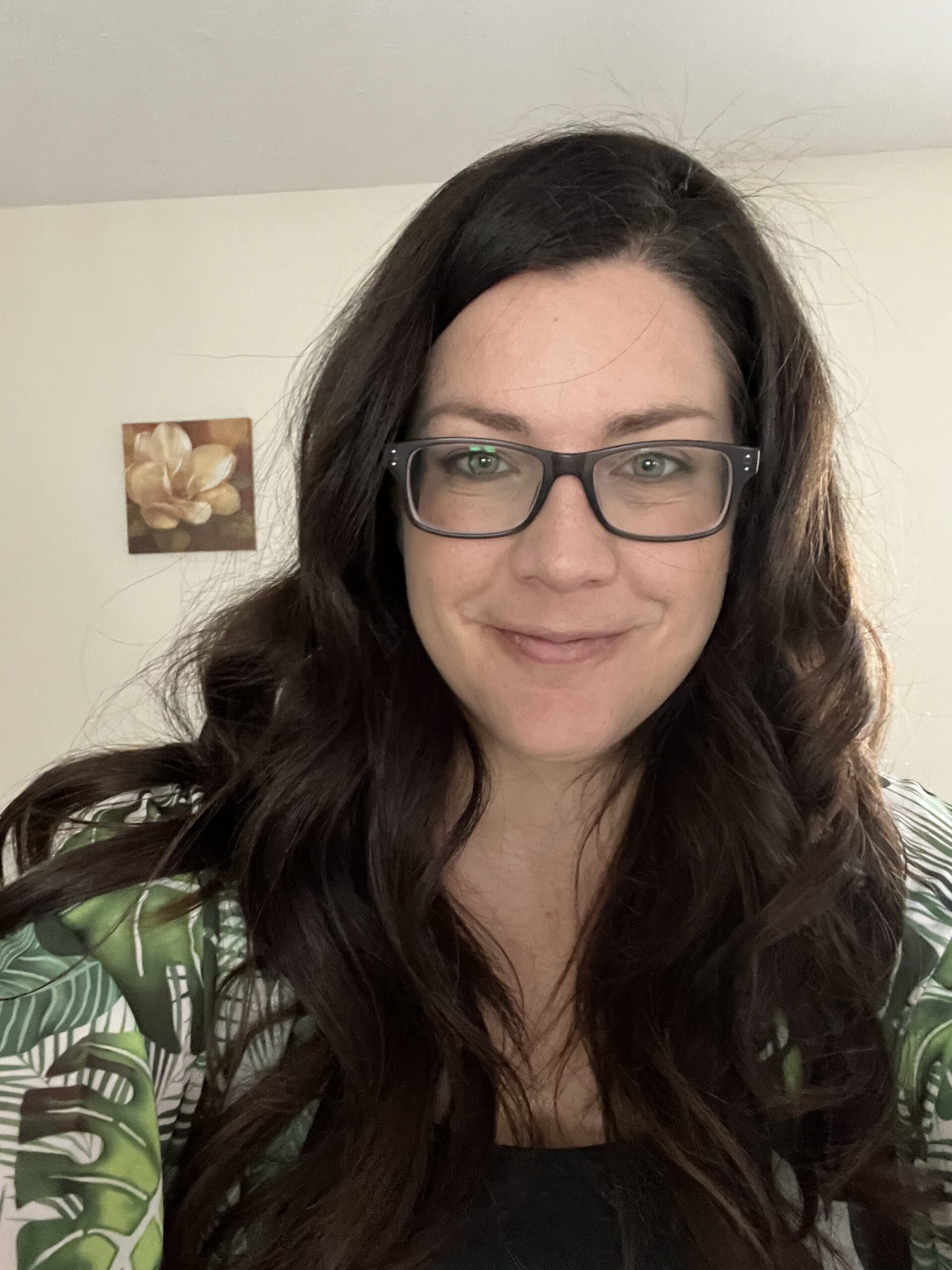 Kelsey
Kelsey Moody is a 4th grade teacher in West Virginia where she just finished her first year of teaching. She has 3 kiddos – a 4th grader and twins that are in 2nd grade. She is part of the Stellar Literacy Collective, in which she's used many of the resources and implemented them in her classroom this year.
In this episode on book talks, we discuss:
Kelsey shares the biggest lessons she learned after being finishing her first year of teaching
How implementing routines saves time but are also engaging for students
A brief explanation of what book talks are and how to use them to expose students to a variety of book titles
Ways community members can leave a lasting impact on a students' view of reading
Advice for those wanting to start a similar project and where to begin first
Related Resources:
Related episodes and blog posts:
Connect with me:
More About Stellar Teacher Podcast:
Welcome to the Stellar Teacher Podcast! We believe teaching literacy is a skill. It takes a lot of time, practice, and effort to be good at it. This podcast will show you how to level up your literacy instruction and make a massive impact with your students, all while having a little fun!
Your host, Sara Marye, is a literacy specialist passionate about helping elementary teachers around the world pass on their love of reading to their students. She has over a decade of experience working as a classroom teacher and school administrator. Sara has made it her mission to create high quality no-fluff resources and lesson ideas that are both meaningful and engaging for young readers.
Each week, Sara and her guests will share their knowledge, tips, and tricks so that you can feel confident in your ability to transform your students into life-long readers.
Tune in on your favorite podcast platform: Apple, Google, Amazon, Spotify, Stitcher, and more! If you're loving this podcast, please rate, review, and follow!
Podcast (stellar-teacher-podcast): Play in new window | Download
Prefer to read? Open the transcript here!
Sara
Hey there and happy Monday. I am so glad that you are tuning in to today's episode.
Sara
Today I am interviewing Kelsey Moody, who is a fourth grade teacher in West Virginia. But she also happens to be one of the members inside the Stellar Literacy Collective, which is our membership site for upper elementary teachers. And I've gotten to know Kelsey pretty well over this past year because it was her first full year of teaching.
Sara
And it was so fun to have her in the membership and to hear, you know, the questions that she has as a first year teacher and to celebrate so many of her wins. And Kelsey has just blown me away at with lessons that she's learned and things that she's been able to implement.
Sara
Back in January, she reached out to me and asked if I would be willing to record a book talk for her class because she started introducing book talks to her students. And it turned into this big huge project that involved their school community, their local community, and they even reached out to celebrities to see if they'd be willing to record book talks for their class.
Sara
And on this episode, she's going to talk about how she got started with book talks and the impact that it had on her students, and really share how this one small routine that she incorporated how it really transformed and changed the culture of her classroom and created a classroom community that really was centered around literacy.
Sara
And you guys know that I love sharing practical tips and suggestions and strategies with you. But I love it when I can bring on teachers on the podcast who can share their experience actually implementing the things that they've learned through this podcast. So I really think you guys are going to enjoy this conversation with Kelsey, let's jump right into the interview.
Sara
Hi, Kelsey, welcome to the show. I am so excited to have you on today.
Kelsey
Hi, I'm happy to be here.
Sara
So Kelsey is one of the members inside the Stellar Literacy Collective. And she I've gotten to know her really well over this last year. And she agreed to come on the podcast and talk a little bit about her first year of teaching and share specifically about a really cool book talk project that she has done.
Sara
But before we get into all of that, can you give us a little introduction, who you are, and also share a little bit about how your first year of teaching has been?
Kelsey
Okay, so I'm Kelsey, I have three kiddos. One is nine. He's in fourth grade, which is actually the grade I'm teaching
Sara
This year, is like he in your classroom?
Kelsey
No, I told him that that's not allowed. I think technically it is. But I didn't want that. So he's in he's in my colleagues class, which is great. But then I have twins that are in second grade. So that's been a lot of fun.
Kelsey
And I have always wanted to be a teacher. I was just telling Sara that I started off going to school to be a teacher. And then I never finished this was back in 2009. Because I got married, my husband's job had us moving a lot. So I moved around with him. And then we had babies.
Kelsey
So I stayed home with them, which was amazing. And I don't regret that at all. But then once they all hit kindergarten age, it was like, well, maybe I still have the urge to teach. I still wanted to do that. So it's like maybe it's time to go back to school and try this again.
Kelsey
So I started going back to school, and I was subbing a lot. And last year, I finally finished my credential. So this is my first official year teaching.
Sara
Congratulations. I feel like that's such a huge accomplishment. And I'm sure just like, the climate of education is a little bit different than when you started your training back in 2009. What was it like your first year just kind of like how was it jumping in to being a teacher post pandemic?
Kelsey
Yeah, it was awesome. I, I always thought coming into teaching later in life would be a disadvantage. And there were some things that maybe were harder but having kids and having that experience really did help me and just being around the education world so much with my moms and educator too and subbing and stuff and being totally engrossed in that field.
Kelsey
It did help a lot. So it's been pretty smooth. Overall, there are some learning curves and stuff and lessons I've learned but overall, it's been awesome.
Sara
I love that and I love I just am so happy to hear that you had a good first year. I feel like there's just so much stress and negativity in education. And it's just refreshing to hear that it's like, no, there are still teachers who are enjoying education. So if you're a listener who's listening, and it was a rough year know that, like, there is hope. Kelsey just survived her first year and has great things to say about it.
Sara
I would love to know, you know, I feel like, at least for me, my first year of teaching was filled with so many lessons. It's like every day, it's like, okay, I'm learning how to manage my classroom. I'm learning how to do small groups, you just learned so much. So as you think back about this past year, what are some of the biggest lessons or aha moments that you've had?
Kelsey
Yeah. So I think my biggest lesson that I learned, especially being a new teacher, you get excited about doing a lot of things. And so it was like, oh, I want to try this. I want to try that and constantly finding new things on Pinterest, or the new Pinterest, Tik Tok and things that you want to try and trying to jump in with those things and trying to create new and fun and exciting lessons for my students.
Kelsey
And I was constantly feeling at the beginning of the year, I was feeling like I was spending so much time trying to make these fun lessons. And at some point, I don't know if I heard it on a podcast, or somebody told me but like stop reinventing the wheel. Like, there's so much good stuff already out there. And I just have to use that stuff.
Kelsey
And not every single lesson has to be this wow moment. You know, it can we can pick and choose. Sometimes it might be a wow moment in reading and math is just plugging along. But so I stopped reinventing the wheel, I started to put more routines into place, which helped me with my planning, I was not spending as much time planning and also helps my students because they knew what to expect.
Kelsey
And just having those routines and procedures for myself, I expect that on my students. But having that for myself really helped me not go so crazy with trying to go over the top all the time.
Sara
Yeah, I love both of those reflections. And I it makes me think back to when I was still in my education program. One of the many wonderful pieces of advice that my professor gave me was, you know, especially when you're first starting out, like don't try to do everything every single day, pick one lesson to make amazing.
Sara
And it's okay, if every other lesson is mediocre or average, because you can't like you can't improve everything, all of the time, you have to just focus on one thing at a time. And then I also think too, for some reason, we just have this idea that it's like, it's like teachers are not entertainers. You know, it's like we want our lessons to be fun and engaging.
Sara
But like at the end of the day, if students are participating and learning, it's okay if they think one or two of your lessons are boring, like as long as they're getting through the content. So I love that.
Sara
And of course, you know that I am all about like systems and routines. Saves like teacher sanity, it makes it easier for students. What are some of the routines that really helped to save time and energy this last year for you?
Kelsey
Yeah, well, I think being in the Stellar Teacher membership, I had access to all these great things that you put out, and they're all very much routines and systems. And so at some point in the year, I just decided I cannot go out on every single lesson all the time.
Kelsey
So because I'm in the membership, I was able to I decided to focus on reading. So I'm going to systemize my reading and try to make it kind of fun and engaging. And kind of just let math, I basically just said I'm gonna follow the curriculum, we're gonna go day to day just follow the book.
Kelsey
So with reading, then I was able to use I started using the sentence writing routine, which you have. And it's so it's so simple for me, I don't have to do any planning, I just know it's sentence writing routine. Sometimes I put what page number I'm going to be on in the PDF. But other times I don't even have to do that I just scroll and I find it because it's so routine now.
Kelsey
But it is routine, we do the same exact thing every Monday, every Tuesday every Wednesday. And yet my students still love it, they are engaged, they look forward to it. And that was just really eye opening to me, because I'm not putting any effort into this. It's right there for me. It's the same every week for our writing warmup, we do the sentence writing routine, and the kids love it.
Kelsey
So that really got me hooked. That was the first one that I started using. And then I started using your reading mini lessons. And it's the same thing as same format. Every time you have the mini lesson, you have the example page and the practice. The kids know what to expect. I know what to expect, even if I never looked at it before I started the lesson. I knew exactly how the lesson is going to flow.
Kelsey
It just really helped me because my students love them. They're engaged. They were excited about them. And that took a lot of pressure off of me to plan everything new all the time.
Sara
I love that. And I think I think there's like this sort of like misunderstanding that in order for students to have fun and be engaged. It has to be new. But I think one of the biggest like powers of routine like you're saying, it's like you did the same thing every Monday every Tuesday but yet you're still your students still had fun with it.
Sara
And I think when students know like how to be independent, they know what's coming, they can be confident in their ability to execute, that's when they really start to have fun because they're like, I know what I'm supposed to do, like I know how to be successful with this activity. And I think that is one of the biggest benefits of routines.
Sara
So I'm, I'm so glad that in your first year, I feel like it took me, it took me a couple years to figure out how routines could really help me. So I'm so glad that in your first year, you have figured out how routines really can help your instruction.
Kelsey
And that was it was an eye opener for me. Because, like I said, being a new teacher, you want to be like that fun, exciting teacher who does all those exciting lessons, that's kind of what I had my eye on. And I would not have expected the same old same old week after week to be so exciting for my students.
Kelsey
And I think it is the confidence thing, you know, the the fun, exciting lessons, it gets them. When it's a wow moment, if you're trying to do that all the time, it's not a wow moment anymore. And then just having that routine, even my wide range of kids, every single one of them knows what to expect. And so then they want to get involved and engaged.
Kelsey
And I could pull sticks and call on any single any single student and they will be happily excited to give me their sentence, you know, that they've made up. So that's been really, I definitely learned a lot from that. And something I definitely want to keep continuing going forward.
Sara
That's awesome. I think too, it's like when you can get these systems and routines in place, and it simplifies like your planning, it makes it easier for you, you then have like more mental energy and time for when you do want to bring in those wow moments like what you were saying.
Sara
You know, you're not everyday scrambling to figure out what am I going to do? Because it's like, okay, I know I have a system for my writing routine, I've got a system for my whole group lessons. And then it's like, okay, we're doing something, you know, special, I'm going to like spice this up a little bit. But it just gives you that mental space for when you do want to bring in a wow moment. Absolutely.
Sara
So I would love to talk a little bit about your book talk project, because I know I think it was back in January, you reached out to me, and you shared a little bit about this in the membership. And I was just so impressed that as a first year teacher, you're doing this big book talk projects with your students. So talk to us a little bit about what this book talk project look like.
Kelsey
So that was another thing that I saw on the Steller Teacher membership, the idea for book talks to engage your students. And so I just happen to be looking at ways, wow ways because I'm putting these systems and routines in place now. And I'm looking for little wows to throw in. And you have a whole section on engagement.
Kelsey
So I just happened to be scrolling through there. And I was like, well, book talks seem like, actually what connected me to it was that as a student, I remember in fourth grade doing book reports, and I kind of loved them, but also kind of hated them. And this was like a simplified book report that was very accessible to all levels of students, and so interested me.
Kelsey
So I decided I was going to do book talks in my classroom. So it was just going to be basic, we're going to do book talks, I was going to introduce it to my students. And then you had on there too, that it was like a community letter, then I was like, I'll send those out to parents. So that started off send those home parents, maybe some parents will come in.
Kelsey
And then I think it was even one of my students that brought up can we send it to a past teacher? And it was honestly on the fly. I was like, Sure, let's brainstorm some teachers in the building we want to send it to. And then we started with admin. And then I was like, Well, what about community members? We're a small rural community. So we started talking about community members that are well known.
Kelsey
And then I just said, Well, if you had anybody, if you could ask anybody in the world to do a book talk, let's think big, like big time goals. Who would you ask? So then we Brad Paisley was on our list and Mr. Beast, which all the kids love as a YouTube star. So they started naming these people.
Kelsey
And I did reach out to those people. Obviously we didn't get Mr. Beast did not come I definitely would have been the star teacher then or Brad Paisley, I knew that but we just we reached for the stars and tried to get big names to come do book talks. And that's it just took off from there. They were excited about it. I was excited about it. But that's how we started.
Sara
I love that. So for anybody in my audience who's listening that might not be familiar with the term a book talk, a book talk is simply letting your students or community members or teachers, somebody comes in and they share a book and they simply talk about a book that they enjoy. And it's it's like a commercial.
Sara
So it's short. It's two to three minutes, you give a little recap, you know, kind of a little teaser of like this is you know, what happened, maybe sharing who might enjoy reading it. And it's just a great opportunity to expose students to a wide range of titles.
Sara
So I love that you not only did book talks with your students, but then you allowed them to engage with the community and the school community and the greater community. And I think even just like having this idea that it's like, okay, who would we love to hear from in terms of a book talk?
Sara
And even if you didn't hear from Brad Paisley and Mr. Beast, I feel like that's such a good experience for your students to have to really cuz it's like, okay, wait a minute, like, I can try something, you know, put myself out there, take a risk, reach out to someone, and even if they don't respond, we sort of are taking the actions that could help us get these results.
Sara
How did your students enjoy the book talks that your classmates gave? Like, what was the impact that that had on your classroom?
Kelsey
Yeah, so I noticed that they just opened up conversation about books, not just I mean, it started just with the book talks, the kids giving the book talks, and then students asking questions and talking about it. But after we started doing several of them, I would notice them even just even out at recess, like talking about books.
Kelsey
And that just became a normal part of our classroom community, asking each other, what are you reading right now? Or what book do you think I should read next? So just discussing books that we're reading or want to read became a habit for us, which was nice.
Sara
I love that, especially when it's like, okay, you're doing this formal structured book talk, right? But that then transfers into at recess, and lunch, your students just start talking about books, because it's something that they're interested in. That's such a good sort of like piece of evidence that it's like, okay, you're instilling this love of learning in your students.
Sara
How did they respond to like the community? Who are some of the community members that you were able to bring in? And then how did your students respond when they were able to like hear those book talks?
Kelsey
Yeah, so we had some past teachers, some of their past teachers came in and gave a pep talk, which was really fun, and it was kind of nostalgia for them. And then we had some just local community members that came in, they respected them. And then our big wow ones, this year, we had two.
Kelsey
Our women's basketball team. We're a small town and then we have a big university town right next to us West Virginia University. And so everybody in the state of West Virginia, are West Virginia fans, like we all love West Virginia, when you move here, you just kind of have to love West Virginia. So everybody has mountaineer gear. And we're fans of West Virginia.
Kelsey
So the first one that came was the women's basketball team that said they came in and yeah, and we had a lot of we actually invited the whole fourth grade to that book talk, not just our class. And we have a lot of girl basketball players who were super excited to see these role models that they look up to.
Kelsey
And that I mean, they did awesome. The women's basketball team, they gave a book talk surpassed anything I could have imagined. And it was just excitement all day. And then even for weeks after that talking about remember when they talked about the Lemonade Wars was one of the books they talked about. So the whole fourth grade now is talking about books because these people came in.
Kelsey
And then the other one was also West Virginia University related the mountaineer mascot, she came in and book talk. So that was really fun too. Because then again, it's it's people that they look up to, they see him on TV, the whole state idolizes these people, and they came to our tiny little school, which hasn't happened before anyways. So then to come, specifically for our classroom and our fourth graders to talk about books was just, it was really special.
Sara
I love it. And like what a neat impact that you're having on your students. That is like the wow moment that you want to have, right? Because your students long past when they leave your classroom, like, they're going to remember that my teacher brought in the West Virginia mascot to talk about books. And they'll remember those books. I love it.
Sara
So I'm thinking through this, right? If you're a teacher who's like, Okay, this sounds like cool, but it also sounds like a lot of extra work. So be honest, like don't sugarcoat it, how much extra time did it take for you to put together these book talks to get the community members to come in to, you know, schedule and coordinate this? And was that extra time worth it?
Kelsey
I mean, it definitely was worth it. And I mean, it did take time, all the resources were there for me, because I had them from you. So that was just print and go. So that took a lot less time. And then we just in class brainstormed ideas. So probably the most time for me was I took the time to find contact information, email people, message people on Instagram, wherever I needed to contact them. I took that time on a night or a weekend.
Kelsey
So that did take a little bit of time for me. I only started in January this year. I would love to start earlier next year. And just thinking ahead. Now I already have contact information started for many of these contacts. So that is less time for next year. And I could have easily and I think going forward next year, I would like to loop in my students and put the responsibility of contact these these people onto them.
Kelsey
Because they have school email addresses and devices and stuff. And we could easily make that a literacy center routine to email somebody and contact them and reach out and invite them to do a book talk. Will they ever get a response? We don't know. But that's just one less thing I have to do too. And it's definitely I mean, it's engaging for them as well. So I think going forward, I would make it even less labor intensive for myself, and put it on them a little bit.
Sara
I love that. And I love that you're already thinking ahead to like next year and doing that with them. And I also think like, how cool to have your students be the ones reaching out to the community members, or the authors or whoever it is. And I think like, I love that you're like, I could turn this into a routine.
Sara
I think too, it's like that could be such a good writing opportunity. Like you could do a whole writing lesson on how do we write a persuasive letter like to convince someone to come in and share their book with us? So I'm excited to hear we'll have to maybe do like a follow up episode next year to hear like, how did book talks year two go with your students.
Kelsey
I'm hoping starting earlier that it'll just it'll go much smoother, I'll get more people involved. I don't know, I feel like next year will be even better. And I'm excited about it.
Sara
That's awesome. What did you notice as a result, like after doing these book talks, I know you mentioned your students talking more about books. But did you notice anything else as far as like an impact that they had on your students?
Kelsey
A lot of them that came to do a book talk had talked about how, when they were in fourth grade, they might have been a little bit more reluctant to read. One of the basketball players said she struggled to read she really struggled through I think she said she had dyslexia. So she was a struggling reader. And that obviously made her more reluctant to read.
Kelsey
And then seeing that these people still even even if they may not have liked reading or felt like reading was a school task that they didn't really enjoy. Now, as adults, they're still continuing to read. And it's something that they do for enjoyment. And they push through and were able to succeed in reading enough that they now do it for fun. So I think that was another impact that my students saw.
Sara
I love that because I think like it's hard for our fourth graders to see, beyond fourth grade or fifth grade, you know, but for them to see an adult to see an athlete to see someone that they look up to and recount, you know what they were like in fourth grade and to be able to sort of relate with them. I feel like that gives kids hope and a perspective on what life could be like, you know, beyond elementary school.
Sara
I love this. I just I'm so excited for you next year, you know, you had an amazing first year of teaching that you will be able to figure out just the power and the systems of routines, you know, the fact that you figured out that you don't have to reinvent the wheel, but then that you had kind of the time and the interest and the drive to start something as incredible as book talks and to see such an amazing results with it.
Sara
I just I can't wait to hear what you come up with next year. I would love to know what advice do you have for teachers who are maybe wanting to do something similar to this in their own classroom, but they're nervous to take that first step?
Kelsey
I say just do it, because I'm honestly that's kind of I did it on a whim. Like I said, as a first year teacher, you see something you get excited about it. And sometimes that can be our downfall because we see too many things and get excited about them.
Kelsey
But I saw it I got excited about it. And I don't think it was even two days between when I decided to do it to what I presented to my class. And then once I present it to my class, they're excited. So then their excitement fuels me to keep going. So just jump in and do it and everybody will be excited and you'll keep going.
Sara
I love that. Well, Kelsey, I cannot thank you enough for being willing to come on the podcast and share your experience. It really is incredible. I'm so proud of you. And I'm so grateful that you're part of our membership community. It's just been so neat to get to know you this past year.
Kelsey
I have enjoyed it as well.
Sara
Thanks, Kelsey.
Kelsey
Thank you.