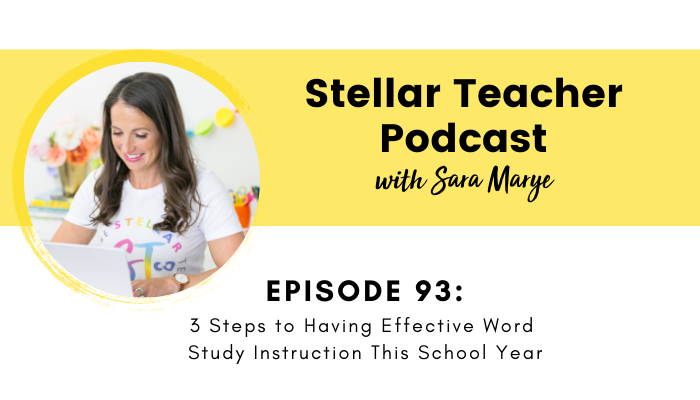 Click play below to hear 3 steps to having effective word study instruction:
Welcome to August, my friends! I've always thought of August as the beginning of a new year because that meant school was right around the corner. Well this summer was all about the mini series, and this month is no different.
In order to get you prepared for the upcoming school year, our mini series in August is going to focus on word study instruction. So in today's episode, I'm providing a foundation of word study and the 3 things you need to consider to have effective word study instruction this school year.
Let's start with the basics. Word study is the study of words or the process of learning anything and everything about words. That sounds all-encompassing, right? Honestly, it is! The ultimate goal of word study is fluency, which results in a skilled reader. But in order for that to happen, students need to be able to recognize words and then understand the word they're reading.
So how can you as the teacher make that happen? Through your instruction! I share 3 steps to implement in your word study instruction and with the breakdown of each step, you'll see how incorporating them will have major literacy benefits for your students. Those steps include:
Provide systematic and explicit whole group instruction

Intentionally plan plan opportunities for word play, exploration, and manipulation

Provide opportunities for students to transfer word study understanding to text
A quote by Wiley Blevins simply explains the importance word study instruction has on our students. It states, "If we want to create an environment where our students are word watchers, but that doesn't happen unless you intentionally create a classroom community that focuses on words."
We want our students to be comfortable with words and understand their connection to other words in order to become a fluent and skilled reader. Your students can accomplish just that through effective word study instruction!
In this episode on word study instruction, I share:
The foundation of word study and the end goal of using it
Mistakes to avoid when teaching word study
Reasons why it's so important to teach, especially in upper elementary
A breakdown of each steps and activities to use while teaching word study instruction
Related Resources:
Related episodes and blog posts:
Connect with me:
More About Stellar Teacher Podcast:
Welcome to the Stellar Teacher Podcast! We believe teaching literacy is a skill. It takes a lot of time, practice, and effort to be good at it. This podcast will show you how to level up your literacy instruction and make a massive impact with your students, all while having a little fun!
Your host, Sara Marye, is a literacy specialist passionate about helping elementary teachers around the world pass on their love of reading to their students. She has over a decade of experience working as a classroom teacher and school administrator. Sara has made it her mission to create high quality no-fluff resources and lesson ideas that are both meaningful and engaging for young readers.
Each week, Sara and her guests will share their knowledge, tips, and tricks so that you can feel confident in your ability to transform your students into life-long readers.
Tune in on your favorite podcast platform: Apple, Google, Amazon, Spotify, Stitcher, and more! If you're loving this podcast, please rate, review, and follow!
Podcast (stellar-teacher-podcast): Play in new window | Download