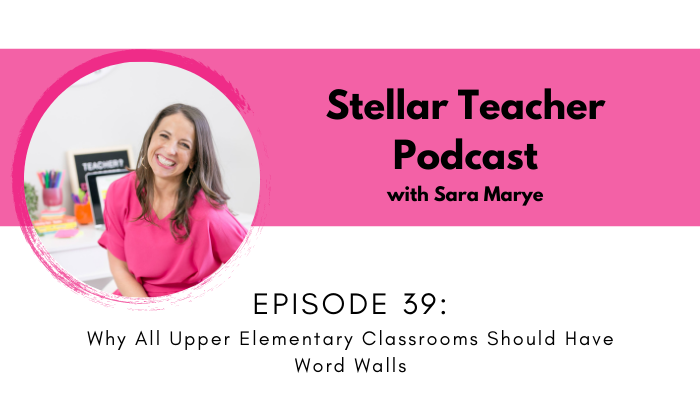 I can't believe it's already mid-way through August and I am sure some of you are already back at school getting your classrooms ready or even meeting your students. My teacher brain always considers August as the start of a "new year". Am I the only one that thinks this way? I love the way a new year welcomes new routines and a clean slate and this year I am going to convince you upper elementary teachers to try something new.
You may be surprised to hear this but I want you upper elementary teachers to display a word wall. You may wonder why fourth graders need reminders on how to spell, but that's actually not the purpose. There are so many advantages to exposing students to new vocabulary words on a daily basis so that they can solidify the meaning of these words and use them during discussions. Once you listen to all the benefits, you'll have to let me know if you give it a try!
In this episode I share:
The different purposes of a word wall

Benefits of using word walls in upper elementary

Intentional ways to display word walls in your classroom

3 necessary components for each vocabulary word

What you can do to help your students utilize the word wall independently
Resources Mentioned:
Connect with me:
More About Stellar Teacher Podcast:
Welcome to the Stellar Teacher Podcast! We believe teaching literacy is a skill. It takes a lot of time, practice, and effort to be good at it. This podcast will show you how to level up your literacy instruction and make a massive impact with your students, all while having a little fun!
Your host, Sara Marye, is a literacy specialist passionate about helping elementary teachers around the world pass on their love of reading to their students. She has over a decade of experience working as a classroom teacher and school administrator. Sara has made it her mission to create high quality no-fluff resources and lesson ideas that are both meaningful and engaging for young readers.
Each week, Sara and her guests will share their knowledge, tips, and tricks so that you can feel confident in your ability to transform your students into life-long readers.
Tune in on your favorite podcast platform: Apple, Google, Amazon, Spotify, Stitcher, and more! If you're loving this podcast, please rate, review, and follow!
Podcast (stellar-teacher-podcast): Play in new window | Download