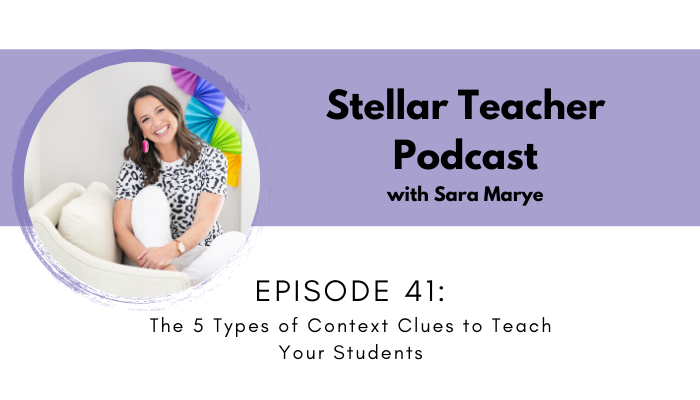 Today's episode continues the conversation we've been having on a topic related to reading comprehension, which is vocabulary. As I'm sure you know, if a student isn't understanding what they're reading they will likely not be motivated or interested in the text. This is why it is so important to teach students how to figure out what unknown words mean, bringing us to today's topic: context clues.
This means no more explicit teaching of a vocabulary list or those weekly vocabulary tests. Crazy, right? What I found when teaching context clues correctly is that students were able to determine the meaning of words and would be able to use them independently, which is of course the goal! Once you put these strategies in place your students will be fully equipped with the tools to decipher the meaning of unknown words they come across while reading.
In this episode I share:
Things to avoid when teaching vocabulary

How to teach vocabulary without using vocabulary lists

The 5 different types of context clues to teach your students

The importance of word parts and parts of speech for unknown words
Resources Mentioned:
Connect with me:
More About Stellar Teacher Podcast:
Welcome to the Stellar Teacher Podcast! We believe teaching literacy is a skill. It takes a lot of time, practice, and effort to be good at it. This podcast will show you how to level up your literacy instruction and make a massive impact with your students, all while having a little fun!
Your host, Sara Marye, is a literacy specialist passionate about helping elementary teachers around the world pass on their love of reading to their students. She has over a decade of experience working as a classroom teacher and school administrator. Sara has made it her mission to create high quality no-fluff resources and lesson ideas that are both meaningful and engaging for young readers.
Each week, Sara and her guests will share their knowledge, tips, and tricks so that you can feel confident in your ability to transform your students into life-long readers.
Tune in on your favorite podcast platform: Apple, Google, Amazon, Spotify, Stitcher, and more! If you're loving this podcast, please rate, review, and follow!
Podcast (stellar-teacher-podcast): Play in new window | Download