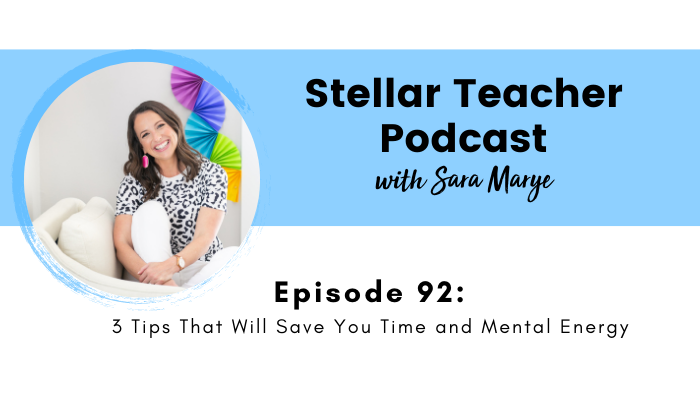 Click play below to hear tips that will save you time and mental energy:
If I had one wish, it would be the gift of time and having more hours in the day. I feel like I'm constantly thinking, I wish I had more time or if only I had more time I could get this task completed. We're all wanting more time, especially as teachers. Although I can't grant you more time, I can give you strategies that will help. In today's episode, I'm sharing 3 tips that will save you time and mental energy.
Time management used to be a daily struggle for me, but with the implementation of these tips, I learned to free up my time and mental energy. My 3 tips are to automate and systematize your teaching, batch lesson planning, and repurpose material and content when possible.
During the episode, I breakdown each tip and further explain how to authentically use them within your classroom. I also explain how beneficial each tip is and why they save you time and mental energy. By the end of tip three, you'll see how each tip is connected and how they truly free up your time during the school year.
We all wish for more time and through implementing these 3 tips, it will help with just that. Saving you more time and mental energy this upcoming school year will do so much for your mental health and help you further achieve the perfect work-life balance!
In this episode on how to save time and mental energy, I share:
My 3 tips for time management to utilize in your classroom
An example of how to systematize your reading block to eliminate decision fatigue
Various ways to repurpose a single text that meets multiple different objectives
How the Stellar Teacher Membership can help with your time management
Related Resources:
Related episodes and blog posts:
Connect with me:
More About Stellar Teacher Podcast:
Welcome to the Stellar Teacher Podcast! We believe teaching literacy is a skill. It takes a lot of time, practice, and effort to be good at it. This podcast will show you how to level up your literacy instruction and make a massive impact with your students, all while having a little fun!
Your host, Sara Marye, is a literacy specialist passionate about helping elementary teachers around the world pass on their love of reading to their students. She has over a decade of experience working as a classroom teacher and school administrator. Sara has made it her mission to create high quality no-fluff resources and lesson ideas that are both meaningful and engaging for young readers.
Each week, Sara and her guests will share their knowledge, tips, and tricks so that you can feel confident in your ability to transform your students into life-long readers.
Tune in on your favorite podcast platform: Apple, Google, Amazon, Spotify, Stitcher, and more! If you're loving this podcast, please rate, review, and follow!
Podcast (stellar-teacher-podcast): Play in new window | Download