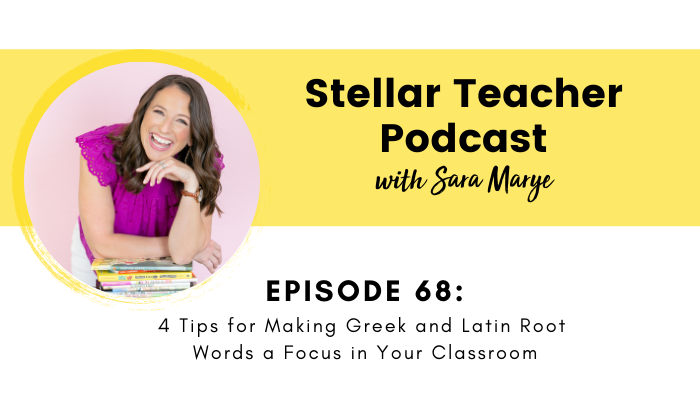 Click play below to hear tips on Greek and Latin root words:
Thank you for joining me for another episode of The Stellar Teacher Podcast! On today's episode I will be talking about something that is often overlooked, which is the importance of teaching Greek and Latin root words.
This may feel like it should be at the bottom of your to-do list, but it is truly something that shouldn't be overlooked. Once you factor in how many words in the English language are derived from the Greek and Latin languages, you'll agree with me that it needs more time and attention in the classroom.
If you listened to last week's episode about the seven different attributes of a successful reader, you'll realize that Greek and Latin root words are highly connected with two of them: accuracy and background knowledge. The thing is, whether your student's are strong readers or not they are going to need to understand these Greek and Latin roots as texts get more complex.
As texts increase in difficulty, they will more frequently come across these word parts and be required to use this knowledge to determine the meaning of words. By understanding the meaning of these words it will in turn make it easier for them to understand sentences and even paragraphs of these texts as well.
It is not too late in the school year to get started, which is why I've shared four activities that I found useful and effective in my classroom. These ideas are simple for both you and your students because the whole purpose of teaching Greek and Latin root words is that your students become more confident readers.
It is our job to provide them with the tools to succeed, and by teaching these roots they will be able to problem solve independently when they come across unknown words. I hope at this point I have convinced you to take another look at teaching Greek and Latin roots and that you will use these ideas to easily incorporate these skills into your literacy block!
In this episode on Greek and Latin root words, I share:
The connection between Greek and Latin roots and reading accuracy
The difference between roots and base words
4 tips on how to make Greek and Latin roots more love in the classroom
The benefits teaching Greek and Latin roots
Related Resources:
Related episodes and blog posts:
Connect with me:
More About Stellar Teacher Podcast:
Welcome to the Stellar Teacher Podcast! We believe teaching literacy is a skill. It takes a lot of time, practice, and effort to be good at it. This podcast will show you how to level up your literacy instruction and make a massive impact with your students, all while having a little fun!
Your host, Sara Marye, is a literacy specialist passionate about helping elementary teachers around the world pass on their love of reading to their students. She has over a decade of experience working as a classroom teacher and school administrator. Sara has made it her mission to create high quality no-fluff resources and lesson ideas that are both meaningful and engaging for young readers.
Each week, Sara and her guests will share their knowledge, tips, and tricks so that you can feel confident in your ability to transform your students into life-long readers.
Tune in on your favorite podcast platform: Apple, Google, Amazon, Spotify, Stitcher, and more! If you're loving this podcast, please rate, review, and follow!
Podcast (stellar-teacher-podcast): Play in new window | Download