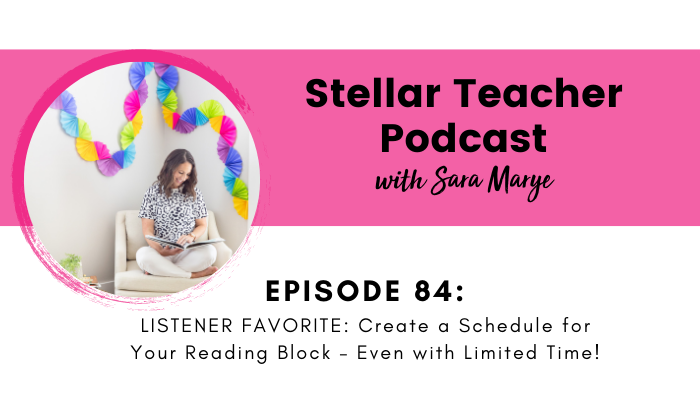 Click play below to hear how to create a schedule for your reading block with limited time:
Hello, friends! I'm always listening to your questions, concerns, and feedback because I do this podcast with you in mind. After sending out surveys to my listeners, I've received a lot of questions regarding how to create a schedule that fits everything in and makes it work.
So in today's episode, I'm going to replay a previous episode, Episode 27 Create a Schedule for Your Reading Block – Even with Limited Time! This is definitely a listener favorite and all the tips are still relevant today. If you've never listened to it, you're in for some brand new information, but if you've listened to it before, I bet you'll take away something new from it this time around.
My literacy block is too short. I don't have enough time to cram everything in! Do these thoughts sound familiar? Depending on the length of your literacy block, you may feel like you are constantly rushing and hustling to get from one thing to the next. Here's the thing though – more time isn't the answer! You CAN create an effective literacy block, no matter how much time you have to teach it.
It may sound strange, but you cannot stress about how much time you have for reading and writing. For most teachers, that's not something that you have any control over. What you can control is how you spend that time. I'm here to help you create a schedule that's perfect for your literacy block…even if your time is limited!
We have 3 series coming up in the next couple of months that I'm really excited about! Our first series in June is about the science of reading, the second series in July is all about small group instruction, and our third series in August is about the new hot topic of word study. Stay tuned for all of our fun and new topics coming up on the podcast!
In this episode on how to create a schedule for your reading block with limited time, I discuss:
7 tips to help you create an effective literacy block
Why you must set daily non-negotiables and stick to them
One question to ask yourself to determine if you're using time wisely
Which routines and independent skills to prioritize at the beginning of the year to save time later
Related Resources:
Related episodes and blog posts:
Connect with me:
More About Stellar Teacher Podcast:
Welcome to the Stellar Teacher Podcast! We believe teaching literacy is a skill. It takes a lot of time, practice, and effort to be good at it. This podcast will show you how to level up your literacy instruction and make a massive impact with your students, all while having a little fun!
Your host, Sara Marye, is a literacy specialist passionate about helping elementary teachers around the world pass on their love of reading to their students. She has over a decade of experience working as a classroom teacher and school administrator. Sara has made it her mission to create high quality no-fluff resources and lesson ideas that are both meaningful and engaging for young readers.
Each week, Sara and her guests will share their knowledge, tips, and tricks so that you can feel confident in your ability to transform your students into life-long readers.
Tune in on your favorite podcast platform: Apple, Google, Amazon, Spotify, Stitcher, and more! If you're loving this podcast, please rate, review, and follow!
Podcast (stellar-teacher-podcast): Play in new window | Download