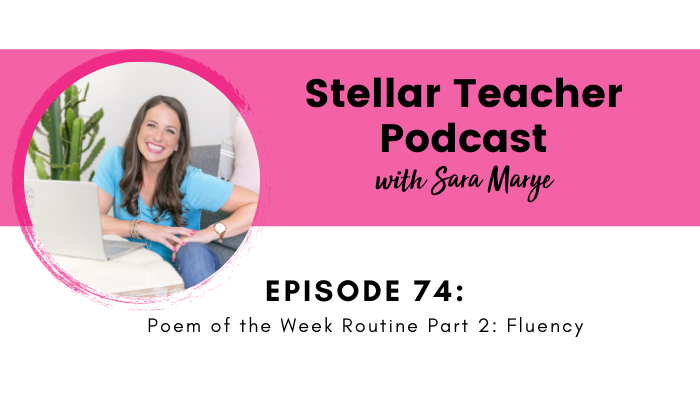 Click play below to hear how using poem of the week increases student's fluency:
Hi, friends! I'm so happy you've joined me for the second episode in our two-part series that's all about poetry. As we talked about in last week's episode, I outlined a poem of the week routine with an emphasis in comprehension, so in today's episode, I'll be discussing how to use that same routine with the literacy skill of fluency.
I know there's a big push and emphasis for comprehension, so you might be thinking, why are we going to focus on fluency? My students already know how to read. I'm limited on time already, why do I need to add fluency to my list?
Those are all valid points, but did you know that fluency is the one skill that's connected to all other literacy skills? Think about it. How is a student supposed to comprehend the meaning of the text if they're so focused on pronouncing a word, or pausing in all the wrong places? How are they supposed to figure out inferences or the author's purpose if their accuracy or speed is wrong?
For this reason, and many others, fluency is a literacy skill we still have to focus on, and working on that skill through poem of the week is a great way! Today I describe how students hone in on their fluency through my daily routine.
Getting daily practice at this skill results in an increase of students reading for enjoyment and then viewing themselves as a successful reader, which ultimately is the goal!
So, no matter if your students need help with their fluency or they're continuing to build and maintain their fluency, this episode is for you! I hope that after listening to both of these episodes, you're more than ready to incorporate both comprehension and fluency into your weekly literacy routine using poem of the week!
In this episode on poem of the week with an emphasis on fluency, I discuss:
How fluency is linked to other reading skills
Outline my poem of the week routine using fluency
Variations of incorporating both comprehension and fluency into your poem of the week routine
Why all students should continue working on their fluency
Check out my list of poetry anthologies:
The Best Part of Me by Wendy Ewald
My Thoughts are Clouds: Poems for Mindfulness by Georgia Heard
Lion of the Sky: Haiku for All Seasons by Laura Purdie Salas
African Acrostics: A Word in Edgeways by Avis Harley
Wet Cement: A Mix of Concrete Poems by Bom Raczka
Once I Laughed My Socks Off by Steve Attewell
Related Resources:
Related episodes and blog posts:
Connect with me:
More About Stellar Teacher Podcast:
Welcome to the Stellar Teacher Podcast! We believe teaching literacy is a skill. It takes a lot of time, practice, and effort to be good at it. This podcast will show you how to level up your literacy instruction and make a massive impact with your students, all while having a little fun!
Your host, Sara Marye, is a literacy specialist passionate about helping elementary teachers around the world pass on their love of reading to their students. She has over a decade of experience working as a classroom teacher and school administrator. Sara has made it her mission to create high quality no-fluff resources and lesson ideas that are both meaningful and engaging for young readers.
Each week, Sara and her guests will share their knowledge, tips, and tricks so that you can feel confident in your ability to transform your students into life-long readers.
Tune in on your favorite podcast platform: Apple, Google, Amazon, Spotify, Stitcher, and more! If you're loving this podcast, please rate, review, and follow!
Podcast (stellar-teacher-podcast): Play in new window | Download