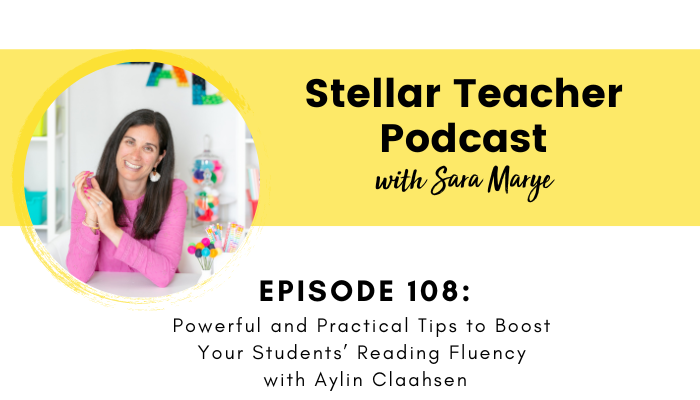 Click play below to hear tips on how to increase student reading fluency:
We've talked about this idea before of trying to fit all these different skills into your literacy block, but with what time? It's so difficult to designate time specifically for certain skills when you have so much to cover. So what if I told you focusing on the skill of fluency doesn't have to take up extra time and it can be organically streamlined throughout all parts of your day? Game changer! In today's episode, my special guest, Aylin Claahsen, is sharing powerful and practical tips to increase student reading fluency.
There's a myth that when students are in upper elementary, they're fluent readers, but that's not necessarily always the case. In fact, there are 5 aspects of fluency for students to be proficient in. Those are accuracy, expression, pace, smoothness, and reading for meaning. While that may sound like a lot of skills to practice in a short amount of time, Aylin shares 5 ways that teachers can support upper elementary students that will help increase student reading fluency. 
Fluency is the knot that ties everything together pertaining to reading and comprehension. In order to increase student reading fluency, these skills can be easily modeled and practiced throughout your instructional day, without time and prep work. Aylin likes to make things simple and applicable to your life, which is why you can start incorporating these fluency tips and strategies today in all aspects of your literacy block to increase student reading fluency!
Meet Aylin
Aylin Claahsen
I'm Aylin! I am a certified reading specialist, literacy consultant and curriculum designer who loves sharing literacy tips for teaching readers. Specializing in Kindergarten-5th Grade, I can be found sharing literacy tips on my blog or social media at Literacy with Aylin Claahsen. I have a huge passion for small group reading as I've seen the impact it has on readers of all ability levels. Creating engaging literacy resources is one way that I love to connect with students and teachers all around the world. I personally believe that building confidence in readers is one of the most important things teachers can do.
In this episode on how to increase student reading fluency, we discuss:
The 5 aspects of fluency
5 simple and practical ways teachers can support upper elementary students with fluency
Examples of what to highlight when modeling teacher fluency while reading
Tips on where to fit in mini reading conferences with your students during your instructional day
Suggestions on good fluency resources to use with your students
Related Resources:
Related episodes and blog posts:
Connect with me:
More About Stellar Teacher Podcast:
Welcome to the Stellar Teacher Podcast! We believe teaching literacy is a skill. It takes a lot of time, practice, and effort to be good at it. This podcast will show you how to level up your literacy instruction and make a massive impact with your students, all while having a little fun!
Your host, Sara Marye, is a literacy specialist passionate about helping elementary teachers around the world pass on their love of reading to their students. She has over a decade of experience working as a classroom teacher and school administrator. Sara has made it her mission to create high quality no-fluff resources and lesson ideas that are both meaningful and engaging for young readers.
Each week, Sara and her guests will share their knowledge, tips, and tricks so that you can feel confident in your ability to transform your students into life-long readers.
Tune in on your favorite podcast platform: Apple, Google, Amazon, Spotify, Stitcher, and more! If you're loving this podcast, please rate, review, and follow!
Podcast (stellar-teacher-podcast): Play in new window | Download