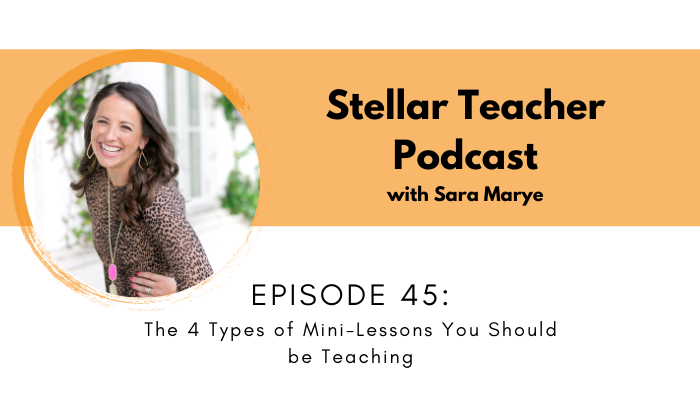 This episode will be the third and last episode in the mini-lesson mini series, although I'll definitely be talking about them again soon! At this point you have probably thought about what you are doing during your mini-lessons and have hopefully tried some of my tips and tricks. You may want to try one more after I tell you about the mini lessons you should be teaching that aren't related to comprehension.
Many of us have heard at length how important it is for students to read at a young age. We eat, sleep, and breathe topics such as main idea, inferences, and sequencing even though these aren't the skills that will lead to lifelong readers. Once we look beyond what the novels are about and also focus on motivating our students to enjoy reading then we've done our job. I'd love to hear which types of mini lessons you are already using or planning on using, so head over to my Instagram @thestellarteachercompany and let me know!
In this episode I share:
Resources Mentioned:
Related episodes and blog posts:
Connect with me:
More About Stellar Teacher Podcast:
Welcome to the Stellar Teacher Podcast! We believe teaching literacy is a skill. It takes a lot of time, practice, and effort to be good at it. This podcast will show you how to level up your literacy instruction and make a massive impact with your students, all while having a little fun!
Your host, Sara Marye, is a literacy specialist passionate about helping elementary teachers around the world pass on their love of reading to their students. She has over a decade of experience working as a classroom teacher and school administrator. Sara has made it her mission to create high quality no-fluff resources and lesson ideas that are both meaningful and engaging for young readers.
Each week, Sara and her guests will share their knowledge, tips, and tricks so that you can feel confident in your ability to transform your students into life-long readers.
Tune in on your favorite podcast platform: Apple, Google, Amazon, Spotify, Stitcher, and more! If you're loving this podcast, please rate, review, and follow!
Podcast (stellar-teacher-podcast): Play in new window | Download