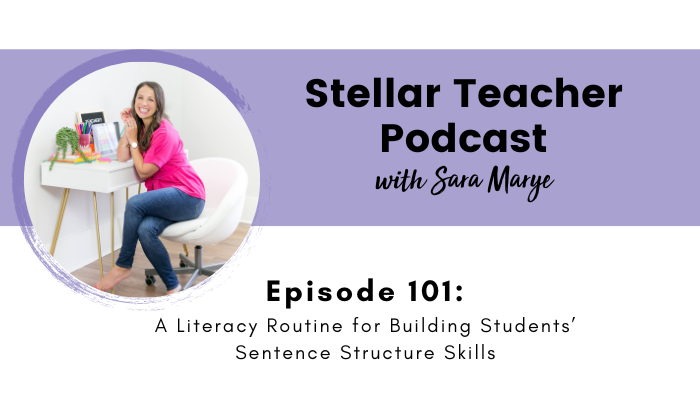 Click play below to hear a literacy routine for building students' sentence structure skills:
If you know me well, you know I love a good literacy routine! Mostly because they're quick, purposeful, and greatly improve students' literacy skills over time. What's not to like?! I'm super excited because I've spent the better part of a year developing my new literacy routine, which I know you're going to love. So in today's episode, I'm going to share my high impact literacy routine on sentence structure and how it improves students' reading and writing skills.
Before jumping into the routine, let's start with the basics. We define literacy routine as any reading or writing task or activity that has a repeatable set of steps that can be applied to different literacy concepts. A good literacy routine should build confidence and independence amongst your students, while also saving you instructional time as a teacher. Each task is purposeful and aligned to standards or an outcome that's going to improve literacy knowledge.
All of those benefits I just mentioned are exactly what this sentence structure literacy routine has. During the episode, I break down the routine by the task of each day, along with the desired outcome, and how each task benefits students. I share another key component to the routine, which is reviewing student responses as a whole group, so students can learn what's expected of them.
Since most teachers can agree that sentence structure plays a role in both the development of reading comprehension and writing skills, it was important to create a literacy routine surrounding that concept. This literacy routine helps improve a students' understanding of sentences and provides an opportunity for authentic practice with writing sentences, but with a short amount of time. There are so many other benefits, which I explain throughout the episode.
Finding quick and effective literacy routines that improve a students' literacy knowledge and skills is key in elementary classrooms. By implementing this sentence structure routine, it will give your students consistent and continuous opportunities to practice and refine their abilities to understand and write sentences throughout the year!
In this episode on a sentence structure literacy routine, I share:
How the science of reading played a crucial role in the development of this literacy routine
Why understanding sentence structure helps develop both reading comprehension and writing skills
What each day of the routine looks like, along with the benefits of each task
The countless benefits of this sentence structure literacy routine
It's a year-long literacy routine, so it's okay if students have perfected it after a few weeks
Resources:
Related episodes and blog posts:
Connect with me:
More About Stellar Teacher Podcast:
Welcome to the Stellar Teacher Podcast! We believe teaching literacy is a skill. It takes a lot of time, practice, and effort to be good at it. This podcast will show you how to level up your literacy instruction and make a massive impact with your students, all while having a little fun!
Your host, Sara Marye, is a literacy specialist passionate about helping elementary teachers around the world pass on their love of reading to their students. She has over a decade of experience working as a classroom teacher and school administrator. Sara has made it her mission to create high quality no-fluff resources and lesson ideas that are both meaningful and engaging for young readers.
Each week, Sara and her guests will share their knowledge, tips, and tricks so that you can feel confident in your ability to transform your students into life-long readers.
Tune in on your favorite podcast platform: Apple, Google, Amazon, Spotify, Stitcher, and more! If you're loving this podcast, please rate, review, and follow!
Podcast (stellar-teacher-podcast): Play in new window | Download