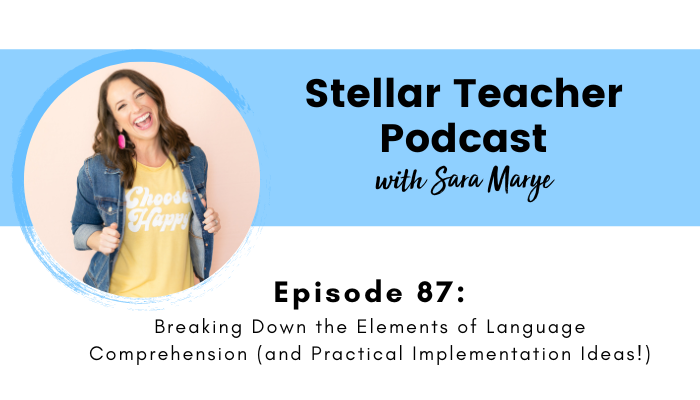 Click play below to hear the elements of language comprehension and implementation ideas:
All this month I've been talking about the science of reading, and this is the third episode of this mini series. We've discussed an overview of the science of reading, along with effective implementation activities for your classroom that correlate with the science of reading. On today's episode, I'm breaking down the elements of language comprehension and practical implementation ideas.
As we've already discussed, the science of reading is all about learning how a student reads and how to best support students through various reading strategies. The idea of language comprehension is incorporated in the science of reading.
In addition, language comprehension consists of several different components, which are background knowledge, vocabulary, language structure, verbal reasoning, and literacy knowledge. All of those components, along with word recognition, create a skilled reader, which is our ultimate goal as a literacy teacher.
Along with an overview of what language comprehension is, I also provide simple and effective implementation for you to start doing in your classroom to work on these skills. It's important to keep in mind that these skills don't need to be explicitly taught every single day, but you do need to be intentional about how you are supporting your students' language comprehension throughout the year, reading block, and various instructional activities that you include.
This is a jam-packed episode in which I provide a lot of vital information to help grow your understanding of the science of reading. Having a better grasp on language comprehension helps better support your students with their reading skills and having efficient and skilled readers! Stay tuned for future episodes regarding in-depth information from the topics in this episode.
Next week is the final episode in this series, which will be a question and answer style episode, so if you have further questions about the science of reading, please reach out on Instagram or email me and I'll answer some of your questions on the last episode of this series!
In this episode on language comprehension and implementation ideas:
An overview of language comprehension and implementation ideas
The two challenges for upper elementary for teaching comprehension
A breakdown of each component that makes up language comprehension
4 things to think about when teaching vocabulary
Why language structure is important in literacy and reading
Related Resources:
Related episodes and blog posts:
Connect with me:
More About Stellar Teacher Podcast:
Welcome to the Stellar Teacher Podcast! We believe teaching literacy is a skill. It takes a lot of time, practice, and effort to be good at it. This podcast will show you how to level up your literacy instruction and make a massive impact with your students, all while having a little fun!
Your host, Sara Marye, is a literacy specialist passionate about helping elementary teachers around the world pass on their love of reading to their students. She has over a decade of experience working as a classroom teacher and school administrator. Sara has made it her mission to create high quality no-fluff resources and lesson ideas that are both meaningful and engaging for young readers.
Each week, Sara and her guests will share their knowledge, tips, and tricks so that you can feel confident in your ability to transform your students into life-long readers.
Tune in on your favorite podcast platform: Apple, Google, Amazon, Spotify, Stitcher, and more! If you're loving this podcast, please rate, review, and follow!
Podcast (stellar-teacher-podcast): Play in new window | Download