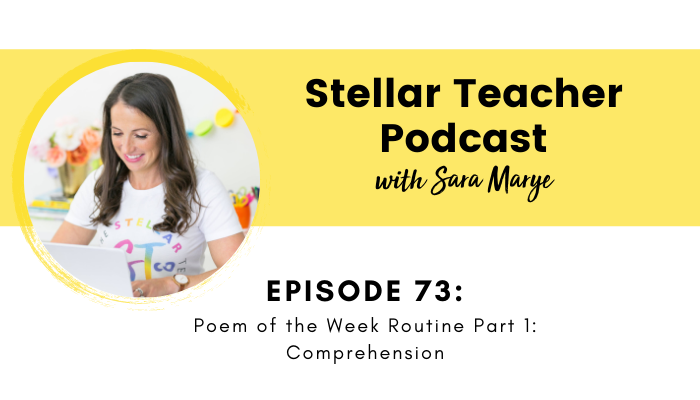 Click play below to hear how to incorporate poem of the week in your routine:
Thank you for joining me for another episode! As most of you know, April is National Poetry Month, which is why today is the first of a two-part series that's all about poetry! Each episode I'll be breaking down how I incorporate a poem of the week routine into my literacy block and how the skills associated with literacy have a connection to poetry. This week I'll be focusing my attention on how to boost comprehension through poetry.
Most teachers wait until April to introduce and talk about poetry in their classrooms, but my question is, why wait? Although April provides a natural time to teach poetry, I encourage you to start even earlier! Poetry has so many benefits related to literacy skills, so it can become a permanent staple in your classroom starting at the beginning of the school year.
In this episode, I provide a layout of my daily poem of the week routine. By following this high impact routine can result in huge benefits for your students when it comes to reading, specifically comprehension.
As you continue throughout the week, you'll find students more engaged and be able to think deeper about the poem. Additionally, working on literacy skills with poems develops their comprehension and helps strengthen a student's confidence in reading more complex texts.
Another major benefit of incorporating poetry in your classroom is the ability to use any poem of your choosing! You can pick poems with topics that relate to your students and their interests, along with your favorite poems.
Don't have any favorite poems or feeling overwhelmed with the stress of the end of the year and don't have time to find any? I've got you covered! Check out my poem of the week resource that provides you with all the resources you'll need to start your poem of the week immediately!
I have so many ideas on how to use poetry in the classroom, so please feel free to reach out to me! Having conversations regarding how to modify the routine of poem of the week to be successful for your students is a conversation I'd love to have! Don't forget to tune in next week for another episode on poetry related to fluency!
In this episode on poem of the week with an emphasis on comprehension, I discuss:
Why poetry can boost comprehension and inferential skills
A sample Poem of the Week daily routine
The abundance of benefits for using poetry in your classroom
How poetry can strengthen a student's confidence with reading
Check out my list of poetry anthologies:
The Best Part of Me by Wendy Ewald
My Thoughts are Clouds: Poems for Mindfulness by Georgia Heard
Lion of the Sky: Haiku for All Seasons by Laura Purdie Salas
African Acrostics: A Word in Edgeways by Avis Harley
Wet Cement: A Mix of Concrete Poems by Bom Raczka
Once I Laughed My Socks Off by Steve Attewell
Related Resources:
Related episodes:
Connect with me:
More About Stellar Teacher Podcast:
Welcome to the Stellar Teacher Podcast! We believe teaching literacy is a skill. It takes a lot of time, practice, and effort to be good at it. This podcast will show you how to level up your literacy instruction and make a massive impact with your students, all while having a little fun!
Your host, Sara Marye, is a literacy specialist passionate about helping elementary teachers around the world pass on their love of reading to their students. She has over a decade of experience working as a classroom teacher and school administrator. Sara has made it her mission to create high quality no-fluff resources and lesson ideas that are both meaningful and engaging for young readers.
Each week, Sara and her guests will share their knowledge, tips, and tricks so that you can feel confident in your ability to transform your students into life-long readers.
Tune in on your favorite podcast platform: Apple, Google, Amazon, Spotify, Stitcher, and more! If you're loving this podcast, please rate, review, and follow!
Podcast (stellar-teacher-podcast): Play in new window | Download