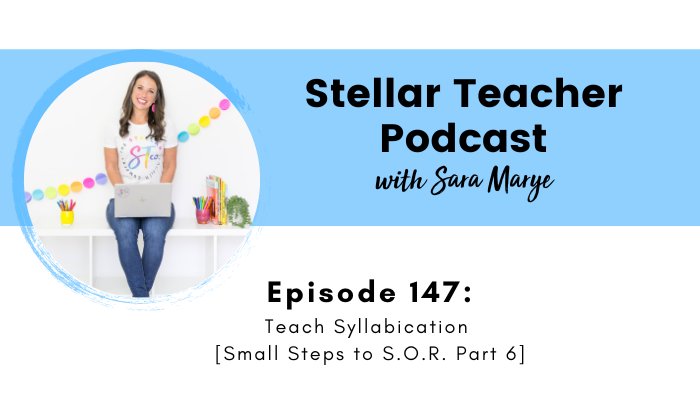 Click play below to hear tips for teaching syllabication:
Over the last six weeks, I've discussed in every episode about Scarborough's Reading Rope and its importance to the science of reading. In order for a student to be a skilled reader, they need both language comprehension and word recognition skills.
I've often focused my attention on language comprehension, but in today's episode, I'm shedding some light on a skill that's needed to gain word recognition skills, which is teaching syllabication.
Some might think this is a skill that's only taught or needed in lower elementary, but being a skilled reader shifts in upper elementary with the introduction of multisyllabic words. Making those words automatic is a big part of being fluent, which speaks to the importance of teaching syllabication.
Along with its importance, I share some quick definitions, the different syllable types and division rules, along with simple activities to use in your classroom. By teaching syllabication, your students will be one step closer to being a skilled reader! Stay tuned next week for my last episode in the series.
In this episode on teaching syllabication, I share:
How the lack of knowing syllabication can show up in upper elementary, even if they were good readers in lower elementary
Action steps to take when it comes to teaching syllabication to your students
Simple activities to incorporate in your instruction that practice syllables and their division rules
4 reason to focus on syllabication during your instruction next year
Resources:
Related episodes and blog posts:
Connect with me:
More About Stellar Teacher Podcast:
Welcome to the Stellar Teacher Podcast! We believe teaching literacy is a skill. It takes a lot of time, practice, and effort to be good at it. This podcast will show you how to level up your literacy instruction and make a massive impact with your students, all while having a little fun!
Your host, Sara Marye, is a literacy specialist passionate about helping elementary teachers around the world pass on their love of reading to their students. She has over a decade of experience working as a classroom teacher and school administrator. Sara has made it her mission to create high quality no-fluff resources and lesson ideas that are both meaningful and engaging for young readers.
Each week, Sara and her guests will share their knowledge, tips, and tricks so that you can feel confident in your ability to transform your students into life-long readers.
Tune in on your favorite podcast platform: Apple, Google, Amazon, Spotify, Stitcher, and more! If you're loving this podcast, please rate, review, and follow!
Podcast (stellar-teacher-podcast): Play in new window | Download
Prefer to read? Open the transcript here!
Hey there, I am so glad that you have been joining me for our small steps to SOR summer series. This is our sixth episode in the series, which means we just have one episode left. I love putting together these episodes for you. And it has been so fun for me to be able to give double episodes with you for the last couple of weeks.
Now, I want to let you know before we jump into this episode, that the doors to the Stellar Literacy Collective are about to open on Monday, July 10, which is just a few days away if you're listening to this live. And if you listen to the podcast regularly, then you probably hear me mention the Stellar Literacy Collective often.
This is our membership site for third through fifth grade teachers. And it was created for reading and writing teachers just like you. And the membership is ultimately jam packed with resources that are going to make your job as a literacy teacher so much easier. There's also professional development and a community aspect. And we really want to make it your one stop shop for anybody who teaches third through fifth grade reading and writing.
So if you have been hearing me talk about it and some of the resources included. And ultimately, if you are interested in getting your hands on a resource library that is seriously going to make your job teaching reading and writing so much easier this next year, we would love to have you inside our community.
Our goal with the membership is to provide upper elementary teachers with resources that are going to make it easy for them to confidently teach effective and engaging lessons to their students without having to spend their nights and weekends planning. So if that sounds like something you'd want for this next school year, you can go to stellarteacher.com/waitlist Because that way, you'll be sure to get an email next week when the doors are open.
The doors are only going to be open Monday through Friday of next week. So this will be your only chance to get in before the school year begins. So like I said, if it's something that you've been considering, Monday is going to be your day. So we're getting pretty excited to welcome in some new members.
But let's jump into our sixth small step to SOR. Now during our small steps to SOR series, you have heard me talk a lot about Scarborough's reading rope. So hopefully by now, you're starting to become really familiar with this model. And we know that skilled reading, which is comprehension comes when we combine word recognition skills and the language comprehension skills.
And Scarborough's reading rope gives us a visual to help us understand this combination and how these two skills work together. So the reading rope consists of two main strands being woven together, word recognition strand which consists of phonological awareness, phonics, and sight word recognition. And then the language comprehension strand, which consists of background knowledge, vocabulary, syntax, literacy knowledge, and verbal reasoning.
And the strands are woven together, which means these are constantly things that we want to be weaving into our literacy instruction, we don't want to teach them in isolation, cross them off the list, and then forget about them for the rest of the year. We want to constantly be coming back to all of these elements.
Now most of the small steps that I have shared so far in this series, have been connected to the language comprehension strand of reading, which is important. But today, I'm going to share a small step that will help your students with word recognition. And that is to teach syllabication to your students, and make sure they understand the six syllable types.
So how does this align to the science of reading? Well, like I just mentioned, we know that word recognition is a key part of becoming a skilled reader. And if we want our students to be able to comprehend any text that we read, then we need to make sure that they can actually decode and read the physical words in the text. Which I know, and sadly enough, there are so many upper elementary students that even once they get to third, fourth and fifth grade, they are still struggling with decoding.
They might be fine with comprehension, but they struggle to physically read the words in a text. When we teach students syllabication and the different syllable types, we are teaching them how to divide words into parts or chunks, and having a strong foundation and syllabication can really help speed up the decoding process and make it easier for students to read with fluency.
So usually, we think of syllable instruction as something that we should focus on in lower elementary. I know when I taught upper elementary, I didn't spend a lot of time focusing on syllables. That's something that I did when I taught first in second grade and we just assumed that when students come to us, they understand syllables and we don't need to think about it
But even in upper elementary, we need to make sure that we are teaching and focusing on and practicing and talking about and bringing up syllabication often, because it's important. And here's why.
I want you to think about how many of your students struggle to read big words, like those super long, multisyllabic words, or even how many of your students struggle to read two or three syllable words, I bet you've got students who struggle with those words, too. And when students see a word that they can't automatically read, their gut reaction is often just to give up.
And sometimes, if a student is struggling to decode multisyllabic word or any word, we try to encourage them and we give them prompts and we say things like, okay, slow down, break that word apart, read it again. But here's the problem, those prompts aren't actually going to help the student to read the word.
Because if a student doesn't know the sounds that various spelling patterns make, or if they are unaware of how to separate a word into syllables, if they can't break a word apart into the smaller chunks, then it doesn't matter if we tell them to slow down, or break the word apart, or to read it again. If a student lacks a foundation of what a syllable is, and how syllables work, then they are more than likely going to struggle with reading multisyllabic words or any word.
And oftentimes, students come to us having a strong phonics foundation in kindergarten first and second grade. You know, if you ask their teacher, they'll say no, they were a great reader, they read perfectly. But when they come to third grade, their phonics foundation starts to break down with the introduction of multisyllabic words, because students are unable to identify the syllable boundaries in a word, they lack confidence to break apart the big words into the smaller chunks.
But here's the good news. When we focus on teaching syllabication to our students, we are giving them the tools and the knowledge that will give them confidence when it comes to reading and spelling big multisyllabic words. So we want to intentionally teach students syllabication and the syllable types, and that is going to help our students become stronger and more confident readers and writers. And I know that that is something that you want for each of your students.
So let's just go through a couple of things when it comes to syllabication. So let's define what is syllabication. And syllabication is simply the act process or method of dividing words into syllables. So in order to do that, students really need to know the different syllable types, and syllable division principles. So these are things that you will want to explicitly teach your students.
Now a syllable is a single unit of pronunciation that has one vowel sound. It's a chunk or a part of a word. But the important thing is, is that it only has one vowel sound. So it can contain consonants, but the vowel sound is what is going to determine the syllable. And words can be one to three or more syllables.
And there are six different syllable types. There's an open syllable, a closed syllable, a magic e syllable, a vowel team syllable, an r control syllable and a final stable syllable. And syllables can have different vowel sounds, short vowels, long vowels and the schwa sound.
And all of these concepts that I just shared with you are things that you want to explicitly teach your students. And if you're thinking that sounds great, but I don't even know what a closed syllable is, or I don't even know if I can explain what the schwa sound is, I get it. So that's where I would encourage you to look for lessons that are already done for you to where you can use them as a guide to help teach that.
And we actually have lessons on the six different syllable types and some syllable division rules inside the membership. So again, if you are looking for access to resources, just like the ones that I'm talking about here that will help you teach syllables plus so many other skills definitely jump on the waitlist for the Stellar Literacy Collective stellarteacher.com/waitlist. Doors open on Monday and syllable lesson plans are definitely part of our resource library that our members get access to.
And so many of our members last year said how easy it was to teach syllabication with the lessons that we've provided. But I get that not every teacher listening to this podcast is going to be at the point where they can possibly join the membership. So if you are not ready to join the membership or are unable to at this time, go listen to episode number 121.
I recorded an episode that is titled Your Guide to Teaching Syllabication in Upper Elementary and it is going to be like your crash course on how to teach syllables. So if you're wondering what the heck is an r controlled vowel or what is the schwa sound. Go listen to that episode because I break down and explain all the different syllable types. So that way hopefully you'll be able to we'll communicate them to your students.
So a couple of things that we want to do. Like I've kind of mentioning, we want to make sure that we explicitly teach the six different syllable types to our students. And like I said, you can grab lessons for that insider membership or go listen to that episode. But we want to make sure that our students understand the different syllable types, and the vowel sounds and the syllable division rules.
So that's the first thing that you want to do if you want to focus on syllabication. But also, we want to make sure that we are incorporating syllabication activities, this is not something that we want to teach at the beginning of the year. And then forget about it, because students are going to constantly encounter multisyllabic words throughout the year.
And it's going to take some practice for your students to become automatic with it. So this is something that we want to regularly incorporate into our literacy block in general.
So a couple of things that you could do are practice reading words with separated syllables. So this would be a great thing to incorporate into like a Literacy Center, but you take a word and you are going to visually space out the syllables. So when students are reading the word, they see the space in between the syllables.
And this just helps students visually remind themselves that okay, words have parts, they're broken down, and especially if they struggle with coming up with the syllables, if they can see it separated, it's going to become more automatic for it.
You could give students words where the syllables are scrambled. So for example, fantastic is a good example. It's a three syllable word fantastic. You could maybe put those syllables in a different order. So there's tick fan TAs. And then students have to look at those three words, unscramble them and figure out that the word is fantastic. So taking a word, breaking it apart into the syllables, scrambling them up and let students them unscramble is a great way for them to practice syllabication.
You could also have students do a syllable word sort, where you give them a list of words and they have to either sort them by the number of syllables, or the type of syllables. And that's just a good way for students to build familiarity or get comfortable understanding the different, you know, types of syllables and to look for them.
But another really easy thing that you can do as you're learning about and discussing syllables throughout the year is a syllable hunt. And this is simply as either students are reading or listening because this can be an oral activity as well have them look for specific types of syllables. Okay, so today when we're reading, we're going to look for a magic e syllable, or we're going to look for words that have the r controlled syllable. So have them just be on the lookout for words.
It all goes back to this idea of we want our students to become word watchers and aware of the different aspects of words. And sometimes we need to prompt our students to be paying attention to different features of words. So a syllable hunt is an easy way to do that.
Hopefully, that gives you an idea of some of the things that you can do in your classroom to focus on syllabication. But the most important one is to explicitly teach the different types of syllables to your students, and then incorporating some of those syllabication activities.
And if you're still wondering, is this something that is going to help my students, there are four reasons why we need to focus on syllabication in upper elementary.
First, your students might have some learning gaps, and if your students have any gaps when it comes to understanding phonics skills, or syllabication, if we don't go back and reteach those skills, they're going to continue to struggle with it. So if your students are struggling with syllabication, we need to fill in the gaps and make sure that they have a strong syllable foundation to be able to move forward.
The second reason, students might struggle to apply what they know about syllabication to multisyllabic words. And I mentioned this earlier, but even if your students do have a strong foundation, and they do understand the syllable types and syllable division rules, they still might be struggling to apply it to those longer multisyllabic words.
So we still need to teach them the syllable types, and especially show them what the syllable types look like and multisyllabic words, because we want to continue to build on the foundation that they have.
The third reason, and you guys should know this because I talk about it almost every week on the podcast. word recognition is essential to comprehension. We know that word recognition is essential to becoming a skilled reader. And understanding or having an understanding of syllabication is part of having strong word recognition skills.
And so we want to make sure that that is part of the strand of Scarborough's reading rope that our students are strong in. So making sure that our students understand syllabication is going to increase their word recognition skills, which is going to lead to comprehension.
And then the other thing that I think is really important is syllabication compliments other word student concepts we teach in upper elementary, like affixes and roots. And we want students to be confident and fluid in their reading. And the fewer word parts that they have to deal with, the more successful that they're going to be when reading multisyllabic words.
And so when you're teaching your students about prefixes and suffixes and roots, you can also at the same time, teach them about syllables and syllable types and syllable division rules. And that is just going to strengthen their ability to confidently read multisyllabic words.
So that's your small step for the week, teach syllabication in upper elementary. Now I know that maybe this sounds difficult because if this is a new concept for you, you might be like, Okay, what is this, but it doesn't have to be difficult. And you don't have to do all of the things I mentioned in this podcast at one time.
Right now, the most important thing is for you to recognize that syllabication is really important in upper elementary and make a decision to teach it. And by focusing on this one aspect of the science of reading, it can really help give your students the confidence to tackle those multisyllabic words that they are guaranteed going to see in your classroom this next year.
So be sure to tune in next Monday for our regular episode. And don't forget if you are thinking about joining us inside the Stellar Literacy Collective doors open on Monday, July 10. And then please come back next Thursday for our last episode in our small steps to SOR series. And I hope you have a great week until then.