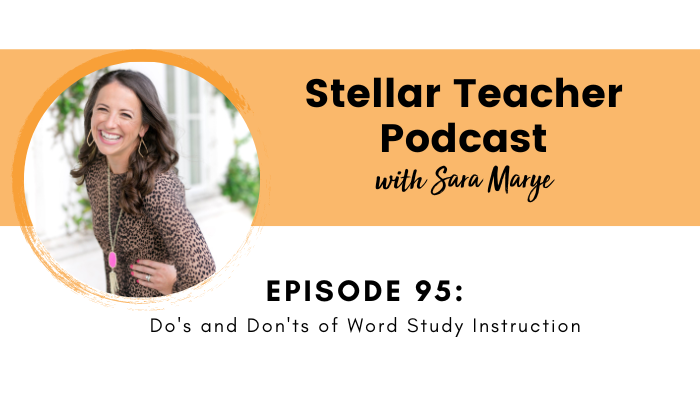 Click play below to hear do's and don't of word study instruction:
Welcome back, friends! This is the third and final episode in our series on word study instruction. I've enjoyed learning and getting to talk with you each week on this subject, and I know many of you are excited to implement this in your classroom when school starts. For our final episode, I'm sharing 5 do's and don'ts of word study instruction.
Throughout this series, I've gotten a lot of questions regarding how to use word study in a classroom setting, what activities should I be using, and what's the most important when involving word study instruction. Therefore, I came up with 5 things you should do when teaching word study.
But remember, when using word study in your classroom, you're definitely not limited to only these 5 things! When introducing each thing you should do involving word study instruction, I provide several examples to further explain my point, while explaining its importance.
On the flip side, there are 5 things you should avoid when using word study instruction. These 5 precautions mostly revolve around the time restraints teachers face and the inconsistencies that can arise because of that. I emphasize the power of consistency and review as ways to combat these things to avoid when implementing word study instruction.
Along with knowing what word study is, acknowledging the do's and don'ts of word study instruction completes your full understanding of the concept. Nevertheless, ss we've gone through this three week series on word study instruction, it's still important to remember that there's always more than one way to be an effective literacy and reading teacher.
My goal with this series was to provide you tools and strategies to use in your classroom, but to also be empowered and excited to start word study instruction this school year. Remember, you can do this!
In this episode on do's and don'ts of word study instruction, I share:
5 things you should do and should avoid regarding word study instruction
4 questions to ask your students that allows them to focus on words and think critically about them
Why perfection isn't required to implement word study into your classroom
Emphasize the goal of having students apply word study concepts in real literacy settings
Resources:
Related episodes and blog posts:
Connect with me:
More About Stellar Teacher Podcast:
Welcome to the Stellar Teacher Podcast! We believe teaching literacy is a skill. It takes a lot of time, practice, and effort to be good at it. This podcast will show you how to level up your literacy instruction and make a massive impact with your students, all while having a little fun!
Your host, Sara Marye, is a literacy specialist passionate about helping elementary teachers around the world pass on their love of reading to their students. She has over a decade of experience working as a classroom teacher and school administrator. Sara has made it her mission to create high quality no-fluff resources and lesson ideas that are both meaningful and engaging for young readers.
Each week, Sara and her guests will share their knowledge, tips, and tricks so that you can feel confident in your ability to transform your students into life-long readers.
Tune in on your favorite podcast platform: Apple, Google, Amazon, Spotify, Stitcher, and more! If you're loving this podcast, please rate, review, and follow!
Podcast (stellar-teacher-podcast): Play in new window | Download