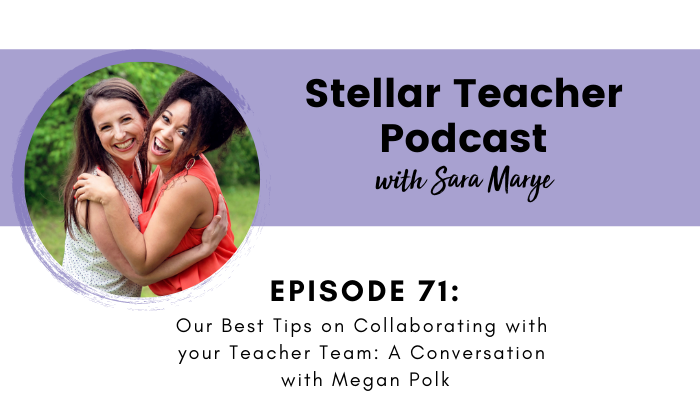 Click play below to hear tips on collaborating with your teacher team:
Happy Monday, friends! I am so excited about today's episode because I'm sitting down with my good friend Megan Polk! We're having a collaborative conversation talking about all things teams: team dynamics, team planning, and how to get the most out of working with your teacher team.
Megan Polk is a great friend of mine, who is the voice behind The Literacy Dive Podcast. We have a long history starting when we were on the same team, two different times, teaching both 2nd and 4th grade, we started our Teachers Pay Teachers stores at the same time, and have even collaborated on our own businesses, so we found it perfect to provide some tips and strategies on the best ways to collaborate with your teacher team!
One of the best parts about working on a team is the ability to collaborate, and not only share ideas, but share the workload. Nevertheless, working together can be challenging with all the different personalities, strengths, and weaknesses. We discuss how to use everyone's differences to your advantage, and how to navigate a funk between your team members.
There are so many benefits from working on a team, such as keeping your stress levels down, enjoyment and fun, and how collaboration is a tool for student success. Not on a team? No worries! We provide strategies that will help you create and build your own teacher community.
Megan and I get honest about our own struggles, triumphs, and experiences working with various teams in hopes to provide you with more practical tips and strategies to increase effectiveness and fun within your own team. No matter your team dynamics, this episode will encourage you to improve your collaboration and classroom culture today! Remember, no team is perfect, but every team has something to offer and ways to be successful!
In this episode on collaborating with your teacher team, we discuss:
Why working with a team increases student success
Benefits to identifying individual strengths, weaknesses, and personality traits
Finding and building your teacher community
Practical tips and suggestions to increase effectiveness and fun within your teacher team
Connect with Megan:
Related Resources:
Related episodes and blog posts:
Connect with me:
More About Stellar Teacher Podcast:
Welcome to the Stellar Teacher Podcast! We believe teaching literacy is a skill. It takes a lot of time, practice, and effort to be good at it. This podcast will show you how to level up your literacy instruction and make a massive impact with your students, all while having a little fun!
Your host, Sara Marye, is a literacy specialist passionate about helping elementary teachers around the world pass on their love of reading to their students. She has over a decade of experience working as a classroom teacher and school administrator. Sara has made it her mission to create high quality no-fluff resources and lesson ideas that are both meaningful and engaging for young readers.
Each week, Sara and her guests will share their knowledge, tips, and tricks so that you can feel confident in your ability to transform your students into life-long readers.
Tune in on your favorite podcast platform: Apple, Google, Amazon, Spotify, Stitcher, and more! If you're loving this podcast, please rate, review, and follow!
Podcast (stellar-teacher-podcast): Play in new window | Download