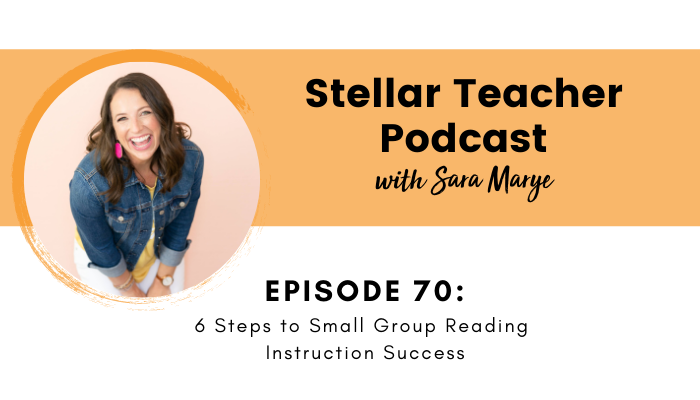 Click play below to learn steps on small group reading instruction:
Thank you for joining me for another episode of The Stellar Teacher Podcast! We talk a lot about how to effectively use our literacy block, and today is no exception. One of the best ways to use that time is through small group reading instruction.
A big reason being a reading teacher is so challenging is because you're responsible for successfully teaching a whole group, small group, and including reading conferences with each student, all while continuing to practice an abundance of different skills pertaining to literacy. And the cherry on top? Each student has a different reading skill they struggle with!
That's where small group reading instruction comes in! Incorporating small group instruction during your literacy block allows you to not only focus on fewer students, but provide an opportunity for guidance and support in a specific reading objective they would benefit from. Remember, this is a time to reinforce and reteach, not for your students to learn something new.
Providing effective small group reading instruction can sometimes sound like an impossible and challenging task. There's so much to prepare for, such as the lesson plans, structure of the instruction, having a grasp on classroom management, finding relevant resources, knowing what to do with your other students, how to assess their success, and so much more! Trust me, I've been there!
However, I have come up with 6 easy steps to make your small group reading instruction a success! Whether you've already established your small group reading instruction this year, it hasn't been on your radar, or you're somewhere in between, I'm here to tell you now's the time to start!
In this episode on small group reading instruction, I share:
The process of a successful small group reading instruction
A 4T model on how to structure your small group time
How to make small group reading instruction more engaging
The best ways to find effective resources
Encouragement and simple strategies to get started TODAY
Related Resources:
Related episodes and blog posts:
Connect with me:
More About Stellar Teacher Podcast:
Welcome to the Stellar Teacher Podcast! We believe teaching literacy is a skill. It takes a lot of time, practice, and effort to be good at it. This podcast will show you how to level up your literacy instruction and make a massive impact with your students, all while having a little fun!
Your host, Sara Marye, is a literacy specialist passionate about helping elementary teachers around the world pass on their love of reading to their students. She has over a decade of experience working as a classroom teacher and school administrator. Sara has made it her mission to create high quality no-fluff resources and lesson ideas that are both meaningful and engaging for young readers.
Each week, Sara and her guests will share their knowledge, tips, and tricks so that you can feel confident in your ability to transform your students into life-long readers.
Tune in on your favorite podcast platform: Apple, Google, Amazon, Spotify, Stitcher, and more! If you're loving this podcast, please rate, review, and follow!
Podcast (stellar-teacher-podcast): Play in new window | Download