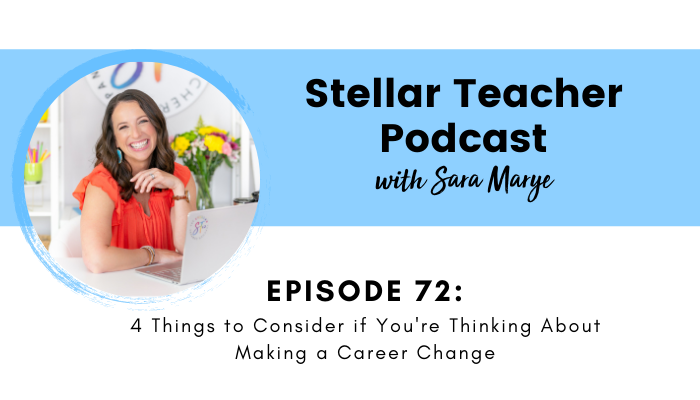 Click play below to hear what you need to consider if making a career change:
Thank you for tuning in to another episode! I truly love starting off my week with you all, and I know I say it every week, but it brings me so much joy to have you joining me each week. I genuinely love what I do and the impact and ability I have to reach so many educators and professionals related to the field! But let me tell you, it's been a journey to get to where I am today! That whole idea brings me to today's topic, which is 4 things to consider if you're thinking about making a career change.
As I've talked about many times before, my journey to get here came with a lot of twists and turns, so since it's the time of year when teachers and building administrators start thinking and planning for next year, I thought I'd share some advice and my experiences about when it's time to make that career change. Even if you're not thinking about a switch this year or next, these strategies and mindset shifts are applicable to any type of life transition.
One of the things people fear most about making a change is the idea of a missed opportunity. But I'm here to tell you there will always be more opportunities that come your way – this won't be the last one! Throughout the episode, I talk a lot about how identifying your core values helps guide your decision making and aligning those values to answer the question of why you want to make a change.
Making a career change isn't a simple, straightforward decision. In fact, it takes a lot of thought, planning, and work. I keep mentioning the importance of having your decision align with your core values and passions, because I can't stress enough just how important that step is in the process. I detail a counseling exercise that has guided me in not only career changes, but life changes as well, that incorporates your core values.
Making any type of change, professional or personal, can bring up a lot of emotions and feelings, but just remember these 4 tips about making a career change and make sure you believe in yourself and the decision you're making!
In this episode on what you need to consider if making a career change, I discuss:
What to consider when making a career change
How to assess if your core values align with this potential change
Deciphering between internal struggles vs. external outcomes
The difference between expansive and contracted feelings
Related Resources:
Related episodes and blog posts:
Connect with me:
More About Stellar Teacher Podcast:
Welcome to the Stellar Teacher Podcast! We believe teaching literacy is a skill. It takes a lot of time, practice, and effort to be good at it. This podcast will show you how to level up your literacy instruction and make a massive impact with your students, all while having a little fun!
Your host, Sara Marye, is a literacy specialist passionate about helping elementary teachers around the world pass on their love of reading to their students. She has over a decade of experience working as a classroom teacher and school administrator. Sara has made it her mission to create high quality no-fluff resources and lesson ideas that are both meaningful and engaging for young readers.
Each week, Sara and her guests will share their knowledge, tips, and tricks so that you can feel confident in your ability to transform your students into life-long readers.
Tune in on your favorite podcast platform: Apple, Google, Amazon, Spotify, Stitcher, and more! If you're loving this podcast, please rate, review, and follow!
Podcast (stellar-teacher-podcast): Play in new window | Download