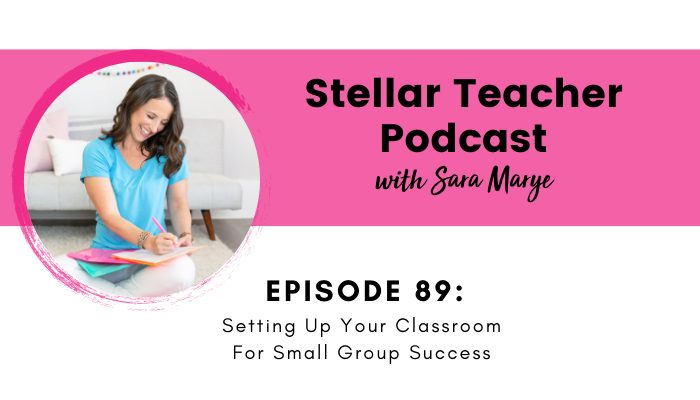 Click play below to hear how to set up your classroom for small group success:
Happy 4th of July! Today marks the first episode in our new series of the month that's all about small group instruction. Throughout this month, I'm going to provide you ways to help you be more successful during small group lessons, ranging from the structure to activities. Let's start the series with today's episode on setting up your classroom for small group success.
When I surveyed my listeners a few months ago, this was a universal idea that y'all wanted more direction on. But specifically, what do you do with your other students while you pull small groups. Which is a great question! You could have the best small group lesson and be so engaging, but if the rest of your class is off-task, disruptive, or disengaged, then you're not getting the most out of your small group instruction and it won't work.
In order to have small group success, you first need to create a plan, so we're actually going to be starting backwards. Think of it as the pre-work you need to do with your students. Throughout the episode, I'm sharing 5 steps you need to consider in order to have small group success. Those steps are:
Know the time and frequency of your small group lessons

Create a plan for what the rest of the class will be doing

Train your students

Establish visual cues for expectations

Reflect and provide corrective feedback
When thinking about small group instruction, there's really two components to consider: the small group of students and the rest of the class. Making sure your small group lessons are a success is important, but they won't be as effective if the rest of your class is off-task or disengaged. By the end of the episode, you'll have a better plan to implement with your students in the fall to make your small groups successful!
Stay tuned for next week's episode on how you can use small group time to support students in upper elementary who still struggle with reading. Then be on the lookout for the Stellar Teacher membership to open back up again on July 11th! More information on that to follow.
In this episode on setting up your classroom for small group success, I share:
5 steps for setting up your classroom for small group success
Ways to engage the rest of your class during small group lessons
Why starting backwards with your plan is the best way to implement
A variety of meaningful activities the rest of your class can do during small group instruction
Related Resources:
Related episodes and blog posts:
Connect with me:
More About Stellar Teacher Podcast:
Welcome to the Stellar Teacher Podcast! We believe teaching literacy is a skill. It takes a lot of time, practice, and effort to be good at it. This podcast will show you how to level up your literacy instruction and make a massive impact with your students, all while having a little fun!
Your host, Sara Marye, is a literacy specialist passionate about helping elementary teachers around the world pass on their love of reading to their students. She has over a decade of experience working as a classroom teacher and school administrator. Sara has made it her mission to create high quality no-fluff resources and lesson ideas that are both meaningful and engaging for young readers.
Each week, Sara and her guests will share their knowledge, tips, and tricks so that you can feel confident in your ability to transform your students into life-long readers.
Tune in on your favorite podcast platform: Apple, Google, Amazon, Spotify, Stitcher, and more! If you're loving this podcast, please rate, review, and follow!
Podcast (stellar-teacher-podcast): Play in new window | Download