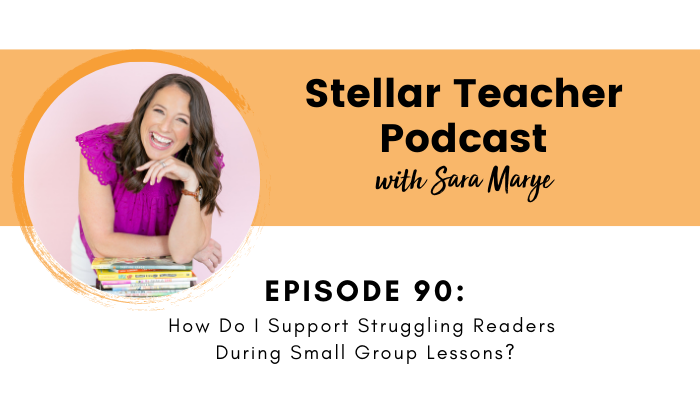 Click play below to hear how to support struggling readers during small group lessons:
Welcome back to the second episode in our mini series about small group instruction! Last week we talked about how to structure your small groups and what to do with the rest of your students not in small groups, which was our number one question asked. Today, I'll be answering the second most popular question, which is how do I support struggling readers during small group lessons?
Throughout the episode, I'll be answering this question from two different perspectives: how do you teach word recognition in upper elementary and providing structure and balance during small group lessons. Before answering both perspectives, it's important to remember what a skilled reader is and how students become a skilled reader. We know that skilled reading happens when students have a strong word recognition and language comprehension foundation.
Understanding those two literacy skills becomes prevalent when you support struggling readers during small group lessons. Once their struggling reading skills are established, for each perspective, I provide three things you can do as the teacher during your small group lessons to support struggling readers in those areas. Each set of ideas require knowing specific skills your students struggle with in order to provide the most effective instruction to support their literacy needs.
Although teaching these beginning reading skills may be foreign and not in your realm of expertise, it's essential in supporting your students who struggle with reading. Remember, you don't need to be an expert to get started, for imperfect action is better than no action at all. However, after listening to this episode, you'll be better equipped with resources, mindset shifts, tips, and strategies that will help you support struggling reading during small group lessons!
How do you support struggling readers in your classroom? Send me a message on Instagram @thestellarteachercompany and let me know!
Stay tuned for next week's episode, which is the last in this mini series, answering more of your questions when it comes to small group instruction. Then be on the lookout for the Stellar Teacher membership to open back up again on July 11th! More information on that to follow.
In this episode on how to support struggling readers during small group lessons, I share:
Two perspectives to supporting students who struggle with reading during small group lessons
3 things to do when supporting students who need word recognition skills
3 things to do when finding the balance between grade level content standards and teaching skills students need
An example of how to explicitly teach phonics during small group lessons
How to find grade level decodable texts that are academically appropriate for your students
Related Resources:
Related episodes and blog posts:
Connect with me:
More About Stellar Teacher Podcast:
Welcome to the Stellar Teacher Podcast! We believe teaching literacy is a skill. It takes a lot of time, practice, and effort to be good at it. This podcast will show you how to level up your literacy instruction and make a massive impact with your students, all while having a little fun!
Your host, Sara Marye, is a literacy specialist passionate about helping elementary teachers around the world pass on their love of reading to their students. She has over a decade of experience working as a classroom teacher and school administrator. Sara has made it her mission to create high quality no-fluff resources and lesson ideas that are both meaningful and engaging for young readers.
Each week, Sara and her guests will share their knowledge, tips, and tricks so that you can feel confident in your ability to transform your students into life-long readers.
Tune in on your favorite podcast platform: Apple, Google, Amazon, Spotify, Stitcher, and more! If you're loving this podcast, please rate, review, and follow!
Podcast (stellar-teacher-podcast): Play in new window | Download