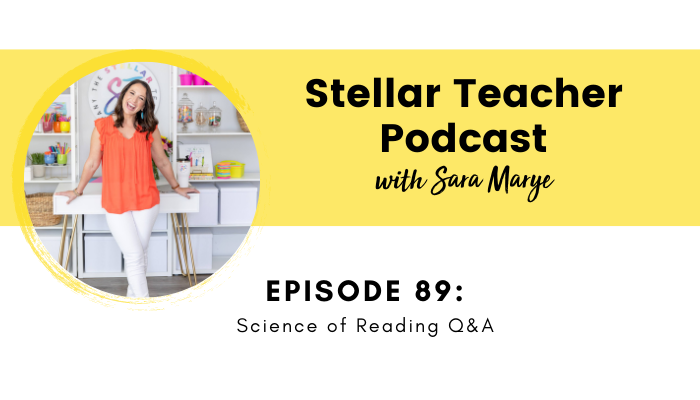 Click play below to hear questions and answers regarding the science of reading:
This is the fourth and final episode in our mini series about the science of reading. We've covered and learned a lot this past month about the science of reading that you can now utilize in your classroom. Since there's a lot of information to take in, in today's episode I'm answering any questions you still have about the science of reading.
Throughout the episode, I answer a wide range of questions, but a lot have to do with the application of the science of reading. Truthfully, there's not one way to apply the science of reading in your classroom. Instead, a common theme you'll hear me say is to find skills your students are struggling with or need help with, and that's what you'll apply in your classroom.
The science of reading encompasses a lot of information, which was another big question I received regarding this topic. But it's important to remember that it's just the body of research on how humans learn to read. Therefore, you're already doing it! I provide you with some tips and things to consider when wanting to modify or change your current literacy practices.
My goal during this summer mini series was to inform and educate you on the science of reading. As I've mentioned, it's all encompassing and there might still be more for you to learn and research on your own. But teaching is not a one size fits all approach and you've already been a successful literacy teacher. Instead, review this information as you continue to reflect on your literacy practices to make your classroom more aligned to the science of reading.
Stay tuned for next week's episode where I begin our next summer mini series. This time, I'm discussing small group instruction. Then in August, it's all about word study. You won't want to miss it!
In this episode on getting your questions answered on the science of reading, I share:
Questions to ask yourself to reflect on your current reading practices to see if they align with the science of reading
Why you need to evaluate your classroom needs before implementing the science of reading
Areas you want to keep in your literacy instruction and what you might want to modify regarding your literacy instruction
Why it's important to implement the science of reading one skill at a time
Related Resources:
Related episodes and blog posts:
Connect with me:
More About Stellar Teacher Podcast:
Welcome to the Stellar Teacher Podcast! We believe teaching literacy is a skill. It takes a lot of time, practice, and effort to be good at it. This podcast will show you how to level up your literacy instruction and make a massive impact with your students, all while having a little fun!
Your host, Sara Marye, is a literacy specialist passionate about helping elementary teachers around the world pass on their love of reading to their students. She has over a decade of experience working as a classroom teacher and school administrator. Sara has made it her mission to create high quality no-fluff resources and lesson ideas that are both meaningful and engaging for young readers.
Each week, Sara and her guests will share their knowledge, tips, and tricks so that you can feel confident in your ability to transform your students into life-long readers.
Tune in on your favorite podcast platform: Apple, Google, Amazon, Spotify, Stitcher, and more! If you're loving this podcast, please rate, review, and follow!
Podcast (stellar-teacher-podcast): Play in new window | Download