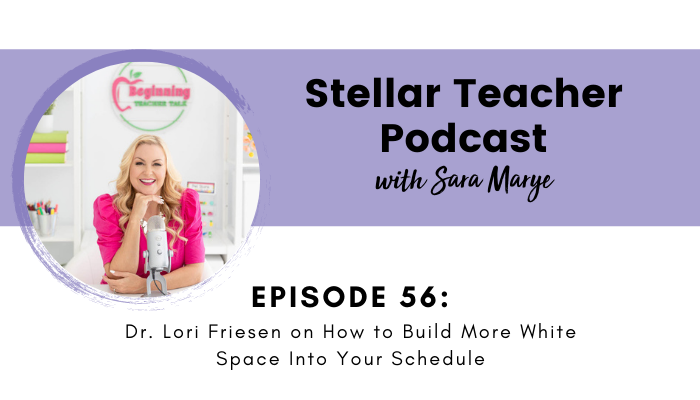 Click below to listen to the full episode:
My dear friend, Dr. Lori Friesen recently recorded an incredible episode that I knew I needed to share with you, and she generously agreed. Dr. Lori Friesen talks about how easy it is to get caught up in the rush of the day to day. I'm sure you can relate to this. We often feel totally overwhelmed and trapped by our schedule and can even feel like it controls us. The answer lies in making the choice to build more white space into your schedule.
At the end of the day when you look at your to-do list and realize that you didn't even get through half of what you anticipated doing, it's a terrible feeling. It often leads to negative self-talk and a wave of overwhelm. Every time you plan something and you don't follow through with it, you break trust with yourself. If you break trust with yourself everyday, it affects your confidence and makes you question whether or not you can handle all that's being thrown at you.
Thankfully, there are things that we can do when we get caught up in the hustle and overwhelm of teaching. Dr. Friesen is going to share these ideas with you. By the end of the episode, I hope that you will feel inspired to focus on what really matters, rather than making everything on your to-do list of equal importance.
In this episode Dr. Lori Friesen shares:
Why it's so important to build white space into your schedule
Simple and creative ways to give yourself a break
The key to keeping your to-do list practical
The results that come from inspired action
An important question to ask yourself to determine what you really need
How to do less, better
Dr. Lori Friesen
Dr. Lori Friesen
Dr. Lori Friesen taught for 10 years in Canada and overseas before completing her PhD in Elementary Education with a specialization in Language and Literacy. She taught pre-service teachers at the University of Lethbridge and published The Beginning Handbook for Elementary Teachers as the culminating project for her M.Ed. Dr. Lori completed her PhD at the University of Alberta and has been inducted into the Golden Key International Honor Society in recognition of her outstanding academic achievement and excellence. Host of the popular Beginning Teacher Talk podcast and creator of the R.E.A.D.Y. for School Academy, Dr. Lori is dedicated to supporting and inspiring educators around the world.
Connect with Dr. Lori Friesen:
Related episodes and blog posts:
Connect with me:
More About Stellar Teacher Podcast:
Welcome to the Stellar Teacher Podcast! We believe teaching literacy is a skill. It takes a lot of time, practice, and effort to be good at it. This podcast will show you how to level up your literacy instruction and make a massive impact with your students, all while having a little fun!
Your host, Sara Marye, is a literacy specialist passionate about helping elementary teachers around the world pass on their love of reading to their students. She has over a decade of experience working as a classroom teacher and school administrator. Sara has made it her mission to create high quality no-fluff resources and lesson ideas that are both meaningful and engaging for young readers.
Each week, Sara and her guests will share their knowledge, tips, and tricks so that you can feel confident in your ability to transform your students into life-long readers.
Tune in on your favorite podcast platform: Apple, Google, Amazon, Spotify, Stitcher, and more! If you're loving this podcast, please rate, review, and follow!
Podcast (stellar-teacher-podcast): Play in new window | Download