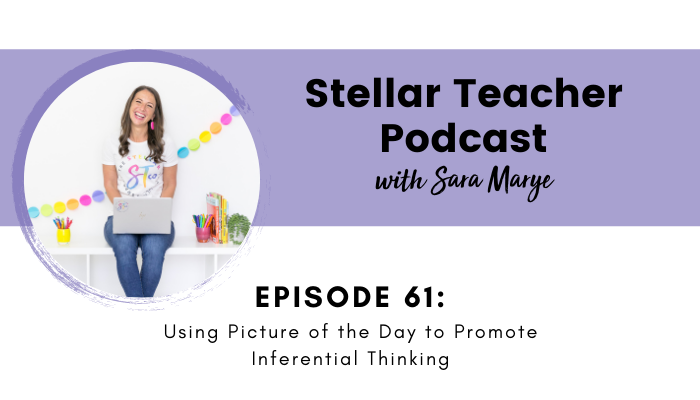 Click play below to hear how to use picture of the day:
Hey friends! In this week's episode I will be diving deeper into one of the tips I shared last week related to effectively teaching all of the literacy elements. I find it so important to maximize instructional time, and one way to do this is by creating high impact literacy routines.
This becomes increasingly important when teaching the more complex reading skills. One of my favorite routines that I use for teaching inferencing is called Picture of the Day.
You know that I try to supply you with tips and tricks that can be easily incorporated into your lessons rather than add work onto your already full plate. That is why I love using the Picture of the Day routine, as it can easily be done in five minutes or less! I promise that it can be squeezed into your instructional time no matter what your schedule is like.
What's even better is that it helps students with one of the most complicated reading skills, which is inferencing. I'm sure you've heard of the famous formula which is text + background knowledge = inferencing, but in this episode I'm going to tell you all the benefits of utilizing the illustrations as well.
In this episode on using a picture of the day, I share:
The big reason why I like to use the Picture of the Day routine
Why the Picture of the Day routine strongly supports inferential thinking
Different reasons that make teaching inferences so complex
Tips for picture selection based on your lesson goals
Recommendations on when to utilize the Picture of the Day routine
Related Resources:
Related episodes and blog posts:
Connect with me:
More About Stellar Teacher Podcast:
Welcome to the Stellar Teacher Podcast! We believe teaching literacy is a skill. It takes a lot of time, practice, and effort to be good at it. This podcast will show you how to level up your literacy instruction and make a massive impact with your students, all while having a little fun!
Your host, Sara Marye, is a literacy specialist passionate about helping elementary teachers around the world pass on their love of reading to their students. She has over a decade of experience working as a classroom teacher and school administrator. Sara has made it her mission to create high quality no-fluff resources and lesson ideas that are both meaningful and engaging for young readers.
Each week, Sara and her guests will share their knowledge, tips, and tricks so that you can feel confident in your ability to transform your students into life-long readers.
Tune in on your favorite podcast platform: Apple, Google, Amazon, Spotify, Stitcher, and more! If you're loving this podcast, please rate, review, and follow!
Podcast (stellar-teacher-podcast): Play in new window | Download