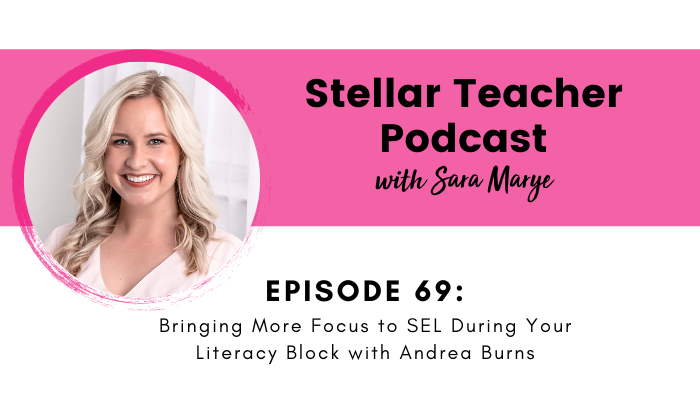 Click play below to hear how to bring more focus to SEL during your literacy block:
Hey friends! Thank you for joining me on this Valentine's Day. Just like the holiday encompasses, I hope you're feeling loved, appreciated, valued, and divulging in the sweetness of this day! But look no further for your sweet indulgence because we have a treat for you. In this episode I sat down with Andrea Burns to discuss how to bring more focus to SEL (social emotional learning) during your literacy block.
Andrea Burns is not only someone who I follow on Instagram, but she's currently a 4th grade teacher who loves to give book recommendations, especially topics related to SEL. She has a love for all things bookish, and combines her love of literature with her passion for SEL. A fun fact about Andrea is that she wrote her own children's book, which is set to come out later this year!
Since my audience loves using picture books and being intentional about using their literacy block, Andrea was the right fit for this topic! You might be thinking, this is such a new concept for me, I don't even know where to begin! I'm here to tell you it's as easy as one, two, three!
Andrea walks us through her daily SEL activities, how to structure read-alouds, and how she chooses the type of SEL skills to focus on in her classroom. Throughout our discussion, the conversation primarily revolved around the importance of creating a classroom community, building relationships, and having real-world conversations with our students: the center of SEL.
Let's be honest, these past couple of years have been rough, especially for our students. Engaging and taking time during the school day to teach and talk about these skills in a relatable way, goes a long way. In this episode we discuss practical and easy-to-implement ideas that focus on SEL during your literacy block.
That's right, no need to find extra time throughout the day! Just follow Andrea's advice, knowledge, and experience and reap the benefits that not only cater to your students' social and emotional needs, but their academics as well. It truly is the best of both worlds!
In this episode on SEL during your literacy block, I share:
Why it's important to incorporate SEL into your classroom
How to structure your literacy block with SEL
Daily activities to support mental and emotional health
Breaking down how to merge emotional awareness through literacy and everyday lessons
Top 5 most important SEL skills teachers should focus on
Meet Andrea
Andrea Burns
Andrea Burns is extremely passionate about all things bookish. This includes children's literature, the smell of a brand new book, or adding new picture and chapter books to her already full bookshelf. Andrea now lives in Kansas. She is a fourth grade teacher and this is her eighth year teaching. She has a Masters of Science in Curriculum & Instruction and loves to continually learn new things!
Related Resources:
Related episodes and blog posts:
Connect with me:
More About Stellar Teacher Podcast:
Welcome to the Stellar Teacher Podcast! We believe teaching literacy is a skill. It takes a lot of time, practice, and effort to be good at it. This podcast will show you how to level up your literacy instruction and make a massive impact with your students, all while having a little fun!
Your host, Sara Marye, is a literacy specialist passionate about helping elementary teachers around the world pass on their love of reading to their students. She has over a decade of experience working as a classroom teacher and school administrator. Sara has made it her mission to create high quality no-fluff resources and lesson ideas that are both meaningful and engaging for young readers.
Each week, Sara and her guests will share their knowledge, tips, and tricks so that you can feel confident in your ability to transform your students into life-long readers.
Tune in on your favorite podcast platform: Apple, Google, Amazon, Spotify, Stitcher, and more! If you're loving this podcast, please rate, review, and follow!
Podcast (stellar-teacher-podcast): Play in new window | Download