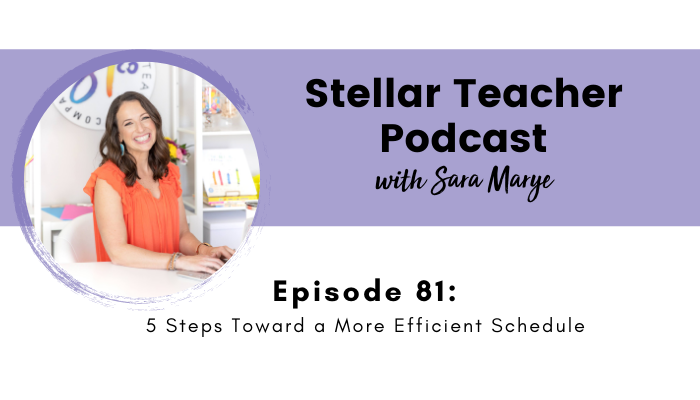 Click play below to hear 5 steps toward a more efficient schedule:
Welcome back to another episode! Today's topic is something that I get asked and hear most about from teachers: scheduling. Questions range from how can I add in more time for read alouds, how can I incorporate more small groups into my lesson, how can I fit it all into my literacy block, and simply, how do I fit everything I need into my day? In today's episode, I'm sharing 5 steps to take toward a more efficient schedule.
While there are many challenging aspects to teaching, having an effective schedule is definitely a struggle for most. One of the things teachers struggle with can be want vs. reality. When developing a schedule, even if we can make it work on paper, getting it to work in real life, that's the challenge! We work with children and they can be unpredictable or engaged in their learning, which ultimately impacts our schedule, so it's important to understand our reality.
If you are wanting a decluttered schedule or more pockets of time throughout your day, I've come up with a five step process that helps you accomplish that goal. The steps include:
Writing down what your dream schedule would look like

Conducting a time audit of your literacy block

Review the findings of your time audit and reflect

Make some changes or adjustments

Put together your new schedule and test it out
It's the end of the year, so is now a good time to implement a new schedule? Absolutely! Trying something new at the end of the year allows you to reflect and make any tweaks or changes, so that next year, you know how effective it is.
As the year changes, our students change, and as we change as teachers, our schedule needs to change, so allow yourself that flexibility as you learn and grow as a teacher. We know there's not enough time in the day, but having an effective schedule makes us feel like there is. Follow and implement these 5 steps and you'll see an improved schedule and more time for what's important!
In this episode on having a more efficient schedule, I discuss:
5 steps to use toward a better and more efficient schedule
Why creating a wish list of the things you want to have time for helps you stay focused and figure out what's most important
Conducting time audits can reveal how you actually spend your time and what you get accomplished
The benefits of implementing a new schedule this school year
Why your schedule should be fluid and change throughout the school year
Related Resources:
Related episodes and blog posts:
Connect with me:
More About Stellar Teacher Podcast:
Welcome to the Stellar Teacher Podcast! We believe teaching literacy is a skill. It takes a lot of time, practice, and effort to be good at it. This podcast will show you how to level up your literacy instruction and make a massive impact with your students, all while having a little fun!
Your host, Sara Marye, is a literacy specialist passionate about helping elementary teachers around the world pass on their love of reading to their students. She has over a decade of experience working as a classroom teacher and school administrator. Sara has made it her mission to create high quality no-fluff resources and lesson ideas that are both meaningful and engaging for young readers.
Each week, Sara and her guests will share their knowledge, tips, and tricks so that you can feel confident in your ability to transform your students into life-long readers.
Tune in on your favorite podcast platform: Apple, Google, Amazon, Spotify, Stitcher, and more! If you're loving this podcast, please rate, review, and follow!
Podcast (stellar-teacher-podcast): Play in new window | Download