If you are an upper elementary teacher, then chances are Greek and Latin Roots are part of your scope and sequence. But if they aren't, OR if you are a departmentalized math/science teacher there is still plenty of great reasons why you should be explicitly teaching your students root words.
Hopefully by the time you get through with this post you'll be thinking about all the ways you can sneak in a few minutes of vocabulary instruction to help your students learn about these important words parts.
Why should I teach Greek and Latin Roots?
There are tons of reasons why you should prioritize teaching roots to your students, but here are just three ways focusing on roots will help your students:
Helps build vocabulary – When students know, understand, and can identify root words, they are able to grow and expand their own vocabulary. Having a solid understanding of roots will help students be able to predict the meaning of and confirm unknown words they encounter. Greek and Latin roots help students connect new and unfamiliar words to words that they know and understand.




Improves spelling – Greek and Latin roots usually have predictable spelling patterns. The more roots students know, the more their spelling will improve. If students know how to spell common root words, they will probably be able to spell any word that has a root in it.




Students feel empowered when they understand the rules to the English language. Teaching Greek and Latin roots is just one way you can help your students understand the rules to our language.




Builds confidence as a reader and a writer – Both of these things I just mentioned will have a huge impact on your students as readers and writers. When students vocabularies improve, they feel confident to read more challenging texts AND they are willing to use more descriptive and specific words in their writing.




The more time you spend exposing your students to Greek and Latin roots the more they will become aware of them. They will start to see them in their independent reading and start to explore using more complex root words in their writing.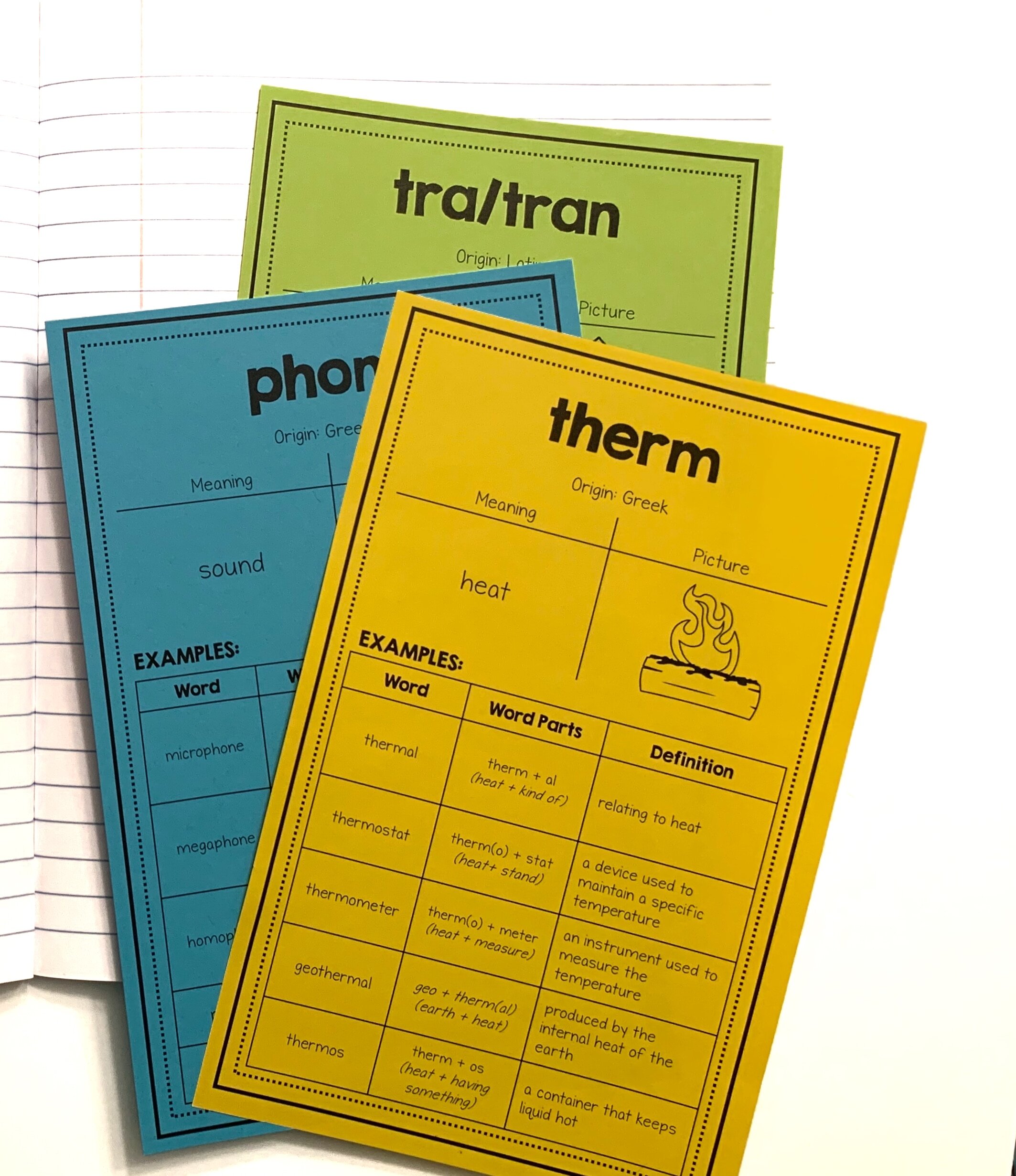 How should I teach Greek and Latin roots?
Ok so now that you understand why it's so important to actually teach Greek and Latin roots. Let's talk about how to actually teach your students all about roots.
Explain what a root word is and how it helps students – before you even being to teach specific roots, students need to understand what a root word is and how it will help them. Make sure students understand the difference between a root word and a base word.

Root Word – A word part that has a specific meaning, but cannot be a stand alone word on it's own. For example, aud is not a word by itself, but the root aud means to hear or listen. When it is paired with a prefixes or suffix, it creates a word that is related to listening: audible, audience, auditory, etc.

Base Word – A word that can always stand alone. Base words do not need prefixes or suffixes to be complete. But they can be paired with prefixes and suffixes to modify or change the meaning of the word. Happy is an example of a base word. Happy is a word on its own. If you pair it with the prefix un- you get unhappy. Adding the prefix un- will change the meaning of happy to mean not happy.

Make sure you don't use the terms base word and root word interchangeably. It's really helpful for students to understand the difference between the two. Anytime students understand why something is important they will have more buy-in for the learning process.

Explicitly teach the root – Students need explicit instruction on new root words. I like to use an anchor chart like the one pictured above that lets the student know the root, the definition of that root, and a list of other words that have that same root. It's always so fun to see students make connections to other words that have that same root.

Expose students to Greek and Latin roots on a regular basis – If we want our students to actually remember and retain root words, then we need to frequently expose them to new roots and review roots that we've previously taught. One of the best ways to do this is through a root of the day or root of the week routine. When you make root words part of your regular vocabulary routine, you don't have to worry about students forgetting what you've taught.

Engage in fun vocabulary activities – using games to teach vocabulary is one of the things that can make it so much fun. Let your students play games or engage in hands-on activities that will help them retain and remember what each root means. I love using hands on sorting activities in vocabulary centers or playing whole group games like Greek and Latin Root Word Bingo.

Evaluate student's understanding of roots in their reading and writing – ultimately, you want your students to have a strong enough understanding of roots that they can effectively use them in their writing, and they can correctly identify the meaning of root words in their reading. You can easily assess this in an ongoing basis throughout the year. If you have taught a specific root then be on the look out for students to sprinkle in words with that root in their writing.




Or if you are conferring with a student and you see a word that has a root in it, ask them if they know the meaning of that word. You don't need to formally assess with a worksheet or quiz to make sure your students understand the meaning of Greek and Latin roots.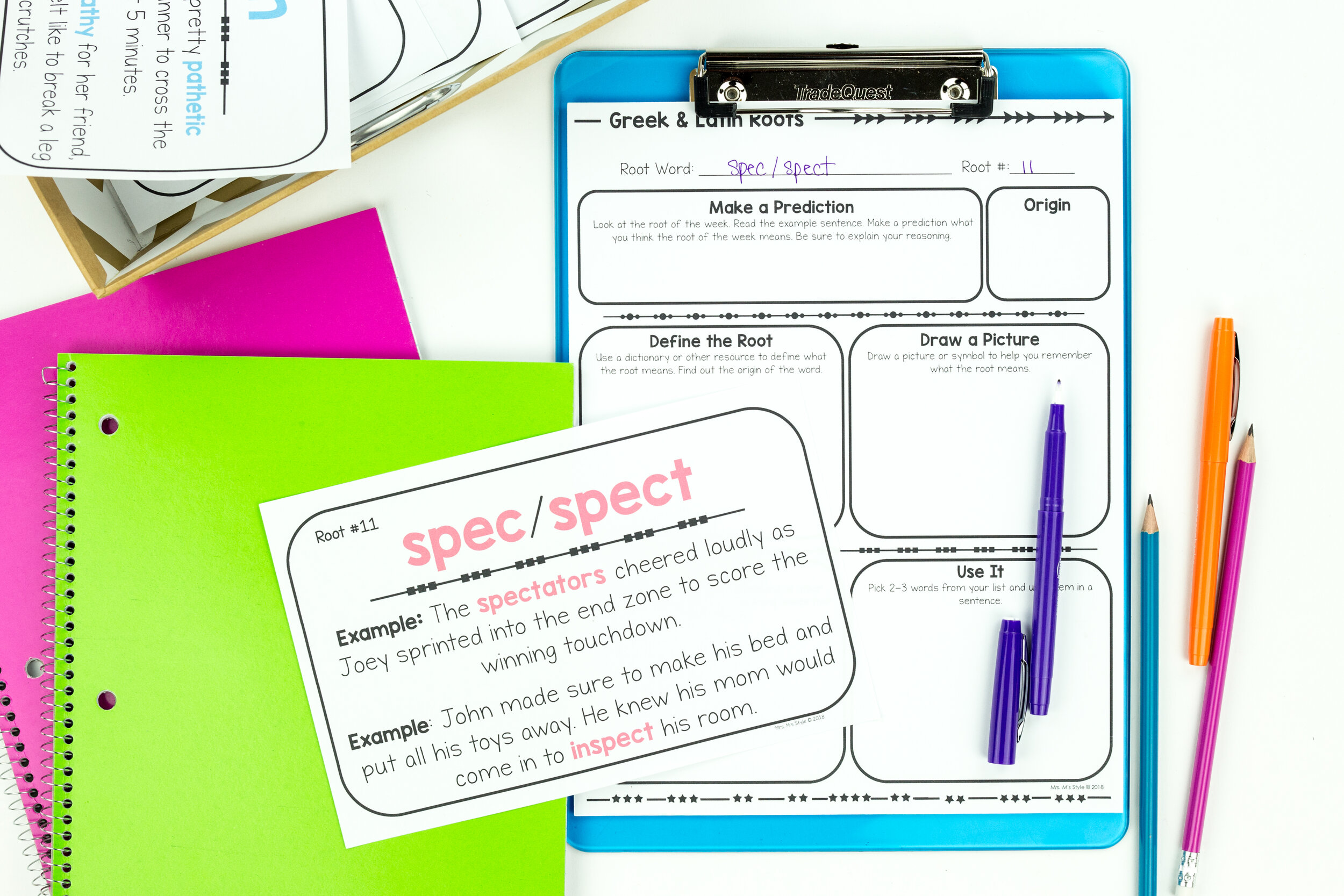 Another thing that I found to be really effective and easy to incorporate was to use a Root Word of the Week routine. This weekly vocabulary routine allowed us to really dig in and focus on the meaning of one root at a time, and the regular routine meant that we were always adding new Greek and Latin roots to our vocabularies.
Greek and Latin Roots – Word of The Week Routine:
Day 1 : Introduce new root to students.

Have them make a prediction about the meaning of the root word

Have them write down what they already know about that specific root

Have them share if they have seen any words that have that root in it

Day 2: Explicitly teach the Greek and Latin Root

Have students use a reference material to look up the definition of the root

Confirm/compare to yesterday's predictions

Make a list of ALL the words they know that have that root

Day 3 – 4 – Explore & Engage

Review the root of the week as well as any other root words that you have taught

Students can draw pictures that represent the root of the week

Play games or engage in hands-on activities that allow them to explore the meaning of the root

Day 5: Evaluate

You can quickly assess the root of the week by having students write a few sentences that have that root in it.

I also like to make the evaluation of root words an ongoing basis. Students will often need exposure to root words a few times before they can solidify their meaning.
As you can see, there are sooooo many different things that you can do to teach your students Greek and Latin roots. Hopefully you have some new ideas on how to spice up your vocabulary instruction in your classroom.
Happy Teaching!
---
Grab Your FREE Gift!
Greek & Latin Root Word Reference Sheets
This root word reference sheet will help your students remember common Greek & Latin Root Words. The reference sheet includes the definition and examples of 40 common root words as well as picture cues! It also includes customizable spaces for students to add their own root words.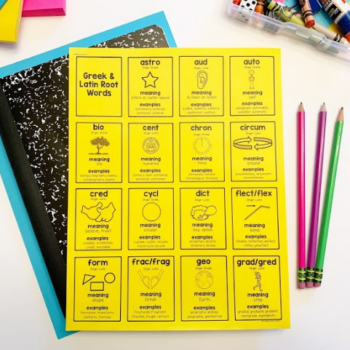 ---