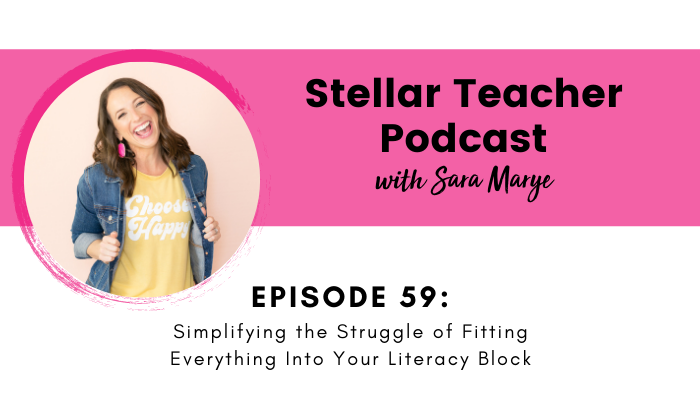 Click play below to listen to ideas for fitting everything into your literacy block:
Hey friends! I am so excited to start this new year off with you and I am sending all the positive vibes for 2022. I decided to start the year off by answering a question I get all the time from other teachers. That question is, "What is the best way to fit in word study, grammar, vocabulary, reading, and writing into your ELA block?" Raise your hand if you have asked this question or experienced the struggle of fitting everything into your literacy block!
No matter how organized you are, there are so many expectations and so little time to get it all done. Everyone focuses on the standards and objectives, but squeezing in the time for other important topics such as grammar and vocabulary doesn't always happen. I've experienced this challenge, so I totally get it.
The four tips I share in this episode will assist those of you who want to make a change to your literacy block and maximize your schedule. My goal is to help you feel more confident that you can teach all the elements of a typical literacy block, even if you have limited time. Let me know if you try one of these creative ideas that I share!
During the month of January, I'll be releasing a bonus episode every Thursday for a series called "Our Best Year Ever". This series will connect you with experts in various fields of teaching. We'll touch on not only topics related to teaching, but also topics related to taking care of yourself in your personal life. Those specials guests will be featured on episodes 60, 62, 64, and 66.
In this episode on fitting everything into your literacy block, I share:
4 tips to help you feel confident about your reading block with limited time
The problem with teaching literacy in isolated chunks
Benefits to having routines in your reading and writing blocks
How you can sneak reading and writing into other subjects
Related Resources:
Related episodes and blog posts:
Connect with me:
More About Stellar Teacher Podcast:
Welcome to the Stellar Teacher Podcast! We believe teaching literacy is a skill. It takes a lot of time, practice, and effort to be good at it. This podcast will show you how to level up your literacy instruction and make a massive impact with your students, all while having a little fun!
Your host, Sara Marye, is a literacy specialist passionate about helping elementary teachers around the world pass on their love of reading to their students. She has over a decade of experience working as a classroom teacher and school administrator. Sara has made it her mission to create high quality no-fluff resources and lesson ideas that are both meaningful and engaging for young readers.
Each week, Sara and her guests will share their knowledge, tips, and tricks so that you can feel confident in your ability to transform your students into life-long readers.
Tune in on your favorite podcast platform: Apple, Google, Amazon, Spotify, Stitcher, and more! If you're loving this podcast, please rate, review, and follow!
Podcast (stellar-teacher-podcast): Play in new window | Download