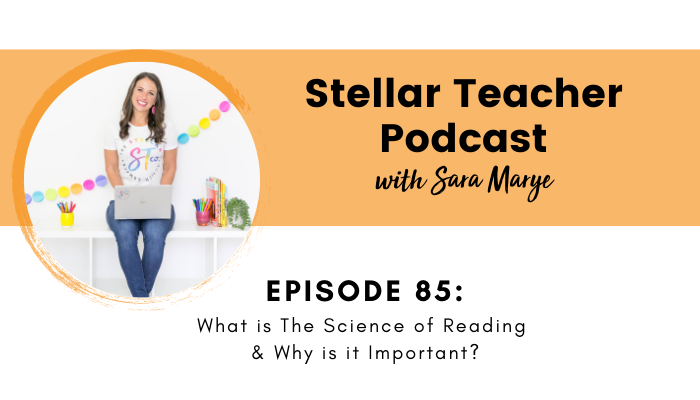 Click play below to hear what the science of reading is:
Happy June, friends! This is the first episode in our series that's all about the science of reading. After surveying my listeners and members, this was a trending topic that y'all were curious about and wanted more information. So in today's episode, I'm sharing with you the foundation of what the science of reading is and why it's so important.
First, the science of reading refers to the body of research about how we, as humans, learn to read. Think of it as just that: a body of research. It draws on research and information from all the fields of educational and cognitive psychology, neuroscience, and linguistics, which helps teachers learn and understand how we read.
The science of reading is founded on the 5 main pillars of reading. Throughout the episode, you'll see how these pillars are all connected to becoming a successful reader, along with the breakdown of the two models or frameworks that coincide with this new idea.
The more knowledge and understanding you have of the science of reading, the easier it's going to be for you to select and plan activities that are going to help your students grow as readers. Ultimately, this foundational overview allows you to build your teacher toolbox through the science of reading.
Today I gave you the foundation for the science of reading, but keep listening to the next few episodes, which are going to provide you with some more practical lesson ideas and strategies that you can put into practice. These ideas and strategies are going to help strengthen your students' word recognition and language comprehension skills. If you have further questions about the science of reading, please reach out on Instagram or email me and I'll answer some of your questions on the last episode of this series!
This was the start of our 3 series coming up in the next couple of months. We started our first series that revolves around the science of reading, the second series in July is all about small group instruction, and our third series in August is about the new hot topic of word study. Stay tuned for all of our fun and new topics coming up on the podcast!
In this episode on what the science of reading is:
A foundational explanation of the science of reading
How the 5 pillars of reading are all connected to a successful reader
A breakdown of the two models of the science of reading
What the science of reading is not
Why you already have prior knowledge on the science of reading
Related Resources:
Related episodes and blog posts:
Connect with me:
More About Stellar Teacher Podcast:
Welcome to the Stellar Teacher Podcast! We believe teaching literacy is a skill. It takes a lot of time, practice, and effort to be good at it. This podcast will show you how to level up your literacy instruction and make a massive impact with your students, all while having a little fun!
Your host, Sara Marye, is a literacy specialist passionate about helping elementary teachers around the world pass on their love of reading to their students. She has over a decade of experience working as a classroom teacher and school administrator. Sara has made it her mission to create high quality no-fluff resources and lesson ideas that are both meaningful and engaging for young readers.
Each week, Sara and her guests will share their knowledge, tips, and tricks so that you can feel confident in your ability to transform your students into life-long readers.
Tune in on your favorite podcast platform: Apple, Google, Amazon, Spotify, Stitcher, and more! If you're loving this podcast, please rate, review, and follow!
Podcast (stellar-teacher-podcast): Play in new window | Download