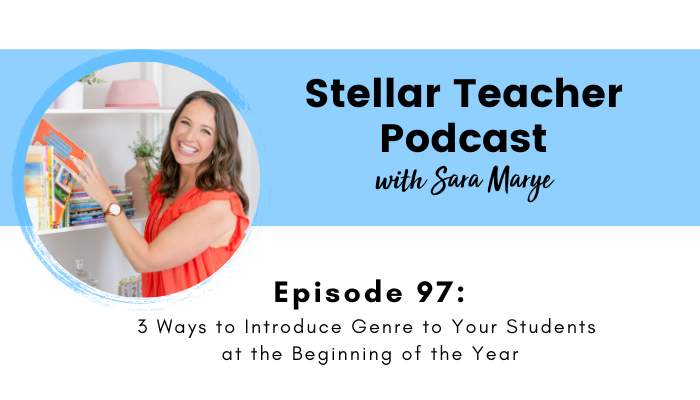 Click play below to hear 3 ways to introduce genre to your students:
I'm very excited about today's episode because it's about one of my all-time favorite reading topics – genre! Some might be wondering, Hmm, that's an odd topic to get excited about. But I truly believe that learning about genres helps students have a love of reading and become lifelong readers, which is our ultimate goal as a literacy teacher. So in today's episode, I'm going to share 3 ways to introduce genre to your students at the beginning of the year.
Before jumping in to implementing activities, let's get some background information. Genre is simply defined as a book or text category that is defined by a specific set of attributes or elements. It's important that students first have an understanding of a genre's attributes before they can start using it to their advantage in reading. As teachers, we tend to talk about understanding genre as a personal benefit, but there are actually more positives than that. During the episode, I share how genre benefits you personally, academically, and as a classroom community.
When it comes to actually teaching it, we tend to introduce genre briefly at the beginning of the year as more of an overview, but don't go in depth and just focus on the 3-4 major genres. But how is that beneficial to our students who might love texts that are more than just fiction, non-fiction, and poetry?
In order to get your students exposed to a variety of genres in various ways, I came up with 3 ideas on how to introduce genre. Those ideas include a genre-based picture book scoot, genre gallery walk, and guess the genre. Each activity involves students exploring different genres, movement, and engagement with their peers and the various genres. Another bonus? Each activity can be modified to fit your group of students, time frame, and access to different genres.
I think a quote by James Patterson says it best. He said,
"There is no such thing as a kid who hates reading. There are kids who love reading and then there are kids who are reading the wrong books."
The best solution to get students to love reading is to find what they like, which starts with genre. If you introduce genre and make it the cornerstone of your literacy block this school year, your students will not only understand all the texts they're reading, but you'll help facilitate a lifelong reader.
In this episode on 3 ways to introduce genre to your students, I share:
Even more ways to introduce genre to your students, besides my three main ideas
A simple explanation of genre and why it's important
Breakdown the personal, academic, and community benefits of teaching genre to your students
Variations to implementing each genre activity
How to make genre the cornerstone of your literacy block
Resources:
Related episodes and blog posts:
Connect with me:
More About Stellar Teacher Podcast:
Welcome to the Stellar Teacher Podcast! We believe teaching literacy is a skill. It takes a lot of time, practice, and effort to be good at it. This podcast will show you how to level up your literacy instruction and make a massive impact with your students, all while having a little fun!
Your host, Sara Marye, is a literacy specialist passionate about helping elementary teachers around the world pass on their love of reading to their students. She has over a decade of experience working as a classroom teacher and school administrator. Sara has made it her mission to create high quality no-fluff resources and lesson ideas that are both meaningful and engaging for young readers.
Each week, Sara and her guests will share their knowledge, tips, and tricks so that you can feel confident in your ability to transform your students into life-long readers.
Tune in on your favorite podcast platform: Apple, Google, Amazon, Spotify, Stitcher, and more! If you're loving this podcast, please rate, review, and follow!
Podcast (stellar-teacher-podcast): Play in new window | Download