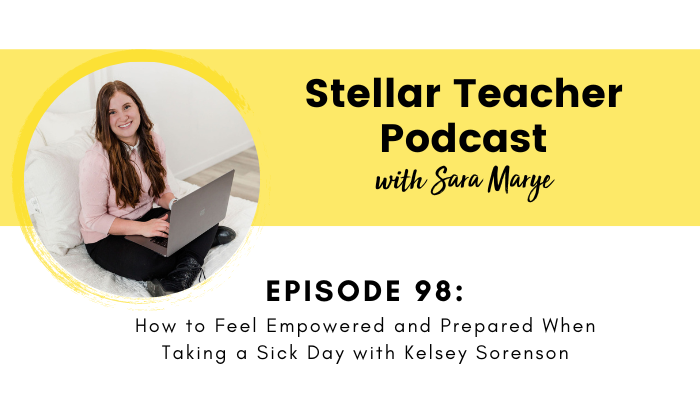 Click play below to hear how to feel empowered and prepared when taking a sick day:
How many times have you woken up sick or wanted to take a day off work, but thought it's easier to go in than make sub plans. I'm raising my hand really high! Unfortunately, this is a common thought and action amongst teachers that needs to be changed. Here to help me give you solutions and better opportunities to take a day off is Kelsey Sorenson.
On today's episode, we're discussing how to feel empowered and prepared when taking a sick day. Kelsey is an expert in preparing teachers to take sick days with useful tips, mindset shifts, and helpful resources related to substitute plans. She is sharing all of these ideas, and more, with us!
One of the main reasons teachers don't take sick days is actually something you can control: your mindset. Kelsey talks about how shifting your negative thoughts about taking a day off to more empowering and positive thoughts will change the way you view your whole situation. She also shares the four reasons to not feel guilty about taking a sick day, which we all need to hear and remember!
So what can you do to feel more prepared when taking a sick day? Kelsey reveals her very simple tip: prepare ahead of time! When having sub plans and a sub binder already created, it makes taking a sick day a lot easier. We discuss how these plans can still be valuable content, standards aligned, and meaningful activities for your students.
Taking a sick day and being away from your classroom used to be stressful, until now! Throughout the episode, Kelsey shares many tips, strategies and resources for you to take advantage of. So after listening to Kelsey and I's conversation, we hope you feel more empowered and prepared to take a sick day.
Meet Kelsey
Kelsey Sorenson
Kelsey Sorenson is a former teacher and sub turned homeschool mom and owner of Wife Teacher Mommy. She has helped hundreds of thousands of educators cut down planning time and balance the many roles in their lives with her time-saving resources, blogs, and her new podcast. 
Wife Teacher Mommy has been featured on We are Teachers, Teachers pay Teachers, Jane, Etsy, Food Network, CBC, Fox, and NBC.
In this episode on how to feel empowered and prepared when taking a sick day:
Why a mindset shift will change the way you look at taking a day off
Kelsey shares replacement thoughts to have a more empowering mindset
4 reasons to not feel guilty about taking a sick day
How to set up and make effective sub plans
6 ways to make subs wanting to come back to your classroom
Related Resources:
Related episodes and blog posts:
Connect with me:
More About Stellar Teacher Podcast:
Welcome to the Stellar Teacher Podcast! We believe teaching literacy is a skill. It takes a lot of time, practice, and effort to be good at it. This podcast will show you how to level up your literacy instruction and make a massive impact with your students, all while having a little fun!
Your host, Sara Marye, is a literacy specialist passionate about helping elementary teachers around the world pass on their love of reading to their students. She has over a decade of experience working as a classroom teacher and school administrator. Sara has made it her mission to create high quality no-fluff resources and lesson ideas that are both meaningful and engaging for young readers.
Each week, Sara and her guests will share their knowledge, tips, and tricks so that you can feel confident in your ability to transform your students into life-long readers.
Tune in on your favorite podcast platform: Apple, Google, Amazon, Spotify, Stitcher, and more! If you're loving this podcast, please rate, review, and follow!
Podcast (stellar-teacher-podcast): Play in new window | Download