We can probably all agree that we love reading aloud to our students. I don't know about you, but it has always been one of my favorite parts of teaching. The magic of introducing a new story to our students just can't be beat!
However, a trap that many teachers fall into is choosing read alouds that do not showcase a variety of genres throughout the year. Highlighting a variety of genres in your classroom can be the key to having a classroom full of highly engaged readers. Let's discuss how this is possible.
Why is it important to focus on teaching genre?
Teaching genre helps students identify their reading preferences and will equip them to select books they will enjoy reading.
It helps students with comprehension – each genre has different attributes and characteristics unique to that genre and the more students know and understand those attributes the easier it will be for them to understand what they are reading.
It's kind of like giving them a roadmap to their reading… if they are reading historical fiction, they're going to pay attention to dates and locations and make connections to what they already know about that time period… if they are reading a mystery, they will know to look for clues and foreshadowing throughout the entire text… and if they are reading science fiction, the author might include names or a language that is completely made up and will be foreign to them.
Here are 5 tips for teaching genre effectively: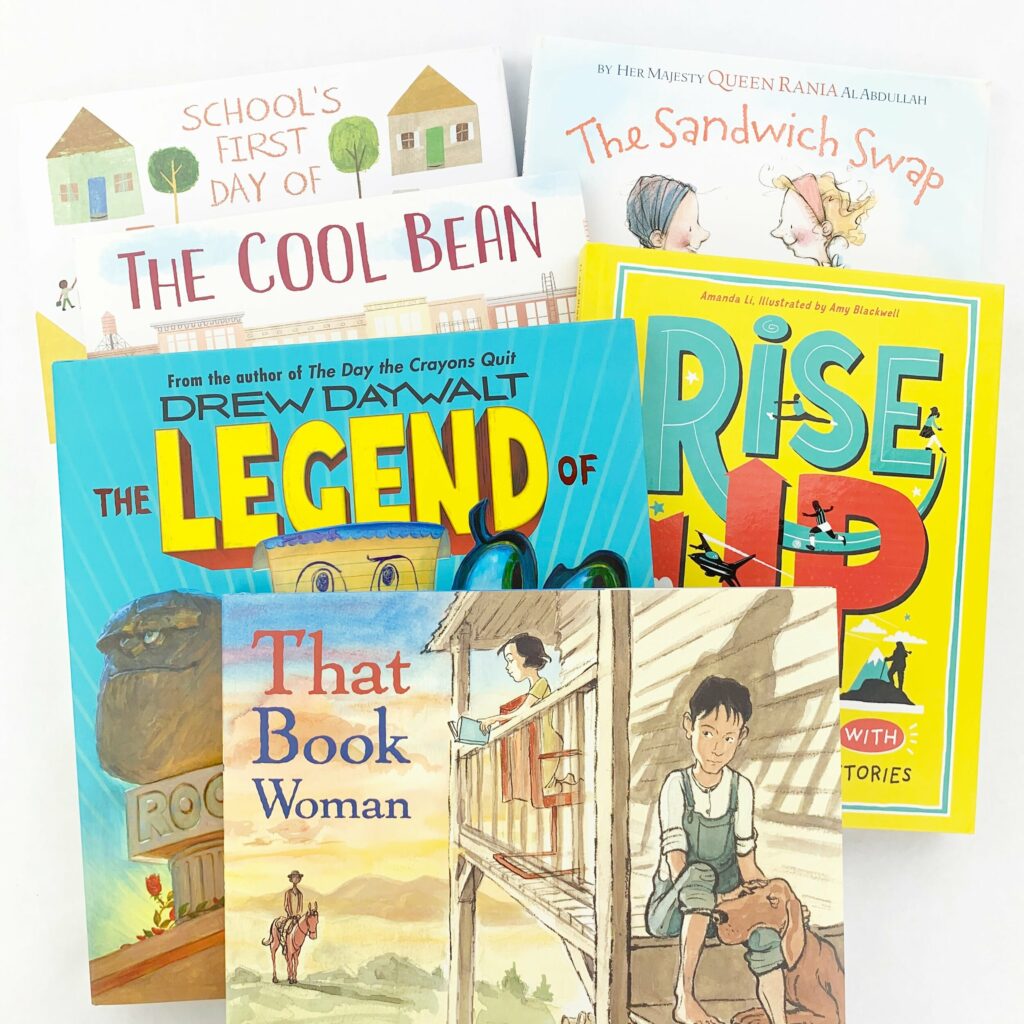 Tip #1: Use your read aloud time to intentionally introduce students to a wide range of genres.
I think in most elementary classrooms we tend to favor fiction (especially realistic) for our read alouds, and it makes sense. Those are the stories that have themes and characters our students can relate to, but not every student is going to enjoy reading fiction.
And we do all students a disservice when we only choose read aloud texts that appeal to just a handful of students or are from our favorite genre, or books that we see as trendy or especially popular in other classrooms.
Instead of using your read aloud time for just fiction books, I recommend using your read aloud time as a way to introduce and read all of the genres over the course of the school year. This is an easy thing to plan for at the beginning of each quarter or semester to ensure that you have incorporated diversity into your read alouds.
A super simple way to be intentional about reading a wide range of genres is to get out your calendar. Plan which genres you want to read during that week, month, or quarter. Write the genre in your lesson plans or on your calendar, and then search for a title within this genre. Doing a little long-term planning can help you plan ahead and ensure you read a variety of genres throughout the year.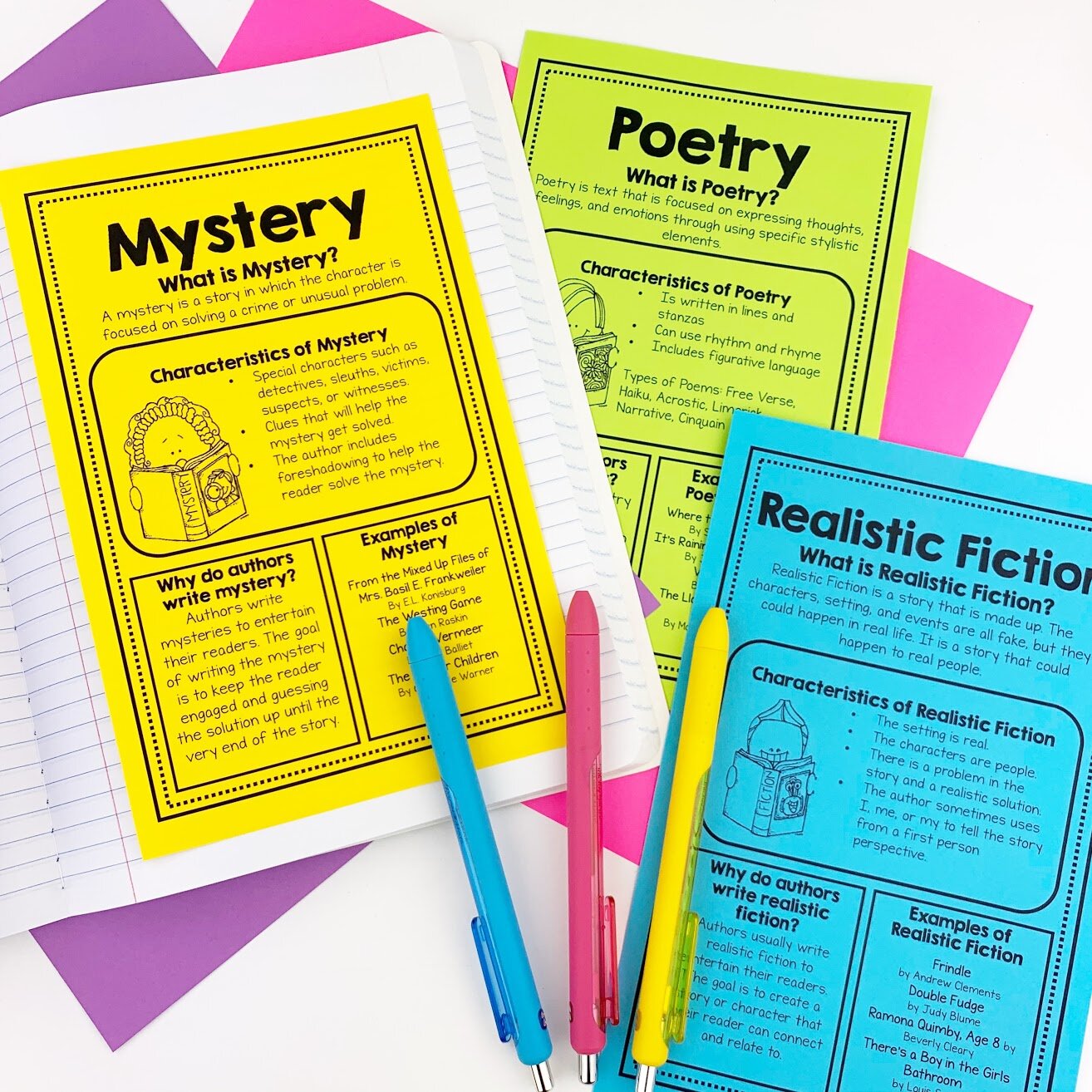 Tip #2: Provide students with tools that help them understand each genre.
Our ultimate goal is to help students really understand the attributes and characteristics of each genre. This will help them figure out which genres they personally enjoy reading and will make it easier for them to look for those books in the library or for independent reading time.
Once I introduce a genre to the class, I like to post an anchor chart (or give students a mini-version to glue in their journals) to help them remember the name of the genre, a basic definition, as well as attributes of each genre.
In addition, I also like to teach students specific questions they could ask when reading different genres. The questions they will ask themselves while reading an informational text will be very different from what they would ask while reading a fairy tale. It can be super helpful to share genre-specific question stems with students so they have an idea of how to monitor their thinking.
If you are teaching genre to your students, you might want to think about sharing these resources with them:
Grab Your FREE Gift!
Reading Genre Inventory
This reading inventory is a fun way to help students figure out what genre they should read next! Students can go through this "choose your own genre" inventory several times and get different answers each time. It's such a fun way to help students explore different genres.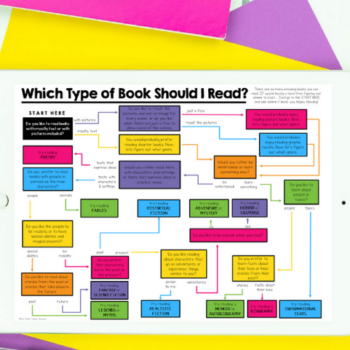 Tip #3: Incorporate genre studies into your reading block.
A genre study is a super easy reading routine and is exactly what it sounds like. You pick a genre and you let your students study it, by reading multiple books in that genre over the course of a few weeks. You can do genre studies as a whole group to help spiral your instruction on genre during the year. Or you can also let your student-led book clubs do genre studies on their own.
There are four steps to a genre study:
Explain – have students explain what they already know about the genre. (Define it, share the attributes they know of)
Explore – give students 4-5 titles of books they can read that are from that genre. The goal of this phase is for students to deepen their understanding of that genre.
Elaborate – Students are going to elaborate on what they already know.

We noticed that historical fiction books ALWAYS….
We noticed that historical fiction books RARELY…
Usually the author's purpose is to….

Evaluate – Students get to share their opinion on that genre. How do they feel about it. How do they think the authors did when it came to incorporating attributes of that genre. Would they recommend this text to a classmate?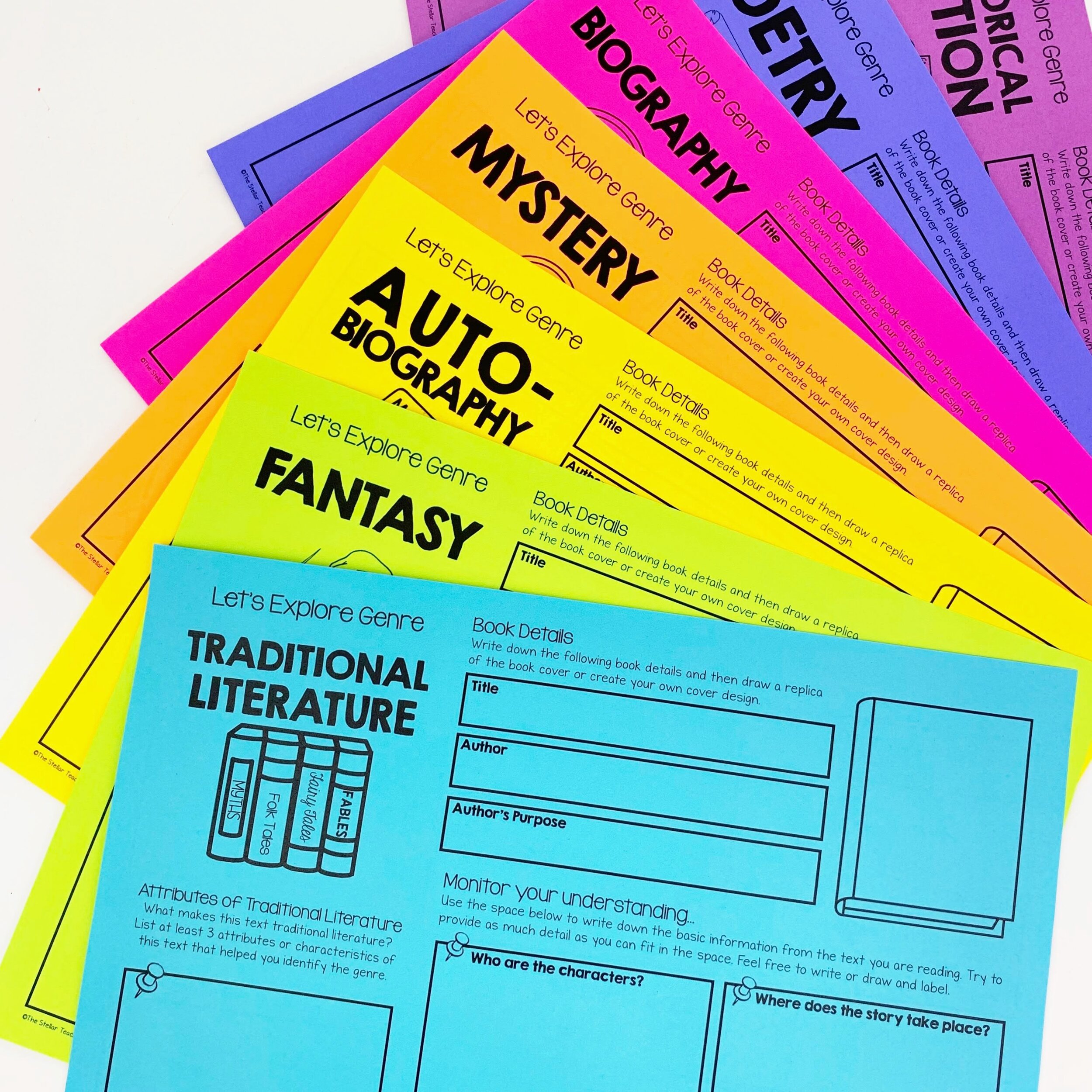 Tip #4: Make reading genres fun for your students.
Not every genre is going to be appeal to every student. No matter which one you're teaching, you will lose engagement with at least a few students in your classroom.
A great way to grab the attention of more of your students through each lesson is to incorporate fun and engaging activities that will get your students excited to read. You can learn more about the games listed below in this blog post.
Genre Challenges –

As each student in your classroom finishes a new genre of book in their independent reading, they can earn a special sticker, or stamp in their reading notebooks. This can serve as a reading passport for students to see all of the genres that they read throughout the year! Special awards can be given to all students who read all genres you have available in your classroom by the end of the year.



Genre Tournaments –

You can create a chart of all of the genres in your classroom library, and graph each time a book from each genre is read. Your students will love tracking which genre 'wins' the tournament by the end of the year!



Guess My Genre –

Before introducing a read aloud, create a few hints about the genre by describing classic tenants of that genre to your students. Let them try to guess the genre before reading!



Genre Focused Book Talks –

I talk about Book Talks in depth in this post

here

. You can schedule some book talks with your students in your classroom where they focus primarily on the genre of the text, and what they love about that genre.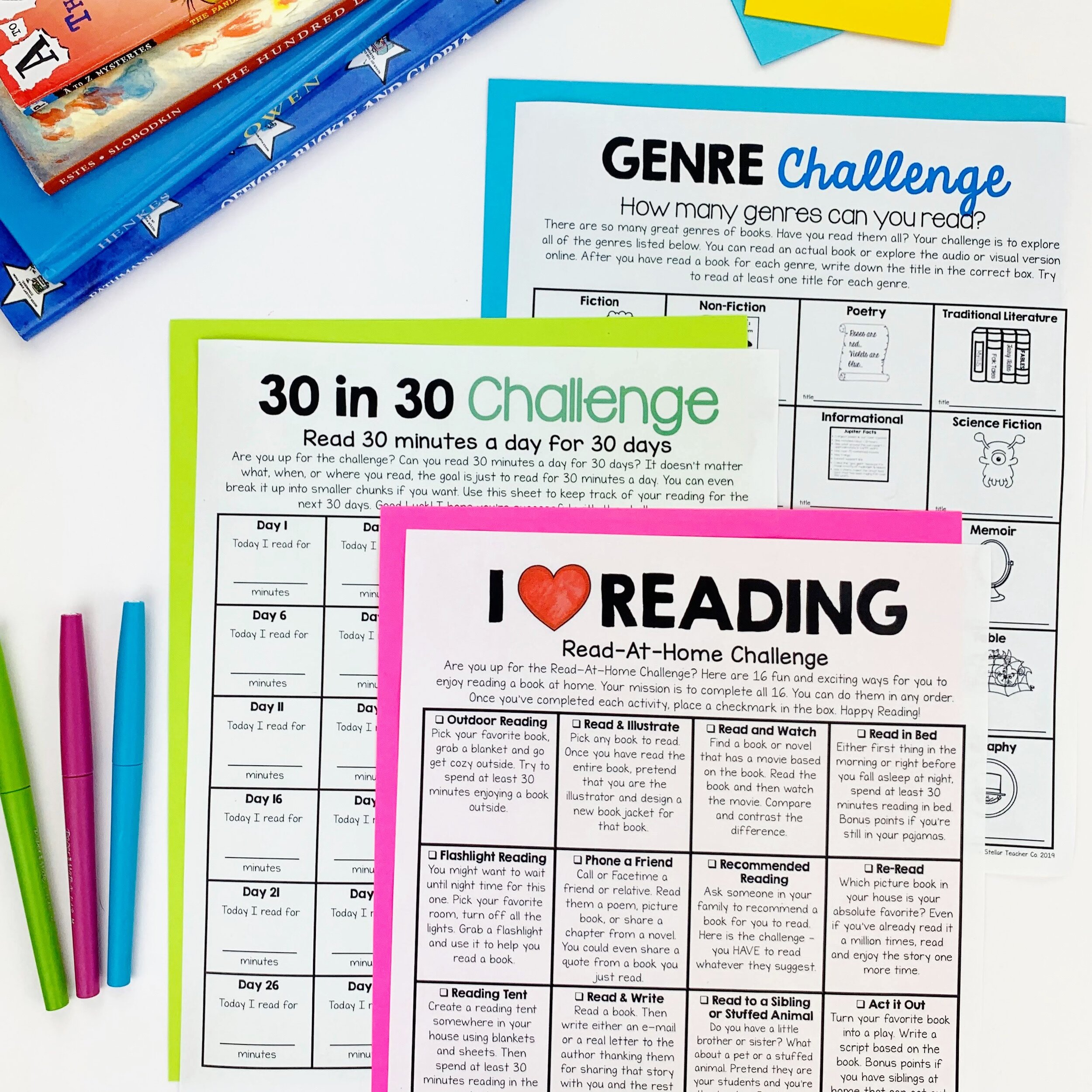 Tip #5: Validate students' reading preferences.
This might be the most important. No matter what genre your students choose to read, validate their reading preferences and help them see themselves as readers. I had a student one year that ONLY read Minecraft books. It drove me nuts because he read the same 5-6 books the entire year and he refused to read any other book… but the thing is he loved reading them.
And each time he read them he learned something new and learned some new strategies he could apply to his Minecraft game… If I had told him he could no longer read Minecraft books he probably would have lost interest in reading and would just flip the pages of some other book to pacify my request….
We have to let kids develop their own reading identities and preferences and validating their choice is really important in that process.
Using these ideas about genre as you plan your focus lessons this year, will give your students an even exposure to many different types of texts. Doing this can help ensure that each student in your classroom encounters a text that they love, which is the key to creating lifelong readers!
I hope you and your students enjoy reading a ton of genres this year!
Happy Teaching!
---
Grab Your FREE Gift!
Reading Genre Inventory
This reading inventory is a fun way to help students figure out what genre they should read next! Students can go through this "choose your own genre" inventory several times and get different answers each time. It's such a fun way to help students explore different genres.