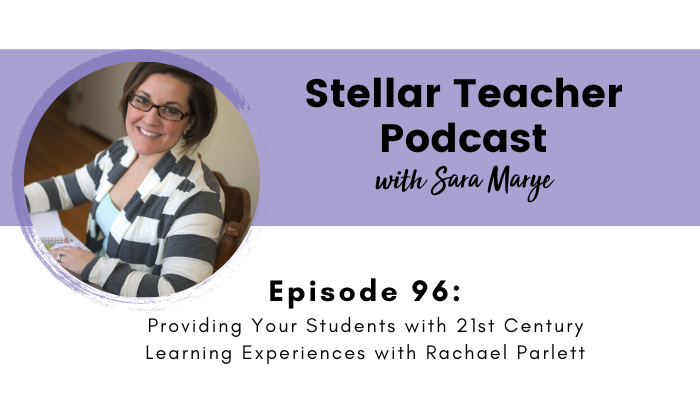 Click play below to hear how to provide your students with 21st century learning experiences:
In education, there are a lot of buzzwords that float around, and one that's important during this time is 21st century learning and using multimedia in your classroom. But what exactly is it and how do we as educators utilize it that's impactful for your students? To give you all those answers and more, I have guest Rachael Parlett on the show today. We're discussing the best ways to provide your students with 21st century learning.
While we may have all heard of 21st century learning, what does it entail? Rachael explains the foundation and the five components that make up 21st century learning. Those components are collaboration, emphasis on hands-on learning, transparent assessments, reflection, and the use of technology and multimedia. A big part of our conversation is Rachael's explanation of these components and how to incorporate them in your classroom.
A big thing to note is, you're probably already doing these things regularly in your classroom! The key is to be mindful of them to ensure you're using them as much as possible. One thing to be mindful of is the use of multimedia and interactive style activities, which have been proven by research to have the biggest impact on student learning in the classroom. This is a passion of Rachael's and she dives into the importance as it pertains to our brains and learning.
If anything sums up 21st century learning, it's through this quote: "Effective teachers show students where to look, but they don't tell them what to see." A way to do that is through the 21st century's five components that Rachael explains.
As you've been hearing the buzz around 21st century learning, I hope that today you got a better idea as to what it is and how to successfully use it in your classroom this school year!
Meet Rachael
Rachael Parlett
Rachael Parlett has been an educator for 16+ years, having spent most of her time teaching 4th grade. Currently, she is the founder and creator of The Classroom Nook, an educational company that supports upper elementary teachers with resources that make learning interactive, engaging, and fun for both teachers and students . She is also the host of the podcast The Classroom Commute where she shares tips, strategies, and best teaching practices for a 21st century classroom.
Most recently, Rachael, along with her husband, Jacob, have founded a second educational company called LINKtivity Learning – a membership that provides teachers with a growing library of interactive digital resources known as LINKtivities. LINKtivities have been used in tens of thousands of classrooms around the world and provide students with a multimedia learning experience that truly ignites the love of learning and is powerful enough to meet the demands of a 21st century classroom.
At the heart of everything, Rachael believes that classrooms should be student-centered, hands-on, and collaborative. She loves sharing this passion with educators around the world.
In this episode on 21st century learning:
A breakdown of the 5 components of a 21st century classroom
Why multimedia and interactive style activities are the most impactful for student learning and the research behind it
Student reflection questions that helps them assess what they learned on the topic learned
Referring to students as digital natives and how to take advantage of that in your classroom
How to easily get started with 21st century learning through small, simple steps
Related Resources:
Related episodes and blog posts:
Connect with me:
More About Stellar Teacher Podcast:
Welcome to the Stellar Teacher Podcast! We believe teaching literacy is a skill. It takes a lot of time, practice, and effort to be good at it. This podcast will show you how to level up your literacy instruction and make a massive impact with your students, all while having a little fun!
Your host, Sara Marye, is a literacy specialist passionate about helping elementary teachers around the world pass on their love of reading to their students. She has over a decade of experience working as a classroom teacher and school administrator. Sara has made it her mission to create high quality no-fluff resources and lesson ideas that are both meaningful and engaging for young readers.
Each week, Sara and her guests will share their knowledge, tips, and tricks so that you can feel confident in your ability to transform your students into life-long readers.
Tune in on your favorite podcast platform: Apple, Google, Amazon, Spotify, Stitcher, and more! If you're loving this podcast, please rate, review, and follow!
Podcast (stellar-teacher-podcast): Play in new window | Download