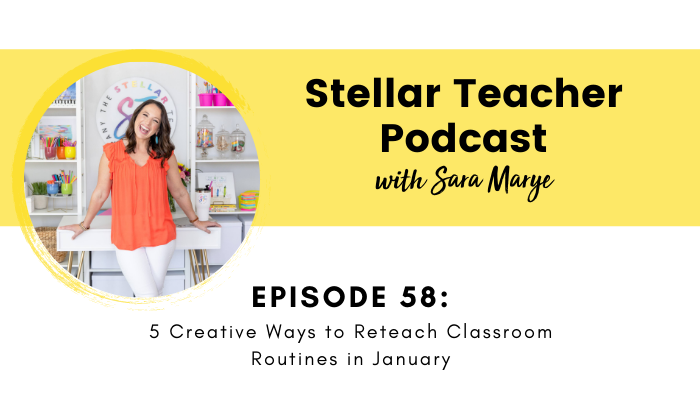 I hope you're taking my advice and catching up on this episode after you've relaxed and unplugged during your holiday break. After two weeks off I want to help ease your transition back to school with ideas for managing behaviors. We all know that kids take a while to get reaccustomed to the routine of school after being out for a while, and I hope these strategies help eliminate any conflicts.
Despite my excitement to return to my classroom after breaks, I was always surprised at the behaviors that emerged from my students. I'm talking about behaviors I had never seen from students before, like sleeping during a read aloud. What I had come to realize was that this is extremely normal and it was my job to adjust my expectations. By creating these ideas to prevent a challenging transition back to school for my students, my students were back to normal in no time!
In this episode I share:
Reasons students may behave differently after breaks
How to prepare for the first week back following the holiday
5 creative ways to review and practice routines
Ideas that allow the students to be involved in discussions about rules and procedures
Related Resources:
Related episodes and blog posts:
Connect with me:
More About Stellar Teacher Podcast:
Welcome to the Stellar Teacher Podcast! We believe teaching literacy is a skill. It takes a lot of time, practice, and effort to be good at it. This podcast will show you how to level up your literacy instruction and make a massive impact with your students, all while having a little fun!
Your host, Sara Marye, is a literacy specialist passionate about helping elementary teachers around the world pass on their love of reading to their students. She has over a decade of experience working as a classroom teacher and school administrator. Sara has made it her mission to create high quality no-fluff resources and lesson ideas that are both meaningful and engaging for young readers.
Each week, Sara and her guests will share their knowledge, tips, and tricks so that you can feel confident in your ability to transform your students into life-long readers.
Tune in on your favorite podcast platform: Apple, Google, Amazon, Spotify, Stitcher, and more! If you're loving this podcast, please rate, review, and follow!
Podcast (stellar-teacher-podcast): Play in new window | Download