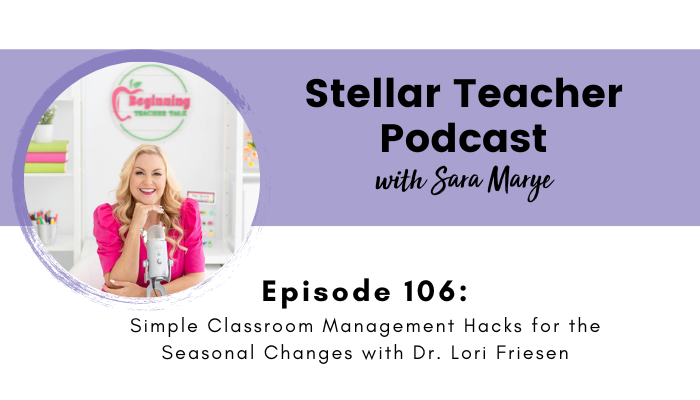 Click play below to hear simple classroom management hacks for the seasonal changes:
In the spirit of Halloween, I've got a treat for you today! If you're like me, you think the same thing at the beginning of every single school year: I'm going to rock my classroom management this year! And while you might start with good intentions, it never seems to go the way you thought it would. Not to mention, holidays and other exciting events are starting to take place, which can disrupt the flow and management of your classroom. 
If this sounds like you, or you just need to tweak a few management techniques in your classroom, this episode is for you!  On today's episode, Dr. Lori Friesen is sharing her top smart and simple classroom management hacks for these ever changing seasons. 
With a month or so into the new school year, and all the upcoming holidays and special events happening in the future, you might be noticing some gaps in your management. Throughout the episode, Dr. Lori shares seven smart classroom management hacks that will keep your students engaged, following directions, and adapting to the seasonal changes with such ease. 
With Dr. Lori's explanation of each classroom management hack, you'll find that each hack is simple, yet effective, and can be implemented and adapted for any grade level. We discuss that classroom management is more than just managing students, for it's so much bigger than that. Therefore, these hacks apply to all aspects of classroom management, which will give you a refocus to your classroom management strategies. 
Whether you're a novice or veteran teacher, having effective classroom management can be a struggle. It's an aspect of teaching that needs to be changed and tweaked throughout the year, until you find the right strategy for your classroom and students. Dr. Lori's mission is to be the mentor to beginning teachers that she didn't have starting out, which is exactly what she's doing with these smart classroom management hacks she shares on the podcast today.
Meet Dr. Lori
Dr. Lori Friesen
Dr. Lori Friesen taught for 10 years in Canada and overseas before completing her PhD in Elementary Education with a specialization in Language and Literacy. She taught pre-service teachers at the University of Lethbridge and published The Beginning Handbook for Elementary Teachers as the culminating project for her M.Ed. Dr. Lori completed her PhD at the University of Alberta and has been inducted into the Golden Key International Honor Society in recognition of her outstanding academic achievement and excellence. Host of the popular Beginning Teacher Talk podcast and creator of the R.E.A.D.Y. for School Academy, Dr. Lori is dedicated to supporting and inspiring educators around the world.
In this episode on classroom management hacks for the seasonal changes, we discuss:
7 smart and simple classroom management hacks to implement today
Why visual representation is beneficial for students, along with teachers
How to modify these hacks to fit your own classroom management struggles
An explanation as to why classroom management is more than just managing students
The benefit of thinking ahead to provide new and fresh strategies to use with your students with the seasonal changes
Related Resources:
Related episodes and blog posts:
Connect with me:
More About Stellar Teacher Podcast:
Welcome to the Stellar Teacher Podcast! We believe teaching literacy is a skill. It takes a lot of time, practice, and effort to be good at it. This podcast will show you how to level up your literacy instruction and make a massive impact with your students, all while having a little fun!
Your host, Sara Marye, is a literacy specialist passionate about helping elementary teachers around the world pass on their love of reading to their students. She has over a decade of experience working as a classroom teacher and school administrator. Sara has made it her mission to create high quality no-fluff resources and lesson ideas that are both meaningful and engaging for young readers.
Each week, Sara and her guests will share their knowledge, tips, and tricks so that you can feel confident in your ability to transform your students into life-long readers.
Tune in on your favorite podcast platform: Apple, Google, Amazon, Spotify, Stitcher, and more! If you're loving this podcast, please rate, review, and follow!
Podcast (stellar-teacher-podcast): Play in new window | Download