Today we are diving into the sixth small step toward the Science of Reading with a focus on teaching syllabication.
In this blog series, we've been addressing the most common questions and concerns when embracing the Science of Reading. We've covered everything from understanding the core principles to practical application in the upper elementary classroom. We hope to make this transition smooth and enjoyable for you by breaking it down into smaller, manageable steps.
In addition to this blog post, you will find an accompanying podcast episode to listen to!
If you haven't already, I encourage you to check out the previous blog posts in this series:
First, let's do a quick walkthrough of how this small step helps you align your instruction to the Science of Reading.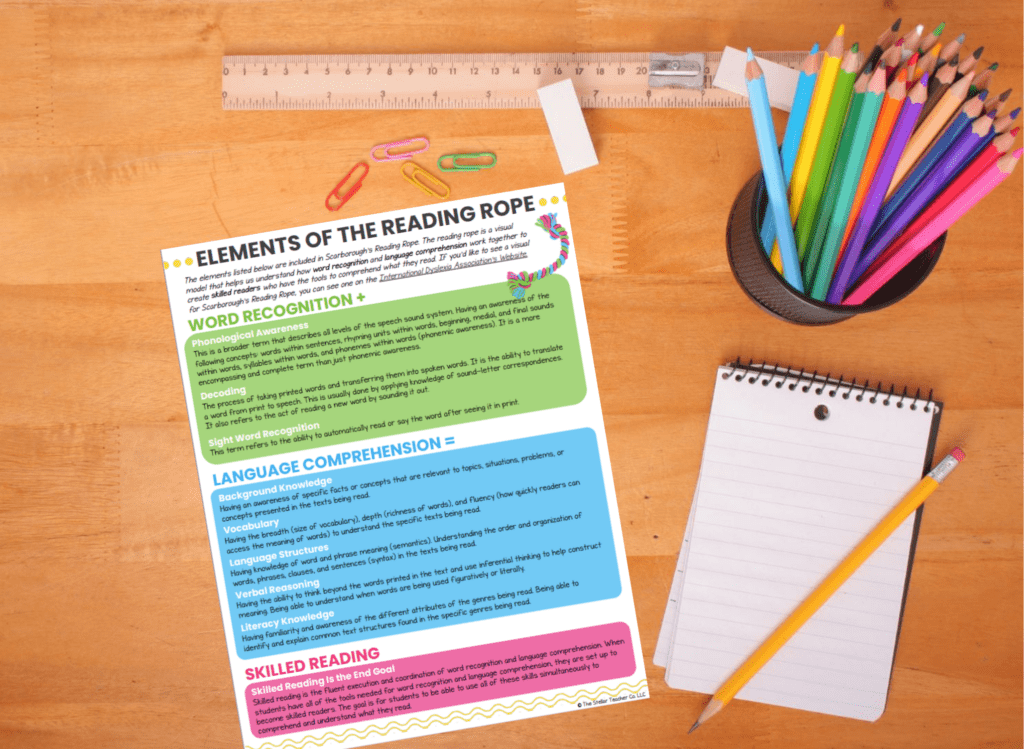 How does this align with SOR?
Throughout our journey in the Small Steps to SOR series, we've delved into Scarborough's Reading Rope model. By now, you've likely grown quite familiar with this powerful framework. We understand that skilled reading, or comprehension, is the result of merging word recognition skills and language comprehension skills. Scarborough's Reading Rope provides us with a visual tool to grasp this dynamic combination.
The Reading Rope consists of two primary strands that intertwine to create successful reading:
Word Recognition, encompassing phonological awareness, phonics, and sight word recognition.
Language Comprehension, comprising background knowledge, vocabulary, syntax, literacy knowledge, and verbal reasoning.

Most of the small steps we've explored in this series so far have been linked to the language comprehension strand of reading. Today, we'll shift our focus to a small but pivotal step that aids students in strengthening their word recognition skills.
Becoming a skilled reader is a journey that starts with word recognition. One key aspect of this journey is the ability to decode and read the physical words in a text. To ensure our students can comprehend any text they encounter, it's crucial that they possess strong word-decoding skills.
One powerful tool in this regard is syllabication – the art of breaking words into manageable parts or chunks. Building a solid foundation in syllabication can significantly expedite the decoding process, making it easier for students to read fluently. And that is why teaching syllabication is small step #6 toward aligning your instruction to the Science of Reading!
While we often associate syllabication with lower elementary levels, it's a skill that remains relevant throughout a student's academic journey, including upper elementary grades. The reason for this is simple: the world of language is rich and varied, with multisyllabic words waiting to challenge readers at every turn.
Consider this scenario: How many times have you encountered upper elementary students who struggle when faced with long, intimidating multisyllabic words? It's not uncommon to witness students giving up when confronted with these linguistic giants.
They slow down, try to break the word apart, and often end up re-reading it multiple times. However, this approach may not yield the desired results. The issue lies in the fact that these well-intentioned prompts – slowing down, breaking apart, and re-reading – may not be effective if students lack a fundamental understanding of the sounds various spelling patterns make or how to divide a large word into syllables.
The good news is that when we prioritize teaching syllabication to our upper elementary students, we equip them with invaluable tools and knowledge that boost their confidence when tackling daunting multisyllabic words. Syllabication is the bridge that connects phonics skills to advanced reading and spelling.
Teaching syllabication and the various syllable types isn't just an option; it's essential.
By doing so, you empower your students to become stronger, more confident readers and writers. This is the goal we all share for every student we teach.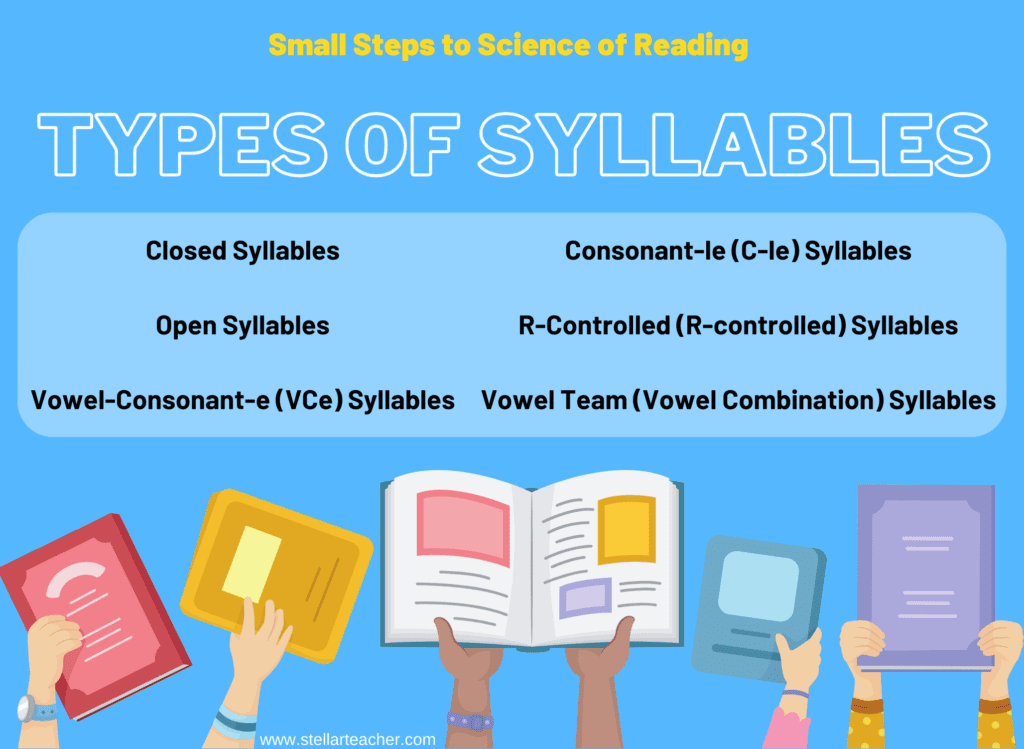 Small Step #6 – Teach syllabication to your students and make sure they understand the six syllable types.
Teaching syllabication to your upper elementary students is like handing them a powerful key to unlock the doors of complex words. When students understand how words are divided into syllables, they gain a better grasp of word recognition. It's a skill that aids not only in reading but also in spelling and decoding unfamiliar terms.
What is syllabication?
Syllabication is the act, process, or method of dividing words into syllables.
In order to break words into syllables, students need to know two things: different syllable types and syllable division principles.
What is a syllable?
A syllable is a single unit of pronunciation that has one vowel sound.
It can contain consonants, but the vowel sound is what determines that syllable.
Words can be one, two, three, or more syllables
Understanding the Six Syllable Types:
As you introduce syllabication to your students, ensure they understand the six common syllable types:
Closed Syllables
Open Syllables
Vowel-Consonant-e (VCe) Syllables
Consonant-le (C-le) Syllables
R-Controlled (R-controlled) Syllables
Vowel Team (Vowel Combination) Syllables
Syllables can have different vowel sounds:
Short vowels
Long vowels
Schwa sound
By familiarizing your students with these syllable types, you equip them with the tools to tackle a wide range of words confidently. Breaking down multisyllabic words into their constituent syllables becomes second nature, improving both word recognition and pronunciation.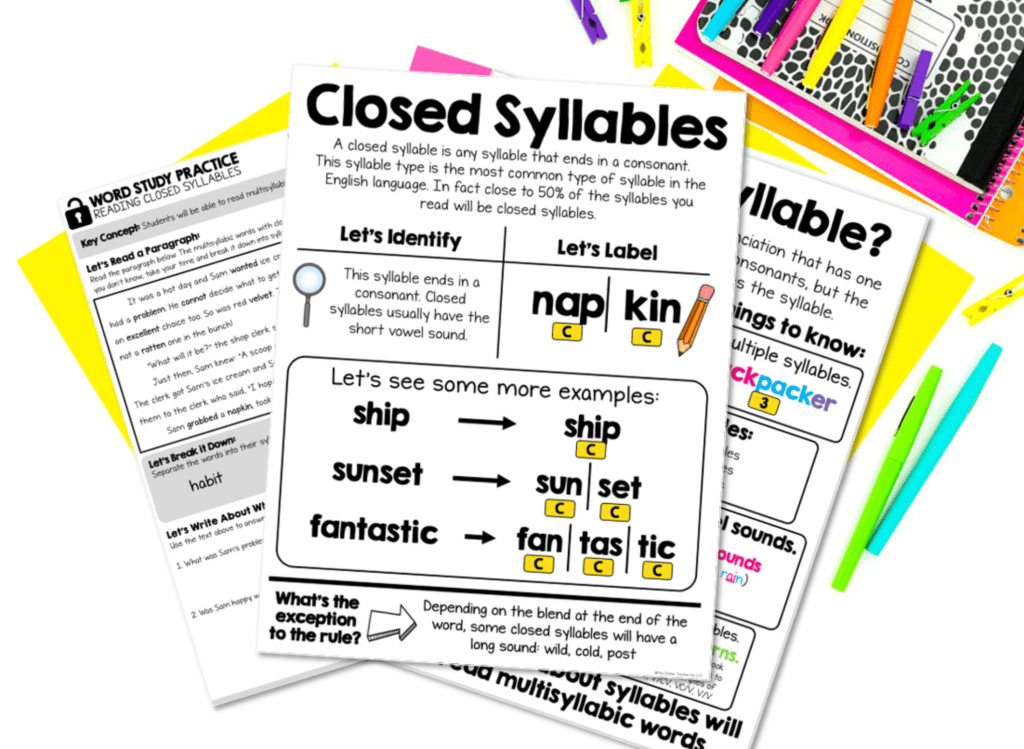 Here are some practical things you could do if you want to focus on teaching syllabication in your classroom:
Explicitly teach the six different syllable types. If you're looking for help with what these lessons could look like check out my podcast episode Your Guide to Teaching Syllabication.
Check out the Stellar Literacy Collective where you can find Syllable Lesson Plans and other word study resources for our members!
Explicitly teach the different syllable division rules. Check out our Syllable Types lesson plans and resources for support with this!
Incorporate a variety of syllabication activities into your week! Try adding Syllable Hunts into your reading lesson.
A syllabication activity you can try right away. . .
During a Syllable Hunt, students visually or verbally break down words into their individual syllables, often using claps, finger taps, or markers to represent each syllable's sound unit. This hands-on exercise helps learners develop phonological awareness and a deeper understanding of how words are structured and pronounced. Syllable Hunts are valuable tools for improving word recognition, decoding skills, and overall reading fluency, making them a fun and effective addition to literacy instruction at various grade levels.
During a Syllable Hunt you might focus on a certain number of syllables or type of syllable. This can easily be added into a read-aloud or small group activity with little to no prep!
Think about your next Science of Reading steps…
If you feel inspired by this post, check out Episode 147: Teaching Syllabication to gain insight on some quick definitions, syllable types and division rules, and simple activities to use in your classroom.
Challenge: Add in at least 1 syllabication activity into your lesson this week! Start with something simple and build up from there. You can do it!
Join us inside The Stellar Literacy Collective, where you will get access to a resource library filled with reading and writing resources that you can use and feel confident that you are taking steps to align your instruction to the Science of Reading.