Welcome back to our blog series on how to take small steps to align your instruction to the Science of Reading! Today we are going to talk about the art of sentence deconstruction as your second small step toward aligning your instruction to Science of Reading.
In this blog series, we'll address the most common questions and concerns when embracing the Science of Reading. We'll cover everything from understanding the core principles to practical application in the upper elementary classroom. We hope to make this transition smooth and enjoyable for you by breaking it down into smaller, manageable steps.
In addition to this blog post, you will find an accompanying podcast episode to listen to!
If you haven't already, I encourage you to check out our first blog post in this series as well as the accompanying podcast episode for Small Step #1.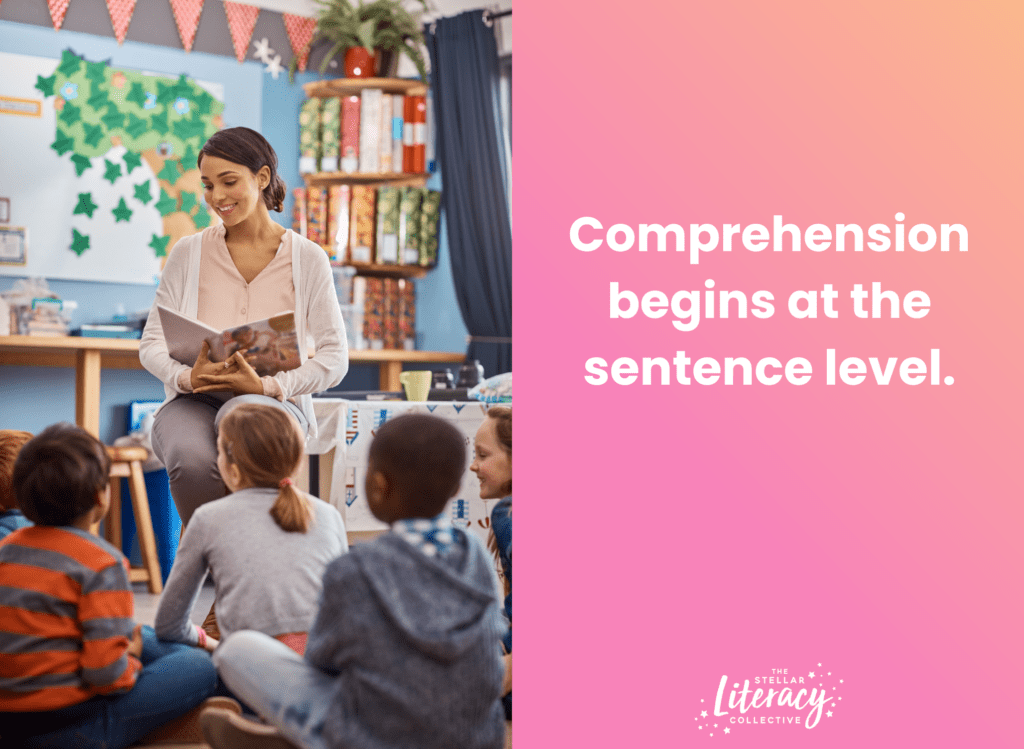 Small Step #2: Practice sentence deconstruction during reading.
How does sentence deconstruction align with SOR? Syntax is a fancy word for understanding the rules of sentence structure. And syntax is also an element in the language comprehension strand of Scarborough's Reading Rope.
We know that in order for students to become skilled independent readers, they need to have skills both in the areas of word recognition (which is the ability to automatically read words) and in the areas of language comprehension (which is the ability to understand and make meaning out of the words we read and hear).
If students are strong in word recognition (phonics, sight word recognition, phonological awareness) but they lack language comprehension, then they are going to struggle to understand and comprehend what they read.
At the same time, if students are really strong with language comprehension, but can't actually read or decode the words, They might do well comprehending a text that is read aloud to them, but if they can't independently read the words in a text, then they are going to struggle to become skilled readers on their own.
So, it is our job as educators to align our instruction with SOR and make sure we are prioritizing and balancing both language comprehension and word recognition.
Sentence structure, or syntax, might be one of my FAVORITE thing that I've read or researched. As I've learned more about SOR… and I think it is often overlooked or ignored from a reading standpoint.
We often think about syntax (sentence structure) from a writing perspective but forget to consider how sentence structure impacts reading comprehension. Syntax is a very important part of language comprehension.
Comprehension begins at the sentence level, and we need to make sure that students can break apart and understand the meaning behind the complex sentences they read. Ultimately, when students read a sentence, we want them to understand who or what the sentence is about, and what is happening in that sentence.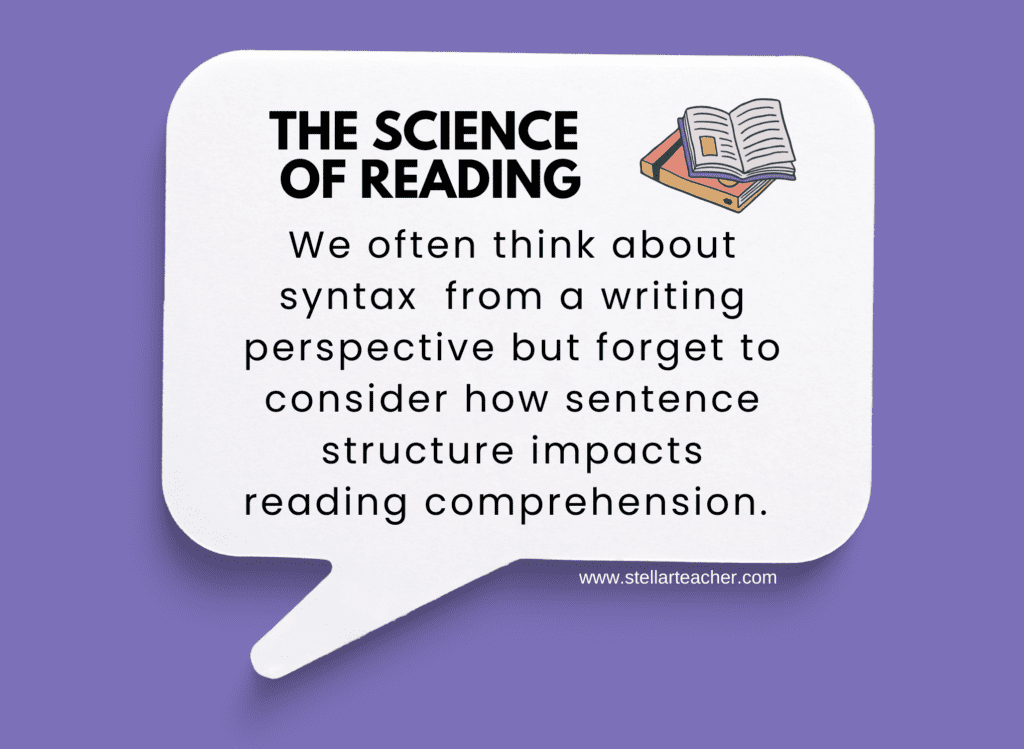 What does sentence deconstruction look like in the classroom?
Sentence deconstruction is when you take a sentence and you start removing words to see if you can eliminate adjectives, adverbs, prepositional phrases and extra details but still heed the heart of the sentence so it still maintains its meaning.
For example: If you are reading the picture book, Each Kindness by Jacqueline Woodsoon, you will encounter many complex sentences. You could pick one to deconstruct with your students.
Here's an example of a complex sentence from that text:

Each morning, I walked to school slowly, hoping this would be the day
Maya returned and she'd look at me and smile.
In that sentence, ultimately you want students to understand that Chloe (who is telling the story in first person so Chloe is the I) hoped Maya would return to school. You can eliminate words and phrases until you're left with that core idea in a sentence.
With your students you will start to deconstruct the sentence to get to the core idea. As you deconstruct, you are discussing the parts that are being removed:
The sentence begins with an adverb phrase "each morning" and that tells us the frequency of the event in the sentence. Yes, it gives us more detail, but it is not essential to the sentence.
The author included the adverb slowly to describe how Chloe is walking. But that's an extra detail that could also be removed.
The second half of the sentence has a compound predicate. You can discuss with your students that the most significant of these actions is that Maya returned and the phrase "she'd look at me and smile" can be removed.
We are then left with "I walked to school, hoping this would be the day Maya returned."
Then you can talk with your students about how a more concise way to say that is: I hoped Maya returned.
Doing sentence deconstruction can be really powerful for your students because it helps them understand how sentences work. They start to realize the order in which words are combined, and the rules for adding in different types of phrases.
And students also realize at the very core, each sentence has a simple idea that they can successfully uncover.
Understanding sentence structure is important for writing, but it's also important for reading comprehension.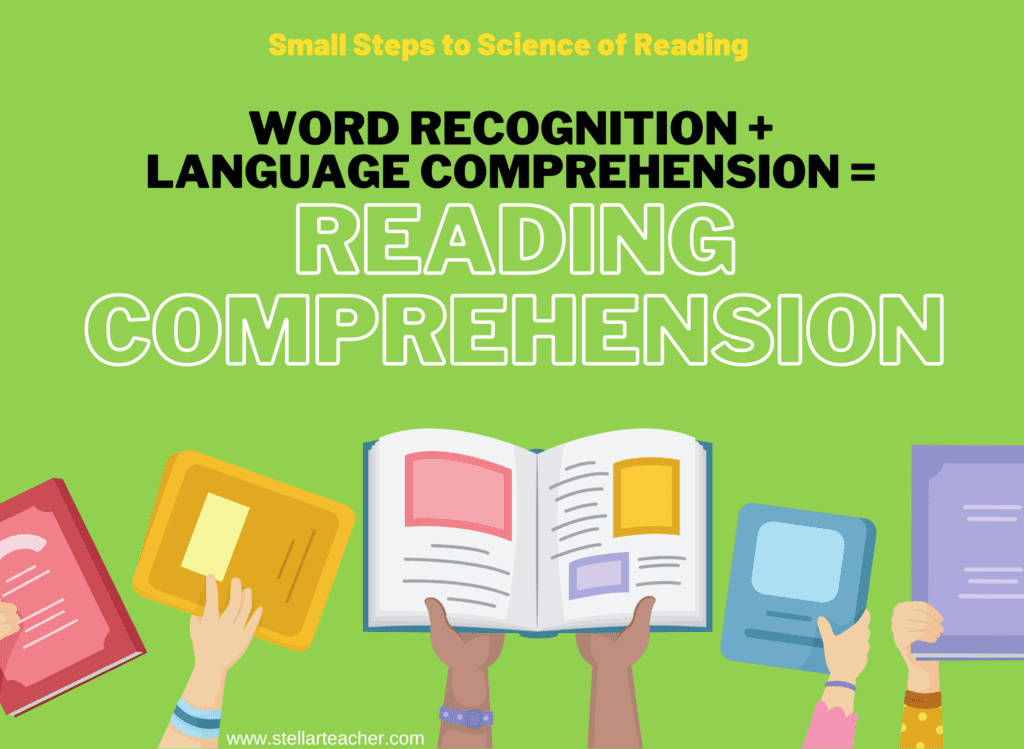 Linton Weeks, a writer, once said "The sentence itself is a story with a beginning, middle and end. Something happens in a sentence. Without subjects, there are no heroes or villains. Without verbs, there is no action. Without objects, nothing is moved, changed, destroyed or created."
And I think that's such a good reminder that if we want our students to enjoy and understand the stories they read, then we need to make sure they understand how to comprehend at the sentence level, and even more basic than that.
So, Small Step #2 for aligning your instruction to SOR is to practice sentence deconstruction with your students during your reading lessons. This is something that is quick, it's easy. It doesn't require a lot of prep or planning on your part. And you don't have to be a grammar expert in order to make this an effective teaching moment with your students.
Think about your next Science of Reading steps…
If you feel inspired by this post, check out Episode 139: Practice Sentence Deconstruction to better understand how sentence structure aligns with the science of reading, particularly as it pertains to language comprehension.
In addition to sentence deconstruction, student's can practice Sentence Construction with this FREEBIE and build a deeper understanding of syntax that will help them in reading and writing!
Join us inside The Stellar Literacy Collective, where you will get access to a resource library filled with reading and writing resources that you can use and feel confident that you are taking steps to align your instruction to the Science of Reading.